Jaime Hartman is an educator, chef, recipe developer, nutritional therapy practitioner, yoga teacher, and health coach who believes that nurturing both the body and the mind is essential for living well. Jaime is the founder of the popular blog Gutsy By Nature and the organizer and host of the annual AIP Summit, which brings together AIP Certified Coaches every January to share best practices and new insights with the autoimmune community. She is also the editor of two community cookbooks, Freezer Cooking for the Paleo AIP and 30 Minute Meals for the Paleo AIP, and the author of the The Gutsy By Nature Meal Prep Method series.
I caught up with Jaime and asked her a few questions that I thought you'd love to read!
Thinking about joining the next session of the AIP Certified Coach practitioner training program? Classes fill up quickly so make sure to click here and sign up for my Healthcare Professionals e-mail list to get first dibs at enrollment for the next session!
The Ultimate Support for Your AIP Journey!
Learn directly from the creator of the Autoimmune Protocol—Dr. Sarah!
Thank you for your warmth, your AIP mastery, and your dedication to answering each and every one of our questions with such kindness and attention to detail. Thank you for teaching the science behind the principles. The amount of energy you put into creating this course and responding to us in real-time is felt and APPRECIATED!!
-Nicole Wood
The next session of The AIP Lecture Series begins January 10th, 2022.
---
Please share a little about your personal health journey and the role that the autoimmune protocol has played.
I was diagnosed with Crohn's Disease in 1995, the summer I turned 20. I was relieved to have an explanation for embarrassing symptoms and simply wanted to get back to the life of a carefree college student, so I took the prescribed medications and didn't ask questions about what else I could do.
It wasn't until 2012, after surgery and medication lost efficacy, when I began to consider the role food could play and stumbled upon your blog when I decided to try "paleo" and then the autoimmune protocol, following your guidance. The transition to this new way of eating was not easy, but it was clear to me very early on that it was the right path for me. Today, my health is better than ever!
What made you want to be a health coach?
Even though the autoimmune protocol was clearly helping me, my enthusiasm to continue at a time when few resources and support existed was sagging. My husband encouraged me to start blogging, because I had a compelling story and because he knew it would keep me motivated to know that I was helping other people too. That blog, Gutsy By Nature, opened the door to connect me with mentors like you and Angie Alt and Mickey Trescott, who were not only bloggers but had also transitioned their own health success into full time work as health coaches. These examples showed me that I could help even more people and also do work that was fulfilling, so in 2016 I decided to go back to school and make a complete career pivot.
The Gut Health Guidebook!
Diet and lifestyle to nurture your gut microbiome and heal leaky gut!
The depth of information, practical tips, and the accessible way Dr. Sarah shows me how to apply complex science to improve my health is truly remarkable. -Wendy
What certifications do you have and why did you choose that program?
I am now a Functional Nutritional Therapy Practitioner (FNTP), trained through the Nutritional Therapy Association, and an AIP Certified Coach. I chose this path because I wanted to understand why eating real food and the autoimmune protocol had been so effective for me when everything else had failed.
I also have a master's degree in educational psychology from the University of Wisconsin and additional graduate studies in instructional design from George Mason University. I have been a classroom teacher, instructional designer, and textbook curriculum specialist and sales executive. Altogether, I have over 20 years of experience in teaching, coaching, and motivating both adults and young people.
Share a little more about your practice. How can my readers contact you to work with you?
I work with clients from around the globe via an integrated portal that utilizes video conferencing, text messaging, meal planning tools, and interactive food journals. I do stand-alone sessions when requested, but I prefer working intensively with an individual client over a span of 3-6 months, meeting each week to celebrate successes, review current challenges, and tailor recommendations with the ultimate goal of helping the client find a completely personal way of eating that is the least restrictive and provides the greatest degree of well being possible.
Additionally, I continue to create and share new recipes on my blog so that people who are in the elimination phase of the autoimmune protocol have lots of inspiration for delicious and easy things to eat, even while their diet is still at the most restrictive point.
You can see my current coaching offerings and learn how to work with me at my website.
The Gut Health Cookbook!
180+ delicious recipes featuring 61 gut health superfoods!
The Gut Health Cookbook is fantastic! Thank you for researching and creating The Gut Health Cookbook! Such wonderful recipes! I'm so excited to try them all! -Sue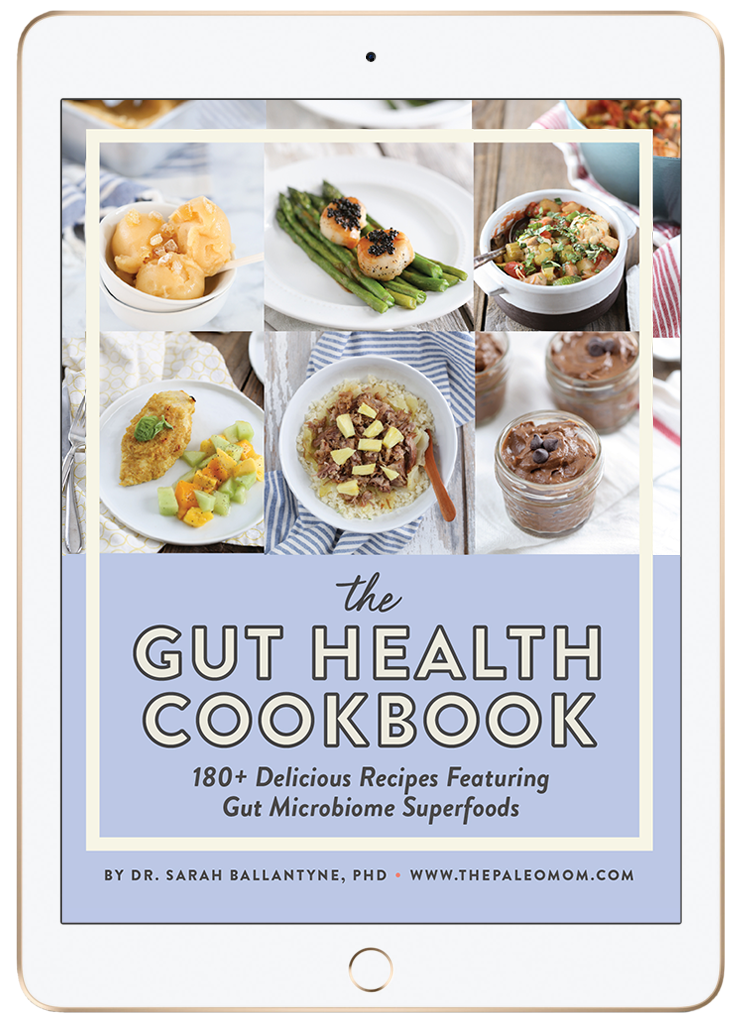 What is your #1 tip that you give all of your clients?
This might be surprising to some who read this, but one of the top messages I find myself repeating to all of my clients is that food is a powerful input and influence on our overall health, but focusing on food alone is rarely going to get the results you want and deserve. I encourage my clients to seriously consider all the other tools they have available, including things that strengthen the mind-body connection like yoga and meditation, as well as pharmaceuticals and other interventions from the conventional and alternative medicine worlds. Above all, the goal should be to feel good, no matter what it takes!
---
If you are a healthcare professional interested in this high-value certification, join my Healthcare Professionals e-mail list by clicking here (I send a monthly newsletter with content relevant to health & wellness providers). I will e-mail you with more information on how to become an AIP Certified Coach.