I'm CRAZY excited to announce the launch of the UPGRADED Go To Bed online sleep program!
Newly designed, illustrated, and fully updated, this online program now includes: an epic 350+ page e-Book and 14-day Sleep Challenge, plus a 58-page Quickstart Guide and an entire toolkit of additional resources including a Sleep Meditation Track and a collection of Printables!
And, while you might expect the price tag to increase to reflect the additional resources, especially with comparable online programs out there retailing for $50-$100, I've decided to keep the price at a $19.99 because I feel that it's vital to make improving sleep as accessible as possible.
Nutrivore Weekly Serving Matrix
An easy-to-use and flexible weekly checklist
to help you maximize nutrient-density.
The Weekly Serving Matrix is very helpful! I've been eating along these lines but this really helps me know where to focus vs. which foods serve a more secondary role. It's super helpful and has taken a lot of worry out of my meal planning. Thanks!

Jan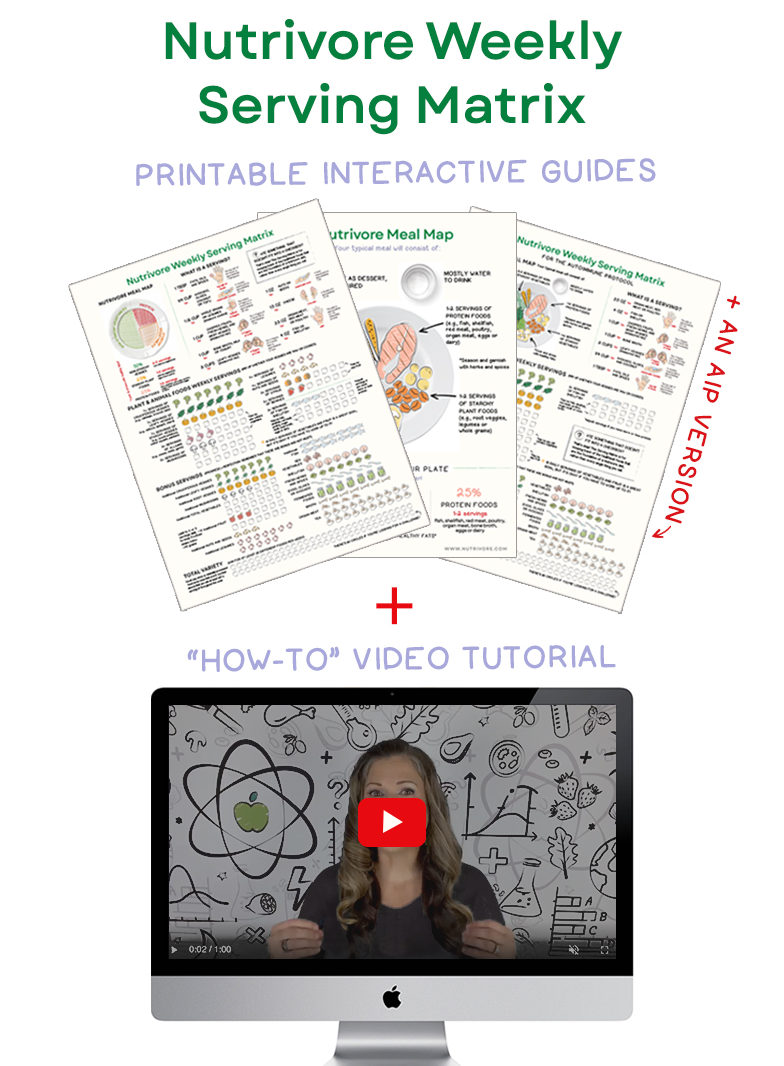 If you're too excited to read through the rest of this post, go ahead and find out what's new and improved here:
Learn More!
My passion, the thing that drives this website and all of the resources I create, is increasing scientific literacy around public health issues.  I am a person who needs to understand the whys behind which choice is better in order to stay motivated to continue making the best choices for my health.  And, I know I'm not alone.  I know that there's thousands upon thousands of others out there who want to know the biological mechanisms responsible for 'A' being better than 'B'.
And that shouldn't mean that you need a college degree in science to access that information!  That's why I write the way I do.  I believe in bringing the detailed science to you, in a way that is approachable yet not oversimplified.
I'll go a step farther.  I think the risk in chronic illness in Western countries can be attributed to a lack of a more detailed conversation about the science behind how certain foods promote our health versus how other foods undermine our health, and how certain lifestyle priorities make us healthier whereas others increase disease risk.  When we have a more detailed conversation, the best day-to-day choices for our health stops being about a set of rules that we either follow or break.
An estimated 60% of people will choose to eat junk food even though they know it's not good for them.  But, when we understand what that junk food does to our bodies at the cellular and molecular level, it suddenly becomes a whole lot easier to be part of the 40% and reach for a piece of fruit or a square of dark chocolate instead.
Scientific literacy in health topics protects us from labels full of buzz words, strategic marketing, and propaganda.  It doesn't mean we have to make the best choice every single time — we still get to find our own balance — but it does mean that we understand the choices we make.
Health is not just about the foods on our plates, but also how we live.  Activity, stress management, sleep and connection are essential inputs to our health.  And, the Paleo template embraces all of them.  Unfortunately, it's much easier to completely revamp what we eat and join a local CrossFit box than it is to regularly get enough sleep.  Which is why I created Go To Bed: 14 Easy Steps to Healthier Sleep.
The Go To Bed online program includes a 350+ page guidebook, packed with information and inspiration! It's quite simply the most comprehensive guidebook ever created for improving sleep, with the detailed science of sleep for optimal health and every scientifically-validated tip and trick for improving sleep!
Whether you want to call this mimicking the sleep habits of our Paleolithic ancestors (see How Much Sleep Do We Need? Understanding the Hunter-Gatherer Evidence) or simply recognizing the biological link between sleep and health (see Sleep and Disease Risk: Scarier than Zombies!), getting the quality sleep we need may be the single best thing we can do for our health (yes, studies actually show that even a single night of poor sleep can have a bigger negative impact on health markers than six months of bad diet!).
Making science easy to understand is my jam.  So, I've spend the last few months updating Go To Bed to make it even more accessible and digestible.  And, I commissioned a complete redesign to upgrade the visual layout and illustrations to reinforce the scientific concepts, making the content more approachable, and making the book so much fun to read that you won't be able to put it down! (But, if it's bedtime, put it down anyway!)
The Go To Bed online program now also comes with a NEW 58-page Quickstart Guide!  Plus, it comes with an amazing resource toolkit, including a sleep meditation track, sleep checklist printable, sleep journal printable, and more!
A whopping 65% of us don't get enough sleep.  But with Go To Bed, you can understand not only why sleep needs to be a priority but also how to improve your sleep quality to get the most our of your commitment.  Be part of the 35% and reach for your pillow.
And with both diet and sleep, if enough of us get informed and make better choices, we can change these statistics in addition to changing our lives!
NOTE:  If you have already purchased Go To Bed, there is an updated copy waiting for you in your inbox!  It was sent to the e-mail address that your PayPal account is hooked up to.  If you don't see it, check your SPAM folder!
Save
Save

Become a Member for FREE!
The Paleo Mom Members' Area is resource central!  
You'll get FREE, unlimited access to dozens of quality resources, including introductory series, downloadable e-books, exclusive recipes, printables, videos and guides!
You may enjoy these related posts:
Go To Bed: 14 Easy Steps to Healthier Sleep is a new online program and is quite …