One of the best strategies that I can recommend for staying on track is Planning Ahead. That means knowing what you're going to eat on rushed mornings, busy weeknights, during travel, and when temptation and cravings hit (because, let's face it, they invariably do!). Planning Ahead also encompasses preparation. It makes all the difference in the world to have all the ingredients for a quick meal on hand for whipping up dinner after soccer practice ran late, to have cooked enough on more leisurely evenings for a few Leftovers Nights during the busier part of the week, and to have preprepared some grab-and-go foods to have on hand all week.
Why is this Planning Ahead so critical for staying on track with our chosen dietary priorities? Using this strategy means that you're never stuck not knowing what to cook, you've got Go To foods for when you're time-crunched, you're never stuck an ingredient short in the middle of cooking a meal, and you can feel comforted and reassured that you're next meal or snack or treat will be delicious! There's both practical and psychological aspects to why Planning Ahead works, adding up to meals causing a lot less stress and a vastly increased ability to stay on target. Being prepared is the solution to all of the most common situations where we derail (whether derailing means we simply end up making a suboptimal choice out of convenience or completely fall off the proverbial wagon).
When you have the Plan-Ahead Strategy mastered, suddenly the Paleo diet and the Autoimmune Protocol start to feel easy, getting healthful food on the table stops being stressful, and we can finally achieve that consistency that is so important to really see lasting health gains.
So, why doesn't everybody do this? Why isn't meal planning and cooking a few extra recipes for the freezer or for snacks a universal approach to managing the week? Well, the truth is that Planning Ahead isn't necessarily an easy thing to do. There's a lot of moving pieces to consider, and an optimal meal plan is different for each of us. If you're tackling this on your own, it requires a great deal of thought, research, organization, and time commitment (creating a new spreadsheet and shopping list each week is a chore!). Meal plans found online and in cookbooks aren't typically customizable; and until now, meal planning software and services have been difficult to make work within a Paleo or AIP framework and almost always lack the flexibility to cater to different dietary needs within the household.
Save 80% Off the Foundations of Health
Expand your health knowledge on a wide range of topics relevant to you, from how to evaluate scientific studies, to therapeutic diet and lifestyle, to leaky gut and gut microbiome health, to sustainable weight loss, and much more!!!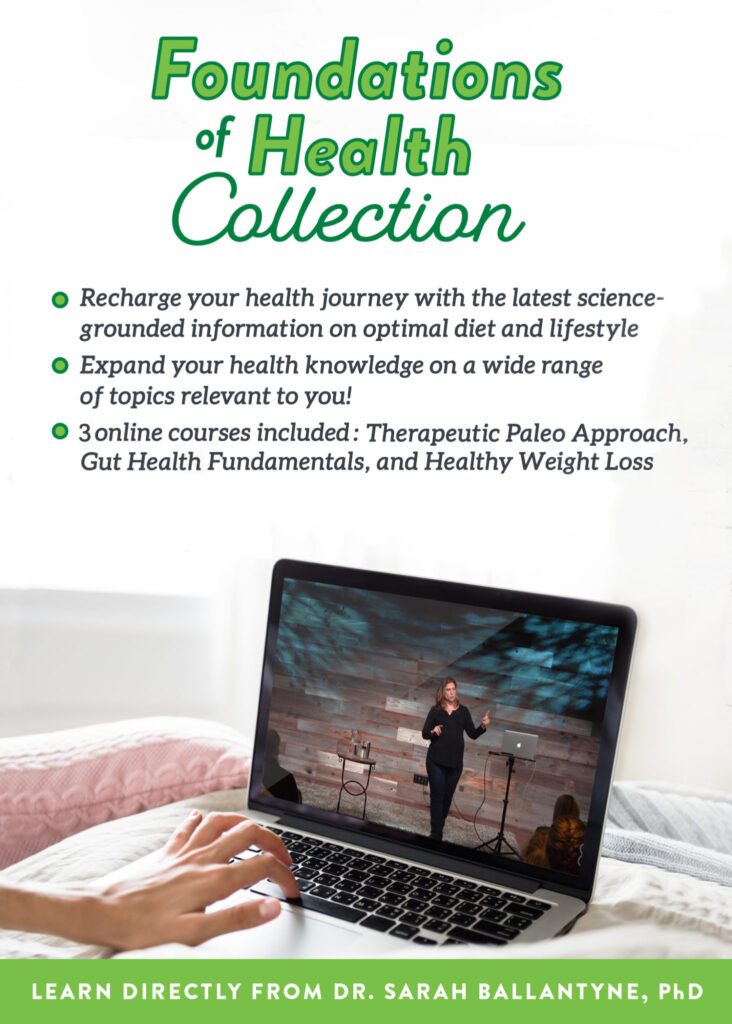 Drum roll, please….
Real Plans is quite simply the best tool I've ever seen for making Planning Ahead as simple, personalizable, versatile, efficient, dynamic, adaptable, and effective as possible. Yes, I just used ALL the good adjectives. And because I'm so in love with the amazing functionality that Real Plans offers, I have partnered with them to launch both a ThePaleoMom recipe package add-on and a full AIP menu option!
Get the quick run-down by watching this video:
Okay, so that's the broad brush strokes (of course, if you're already chomping at the bit to get started with Real Plans, just click here to subscribe!), but let me tell you more about Real Plans and what our partnership means for you!
Real Plans is a online meal planning service that's completely Paleo- and AIP-friendly and ridiculously awesome. When you subscribe, Real Plans automatically generates a weekly meal plan for you, using their library of over 1400 recipes, based on your user preferences. You can also swap out favorite recipes, add your own recipes or ones from websites to your database, add additional items to your shopping list, divide your shopping list by store… the functionality and versatility of Real Plans goes on and on! In settings, you decide if you'd rather have your meal plan emailed to you, or just login and check it… And they have a free mobile app so you can plan, shop and cook from your phone! The interfaces are beautiful and intuitive!
Real Plans offers the customizability of a huge collection of recipes that cater to a variety of different diets. You set your dietary preferences using any of the diet templates (traditional, gluten-free, dairy-free, GFDF, vegetarian, Paleo, or Primal) and then modify for foods you additionally include or exclude… or you can completely customize your own guidelines! And now, my partnership with Real Plans means they can serve the AIP community too!! There is now an AIP option for your meal plans and hundreds of recipes to enjoy!
One of my favorite things about Real Plans is the ability to exclude or include whole food groups from your plans. For instance, if you have eliminated nightshades from your diet but have successfully reintroduced other Paleo foods, you can tell Real Plans that you want a plan without nightshade that includes, say, nuts.
You can also easily create a meal plan that caters to multiple diets within your home. For example, if you follow the AIP but the rest of your family is Primal, you can easily plan meals for the week that cater to all of your needs!
For an annual cost of $6 per month, your family will get a customized meal plan that will even cater to your specific food preferences and intolerances (the cheapest plans commit you to a year of meal planning). And for $1 more per month , you can access 260 of my recipes and have them added to your weekly meal plans!
Just like my website, the recipes in ThePaleoMom Add-On package includes a mix of AIP and standard Paleo meals. If you are not following the AIP, my standard Paleo recipes are all included in ThePaleoMom Add-On recipes as well, including all of my family-friendly classics! If you choose to subscribe to my Add-On package, you can easily select whether you'd like to see standard Paleo recipes, AIP recipes or both and have them included in your meal plan!
Oh, and by the way, some of these recipes currently can't be found anywhere else AND as I create more recipes for my website, they'll be automatically added to Real Plans!
How Does It Work?
Real Plans contains over 1400 easy and delicious recipes that have all been carefully tested and deemed super-simple, healthy and tasty (with access to up to 1000 more recipes if you subscribe to Add-On packages like ThePaleoMom Recipes). The Real Plans team uses this database, plus information about your individual food preferences, to create a month's worth of weekly meal plans and shopping lists. Purchasing a plan for as low as $6 per month gives you access to all these recipes, and the ability to add or remove them from your meal plans as you see fit plus all of the options for customizing even further. So even though they do the planning for you, you aren't locked in at all! You get to make every single meal plan perfect for your needs!
You can even add your own recipes to your Real Plans database or add recipes you've found from websites with a crazy awesome import tool! This way you can get the best of all worlds, your favorite recipe from my website, your grandmother's famous dish, and your standby from your favorite celebrity chef can all easily be integrated into your meal plan.
The meal plan is autogenerated for you based on your preferences (diet type, but also recipe type on different days of the week), and from there it's entirely customizable! Swap out recipes, add extras, plan leftover nights… it's all about making this work in your life, so whatever you need, you can make it happen!
Again, the ability to personalize your meal plans using Real Plans is insurmountable! The plans are super customizable thanks to their online tools. You can ditch meals you don't care for and select other recipes instead! If you want a little more control over what you eat each week, you can also just clear the entire week and select recipes from the recipe box to make up a week's worth of meals!
You can also teach Real Plans what your favorite recipes are! Give the ones you like 5 stars and they'll show up at the top of your Recipe Box. Don't like a recipe? Give it 1 star and you won't see it show up in your meal plans!
Real Plans also generates a shopping list to go with your meal plan. You can organize ingredients by preferred stores even creating several shopping lists for the different stores you frequent. Scratch off items you have on hand (like spices or other pantry staples), and add additional foods you need for the week that aren't part of the meal plan recipes. Oh, and you can set metric versus imperial units for quantities which are reflected in both the shopping list and in the recipes when you go to cook from them!
When you're in the store, use the Real Plans app to cross off items as you place them in your shopping cart! Each shopping list (whether you have one because you always shop at one store, or you have three to hit all your favorite locations) is organized by area in the store, to save you from walking in circles, and with this added functionality, you'll never have an I-forgot-face-palm-moment when you get home from grocery shopping ever again!
Real Plans' dynamic meal planner offers more than just a meal plan and shopping list though! It also includes a timeline of how to manage your time each day—when to shop, when to thaw, when to marinate, when to stick it all in the oven. In short, it will take all the guess work and planning off your plate and give you way more time with your family!
Finally, the recipe interface is fantastic. I mean, the entire interface is crazy sleek too, but I want to emphasize just how much information you get in a single screen while you're cooking. Not only is the recipe itself very intuitively laid out, but you get servings suggestions and find out both who created the recipe and what categories the recipe is tagged in (useful for searching for similar recipes).
Using Real Plans to Cater to Different Needs
I have never seen a meal planner with such powerful personalization tools as Real Plans.
There's a lot of moving parts to consider when meal planning. What if your dietary needs are different from your family's? What if you only have time to cook three times a week? What if you absolutely can't stand leftovers? What if your mornings are consistently too frantic to get a proper breakfast or make a good lunch? What if feeling hangry is one of your biggest cheat triggers? What if you have additional food sensitivities or aversions that make finding good recipes a challenge? What if you aren't Julia Child and don't feel comfortable with complex cooking techniques? (wait, isn't that most of us?) What if you're budget-constrained, or live by yourself, or have to feed a whole crew?
Real Plans makes all of this easy! The mealplans automatically adjust for the number of people you're cooking for. You can additionally exclude any food or food group from your preferences, or add any additional included food you like too! For example, maybe you follow the Paleo diet but also include rice in your diet. You can set your preferences to Paleo and add rice as an included food! Your meal plan will automatically reflect your choice! You can even set your preferences for the types of meals eaten on each day to reflect your not just your dietary preferences but also thematic choices, schedule, and ability to spend time in the kitchen!
And it just keeps going! Need to have a treat on hand? You can add that as an extra to your meal plan! Need to do a little batch cooking for the freezer to have some emergency meals prepared? You can add that too! Sift through recipes by cooking strategy keywords, by prep time, by cooking time… there's even a tag for "kid friendly"!
And all of this functionality comes with a pretty minimal time commitment to learn your way around. The interface is crazy sleek and intuitive. I mastered my meal plans in less than 10 minutes between watching the handy dandy introductory How To video and clicking around to explore. That's a fraction of the time it would have taken me to create a single week's meal plan by hand, and I got four week's worth out of my ten minute investment!
My Meal Planning Strategy
The way that I personally meal plan is to first shop at my local Farmer's Market and purchase whatever inspires me. When I get home, I look at the beautiful in-season local foods I've obtained and figure out what meals I'd like to make using my wonderful farm-fresh produce, fresh herbs, pasture-raised eggs, and grass-fed meat. Then, I make a list of additional ingredients to get at the grocery store to have everything on hand for the week.
Real Plans is a great tool for this! I can peruse recipes by key words or ingredients, and even filter by cuisine type, main ingredient, which meal of the day, a variety of tags (like "slow cooker" or "oven"), dish type, prep time, total time, and the cost of the ingredients! Then, I can add my recipe discoveries to my meal plan (perhaps deleting some of the automatically generated meals), and my shopping list is automatically updated. I can then tick off the ingredients I already have in the house (whether it's fresh produce from the Farmer's Market or spices I always have around) and have my new interactive list to take to the store (automatically updated on my mobile device too!). I can also add any other staple foods to my list (like apples, banana, and sweet potato chips) that may not feature in any of the recipes, but that we either eat in packed lunches or for snacks.
I've already said it, but here I go again: the versatility and functionality of Real Plans is unmatched! And what's more, the brains behind Real Plans are continuing to add more ways you can customize your meal plans, more recipes, more interactive experiences, and basically even more reasons to love Real Plans!
Click here and sign up! Prices vary by how long of a term you sign up for: month-to-month, quaterly or annually.
While the Real Plans recipes are all kitchen-tested and top-notch, I hope you'll also consider adding ThePaleoMom Recipes for $1/month. You'll get 260 Paleo and AIP recipes, including some recipes that are currently unavailable anywhere else!
You'll probably also be excited to know that I'm not the only blogger with a $1/month Recipe Add-On package available. You can also get over 250 recipes from NomNom Paleo and 500+ recipes from Wellness Mama (each for $1 per month)! Altogether, there's over 2400 recipes! And remember, you can always add your own!
And you can download the free companion app here (you must have a subscription for these apps to work):
Shopping Application available for Windows phones too. There's even a 30-Day Money Back Guarantee.
I can not think of a better way to get organized and stay on track with your nutrition goals. Real Plans can get you through the busy holiday season and keep you feeling your best through New Year's resolutions! I know you'll love it!
FAQ
How do I find Real Plans? Find the Real Plans website here.
How much does it cost? Plans begin at $6 per month when you purchase a year of meal plans. Shorter time periods are more expensive per month. You can add my recipes as an Add-On package for an additional $1 per month. This option is also available for recipes from NomNom Paleo and Wellness Mama!
How do I make sure The Paleo Mom's recipes appear in my plan? For an additional $1 per month, you can add ThePaleoMom package to your meal plan! You'll just let Real Plans know before they create your family's plan.
I'm not AIP. Should I still buy your Add-On package? Yes! All my recipes are perfectly delicious—even if you aren't AIP! Just like my website, the recipes in ThePaleoMom Add-On package includes a mix of AIP and standard Paleo meals. If you are not following the AIP, my standard Paleo recipes are all included in ThePaleoMom Add-On recipes as well, including all of my family-friendly classics! If you choose to subscribe to my Add-On package, you can easily select whether you'd like to see standard Paleo recipes, AIP recipes or both and have them included in your meal plan!
I don't eat grains but I enjoy dairy. Can I modify my plan to make sure dairy is included (or nightshades are excluded, or there is no fish)? Yes! Real Plans is completely customizable! You can tell Real Plans that you want a Paleo template, or you can specify your particular preferences from one of their wide range of options.
How will I know what to buy for the plans each week? Real Plans memberships include shopping lists and instructions for preparation! If you download the Real Plans app, you can use the shopping list tool as a checklist when you're in the store!