Itchy, irritated skin is no fun at all. When you feel the need to scratch, it's like your hands are on autopilot. There is almost no reasoning with them as they attempt to provide you with some sort of relief by scratching. It feels good for a while but then, uh oh, you've made your skin worse and then you're itchy once again! Welcome to the infamous itch-scratch cycle that is notoriously hard to break for both adults with eczema and for parents of children with eczema.
So just how do you find itchy skin relief?
Look at the diet and eczema connection. For many people, certain foods actually trigger or can further irritate your skin. My son for example, used to experience severe eczema flare-ups after eating gluten for more than two days in a row. He could eat tomatoes just fine with no trouble when his skin was clear, but if his skin was already irritated, tomatoes would make his skin so much worse, very angry and red. We also discovered that eating almonds once in a while was fine, but if he had some every day – eczema. Determining which foods are aggravating your skin can be very difficult and time consuming, but it's an important step to healing. We found an elimination diet to be the most helpful for us.
If you determine that food is contributing to your flare-ups, great! Eliminate the food (or eat it only on a rotating basis of every four days or more) and you should see quick relief. If your eczema is still lingering, try internal healing and boosting the immune system through a diet like Paleo along with these tips to combat eczema.
Save 80% Off the Foundations of Health
Expand your health knowledge on a wide range of topics relevant to you, from how to evaluate scientific studies, to therapeutic diet and lifestyle, to leaky gut and gut microbiome health, to sustainable weight loss, and much more!!!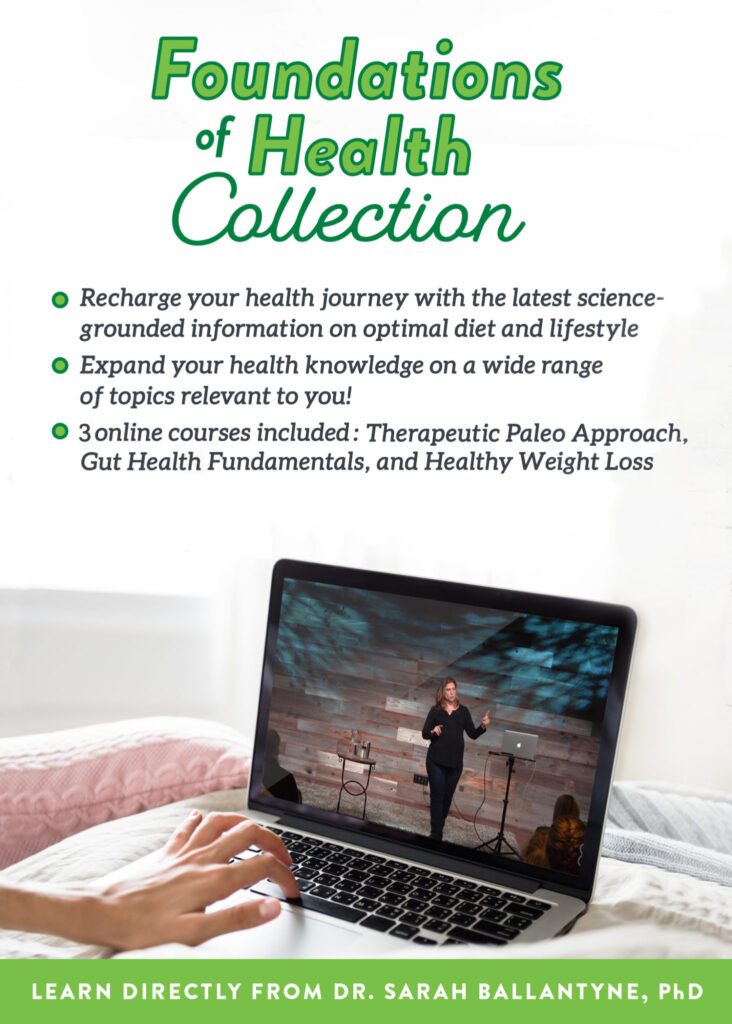 Because internal healing can take a long time – months to years – it's critical to find ways to relieve your skin in the short term.
Here are 7 Tips for Quick Eczema and Itchy Skin Relief:
1. Apply a natural cream.
Since eczema is often caused by a weakened skin barrier or leaky skin, the first suggestion is to look at ways to strengthen this barrier to prevent irritants and bacteria from passing through. Apply a natural cream or ointment topically that both heals the skin and soothes the itch – Sarah's favorites are Organic Manuka Skin Soothing Cream and coconut oil. Apply twice daily and after every shower, bath or hand washing.
2. Take a soothing bath with oats or calendula.
The anti-inflammatory and anti-itch effects of oats come from Avenanthramides, the principle polyphenolic antioxidants found in the little grain [1]. To find relief with an oat bath simply grind up ½ cup of gluten-free oats into an ultra-fine powder and add it to a warm bath. Relax and enjoy for 15-20 minutes.
3. Apply a cold compress to the skin.
For best results, use an ice pack which will numb the skin and reduce inflammation quickly.
4. Tickle or caress the skin.
This was our go-to itch fix with my son. We taught him early on how gently caressing the skin could help to mask the need to scratch. There were times we tickled him for what felt like hours in order to keep him from scratching and damaging his skin. He eventually learned to tickle himself and could fight the itch all on his own.
5. Use acupressure.
This sounds a lot more complicated than it is. All you need to do is apply pressure with your fingers to the Large Intestine 11 point a few times a day to experience itchy skin relief [2]. Need help? This diagram will guide you.
6. Try wet wrapping.
This is another natural eczema treatment that worked very well for my son not just to soothe itchy skin, but to heal and deeply moisturize the skin. Wet wrap therapy can really work wonders quickly.
How to wet wrap:
Take a bath in warm water for 15-20 minutes.
Towel dry and apply a moisturizer of your choice to the skin.
Wet a layer of form fitting cotton clothing or use clothing made specifically for wet wrap therapy. Use warm water.
Wring them the clothes so they are damp, but not wet, and put them on.
Add another layer of dry clothing on top of the damp layer.
Stay in your wet wraps for a minimum of two hours or overnight.
Remove the layers of clothing and apply the moisturizer once again to your skin.
Repeat as necessary for a few days, but no more as the water can start to have a drying effect on the skin.
The key to wet wrapping is to make sure the wraps and your skin stay damp the entire time. In my experience with my son, I found that his wraps tended to dry out when he wore them overnight, so instead we treated him in two hour sessions during the day, repeating the treatment at least twice a day.
It's also important to note that if you believe you may have a skin infection, the wraps could either heal the skin or could worsen the infection. So, proceed with caution and speak with your physician if you have any questions about wet wrap therapy.
7. Cover up hands and feet.
If all else fails, cover up hands and feet to prevent scratching. For children with eczema, scratch mittens with silk are a great option because they are soft and gentle.My son wore these overnight with the mittens folded closed to prevent night time scratching and during the day with the mittens folded open for play. Eczema clothing for adults often provide closed mittens so you can sleep easy and scratch-free all night long.
How do you relieve your eczema and itchy skin? Please share your tips with us!
Jennifer Roberge is the founder of the award-winning blog Its An Itchy Little World , The Eczema Company and YoRo Naturals. Propelled to find a solution for her son's struggles with eczema, allergies, and asthma, Jennifer has established herself as the go-to resource on integrative and holistic methods, and the best natural products for healing both inside and out.

References
Colloidal oatmeal formulations and the treatment of atopic dermatitis. J Drugs Dermatol. 2014 Oct;13(10):1180-3
Effectiveness of acupressure on pruritus and lichenification associated with atopic dermatitis: a pilot trial. Acupunct Med. 2012 Mar;30(1):8-11.