SCIENCE SIMPLIFIED:
A goitrogen is a substance that interferes with thyroid hormone synthesis, typically by blocking iodine uptake by the thyroid gland.
Cruciferous vegetables—cabbage, broccoli, cauliflower, kale, turnips, arugula, etc.— are particularly rich in a group of sulfur-containing compounds called glucosinolates, some of which are known goitrogens.
Early studies in iodine-deficient animals showed that high consumption of cabbage or other cruciferous vegetables increased incidence of goiters, leading to recommendations that people with hypothyroidism avoid these healthy vegetables. A collection of studies from the last two years put these fears to rest.
Animal studies show that supplementation with broccoli or rutabaga sprouts reduces inflammation and oxidative stress in the thyroid, improving thyroid function even in iodine-deficiency-induced hypothyroidism.
Two human studies show that supplementation with a broccoli sprout extract (treated to be particularly high in isothiocyanates, the main goitrogen in broccoli) had no effect on thyroid function even in people with autoimmune thyroid disease. There was even a small, but not statistically significant, trend towards improved thyroid function.
These studies make a compelling case that cruciferous vegetables are a health-promoting food even for people with autoimmune thyroid disease and subclinical hypothyroidism.
RELATED READING:
The thyroid gland produces hormones that control metabolism as well as influence other essential systems in the human body, such as the cardiovascular system, the immune system, and calcium homeostasis. Thyroid hormones increase our basal metabolic rate, control appetite, improve absorption of nutrients from the digestive tract, and control gut motility. They play an essential role in glucose metabolism and also stimulate the breakdown of fats. Thyroid hormones even have an essential role in regulation of the immune system, so supporting optimal thyroid function in everyone is important for healing and for general health. (See also
The Link between the Thyroid and Infertility
)
Those with autoimmune thyroid disorders and those with low thyroid function (which can often accompany other autoimmune diseases) are often advised to avoid consumption of cruciferous vegetables, spinach, radishes, peaches and strawberries due to their goitrogenic properties. Because the consumption of cruciferous vegetables correlates with diverse health benefits, including reducing the risk of cancer (even thyroid cancer!), this is an important topic to delve into!
*NEW* Guide to Nutrivore E-Book!
Nutrivore is the simple yet revolutionary concept:
Choose foods to meet the body's nutritional needs!
I'm very excited about the Nutrivore information! Thank you so much for all your research and hard work you put into this kind of information for all of us to use!! -Debbie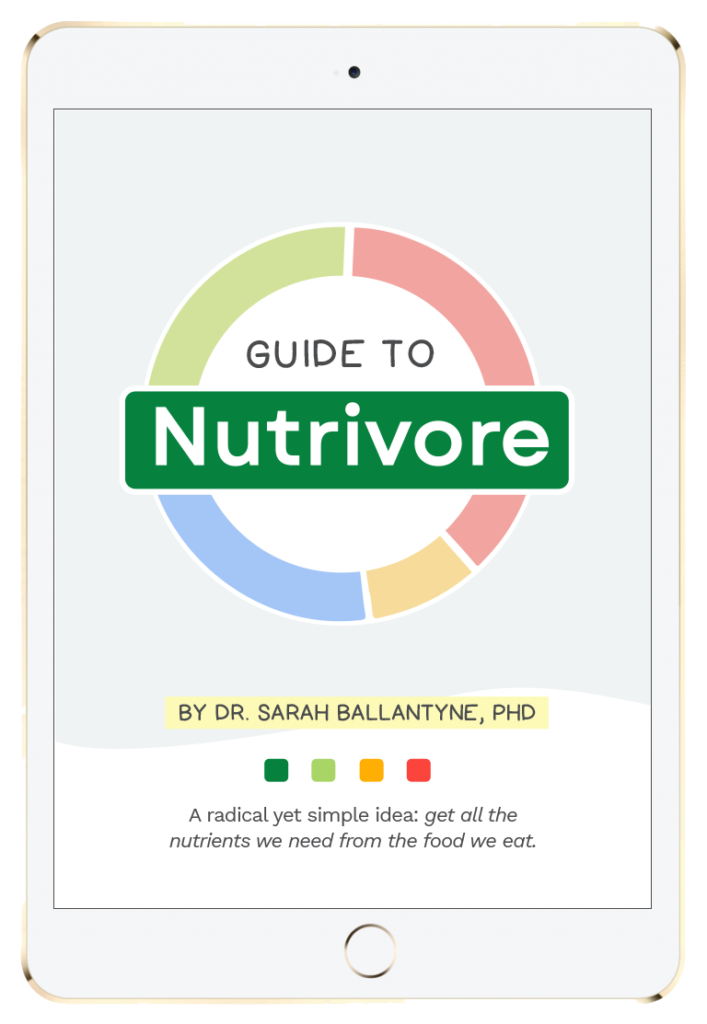 What Are Cruciferous Vegetables?
The cruciferous family of vegetables (a.k.a. brassicas) comprises many of the most antioxidant-, vitamin- and mineral-rich vegetables available, including:
arugula (rocket)
bok choy
broccoflower
broccoli romanesco
broccoli, many varieties
brussels sprout
cabbage, many varieties
canola/rapeseed
cauliflower
Chinese broccoli (gai-lan)
collard greens
daikon
field pepperweed
flowering cabbage
garden cress
horseradish
kale, many varieties
kohlrabi
komatsuna
land cress
maca
mizuna
mustard, many varieties
napa cabbage (siu choy)
radish, many varieties
rapini (broccoli rabe)
rutabaga
tatsoi
turnip, many varieties
wasabi
watercress
wild broccoli
The Goitrogens in Cruciferous Vegetables
Cruciferous vegetables are particularly rich in a group of sulfur-containing compounds called glucosinolates. When the raw vegetables are chopped or chewed, an enzyme called myrosinase that is also present in these plants breaks the glucosinolates apart (through hydrolysis) into a variety of biologically active compounds, many of which are potent antioxidants and are known to prevent cancer. Two of these antioxidant, anti-cancer classes of glucosinolate hydrolysates are also known goitrogens. These are isothiocyanates and thiocyanates.
Isothiocyanates and thiocyanates can block the activity of the enzyme thyroid peroxidase (a.k.a. thyroperoxidase or TPO). TPO catalyzes the production of thyroid hormones through "organification" of iodine, i.e., the conversion of iodide ions into iodine atoms (via oxidation) so they can be complexed with an amino acid (tyrosine) and then incorporated into thyroxine (T4), the thyroid prohormone. (Thyroxine is then converted into the more active thyroid hormone triiodothyronine (T3) by a group of selenium-containing enzymes called deiodinases (aka 5′-iodinase) that are found in multiple areas of the body.) When isothiocyanates or thiocyanates are consumed in large enough quantities, they reduce thyroid hormone formation via inhibition of TPO.
Despite a lack of human studies, early reports of goiters in iodine-deficient animals eating high amounts of cruciferous vegetables led to concern that this vegetable family should be off-limits for people with hypothyroidism.
While there was never strong evidence that cruciferous veggies need to be avoided in absence of iodine deficiency, a collection of high quality studies from the last two years finally put this fear to rest.
Animal Studies
Animal models of hypothyroidism (induced either by a chemical called sulfadimethoxine, which inhibits TPO activity, or severe iodine deficiency) are invaluable for studying the mechanisms underlying the goitrogenic effects of isothiocyanates and thiocyanates.
The Ultimate Support for Your AIP Journey!
Get personalized guidance and support from Dr. Sarah in this 6-week interactive online course!
Thank you for your warmth, your AIP mastery, and your dedication to answering each and every one of our questions with such kindness and attention to detail. Thank you for teaching the science behind the principles. The amount of energy you put into creating this course and responding to us in real-time is felt and APPRECIATED!!
-Nicole Wood
The next session of The AIP Lecture Series begins January 10th, 2022.
Use code AIPLS10 to save 10% thru December 15th.
In a 2018 study, a diet of 7% freeze-dried rutabaga sprouts did not cause any significant changes in TSH, free T3, or free T4 in control (normal) rats. Excitingly, the rutabaga-sprout-supplemented diet had a protective effect on thyroid damage (TSH decreased significantly) in iodine-deficient rats receiving a diet with iodine deficiency (RDI). In contrast, rutabaga spouts enhanced hypothyroidism in sulfadimethoxine-treated rats (increased TSH and decreased both free T3 and free T4). In a follow-up study, it was shown that rutabaga sprouts reduced oxidative stress on the thyroid (as indicated by normalization of heme oxygenase-1, which I find extra interesting since I studied HO-1 for my PhD!) in both iodine deficiency or sulfadimethoxine groups, in addition to a trend towards reduced proinflammatory cytokines (TNF-α and IL-6) and increased anti-inflammatory cytokine IL-10. Importantly, this follow-up study showed that rutabaga sprouts had no hypothyroidism-enhancing effect in sulfadimethoxine-treated rats.
In another 2018 rat study, a diet of 7% freeze-dried broccoli sprouts did not cause any changes in thyroid function in control rats and additionally, protected the thyroid in both sulfadimethoxine-treated rats and severe iodine deficiency! In iodine-deficient rats, broccoli sprouts improved the antioxidant capacity of the thyroid while significantly reducing levels of the proinflammatory cytokine IL-6. In sulfadimethoxine-treated rats, broccoli sprouts reduced TSH and increased free T3. In addition, thioredoxin reductase activity significantly increased in response to sprouts ingestion.
Thioredoxin reductase (a selenoenzyme) has a critical role in cellular redox regulation. Many chemical processes (including the most basic use of energy by our cells) in the human body are redox reactions, meaning that they involve the transfer of electrons from one molecule to another one. These transfers need to be tightly controlled, and thioredoxin reductase is one of the enzymes that accomplishes this (by reducing the electron donor thioredoxin). And, thioredoxin reductase also plays a key role in thyroid health.
While both too much and too little iodine have been linked to autoimmune thyroid diseases, it's important to note the connection between iodine and selenium in terms of thyroid function. Too much iodine inhibits thyroid hormone synthesis; however the body has an enzyme (sodium-iodide symporter) whose job is to deal with excess iodine to restore thyroid function as quickly as possible. Recent studies have shown that this enzyme cannot function if there is a deficiency in thioredoxin reductase, which means that the link between too much iodine and autoimmune thyroid disease may actually be due to selenium deficiency (or at least, in part). It also helps to explain why broccoli sprouts may help to improve thyroid function even in the context of iodine deficiency.
Taken together, these data suggest that cruciferous vegetable intake is not a concern for thyroid health, even in the context of iodine deficiency. In fact, cruciferous vegetables may improve thyroid function!
The Gut Health Guidebook!
Diet and lifestyle to nurture your gut microbiome and heal leaky gut!
The depth of information, practical tips, and the accessible way Dr. Sarah shows me how to apply complex science to improve my health is truly remarkable. -Wendy
Human Studies
A 2019 study in humans confirms that even high-doses of isothiocyanates (from broccoli sprouts) are safe for the thyroid, even in the context of autoimmune thyroid disease.
In this study, a water extract of 3-day old broccoli sprouts (made simply by boiling the sprouts for 30 minutes) was treated with myrosinase to convert the glucosinolates into predominantly sulforaphane (an isothiocyanate). The extract was then freeze-dried to form a powder and standardized based on its sulforaphane content. This powder was mixed with pineapple and lime juice so the participants could be blinded as to whether they were receiving the isothiocyanate-concentrated broccoli sprout extract, a untreated broccoli sprout extract (rich in the glucosinolate precursors but not isothiocyanates) or no broccoli sprout extract. They were given a dose every day for 84 days.
In comparison to placebo, the broccoli sprout extract caused absolutely no change to TSH, free T4 or thyroglobulin. The percentage of participants who were seropositive for TPO and/or thyroglobulin antibodies at baseline was not statistically significantly different at 84 days (there was a trend toward a slight decrease, meaning fewer participants met the diagnostic criteria for Hashimoto's thyroiditis at the end of the study compared to the beginning). A similar trend toward a decrease in the percentage of participants with subclinical hypothyroidism was observed (again, not statistically significant).
Similar results were found in a 2006 clinical trial in which participants consumed broccoli extract beverages three times per day for 7 days, and no changes to TSH, total T3 or free T4 were observed.
Take-Home Message
Taken together, these studies make a compelling case that cruciferous vegetables are a health-promoting food even for people with autoimmune thyroid disease and subclinical hypothyroidism.
Citations
Bosetti C, Negri E, Kolonel L, Ron E, Franceschi S, Preston-Martin S, McTiernan A, Dal Maso L, Mark SD, Mabuchi K, Land C, Jin F, Wingren G, Galanti MR, Hallquist A, Glattre E, Lund E, Levi F, Linos D, La Vecchia C. A pooled analysis of case-control studies of thyroid cancer. VII. Cruciferous and other vegetables (International). Cancer Causes Control. 2002 Oct;13(8):765-75
Chandler, J.D. & Day, B.J., Thiocyanate: a potentially useful therapeutic agent with host defense and antioxidant properties. Biochem Pharmacol. 2012 Dec 1;84(11):1381-7
Chandra AK, Mukhopadhyay S, Ghosh D, Tripathy S. Effect of radish (Raphanus sativus Linn.) on thyroid status under conditions of varying iodine intake in rats. Indian J Exp Biol. 2006 Aug;44(8):653-61.
Chartoumpekis DV, Ziros PG, Chen JG, Groopman JD, Kensler TW, Sykiotis GP. Broccoli sprout beverage is safe for thyroid hormonal and autoimmune status: Results of a 12-week randomized trial. Food Chem Toxicol. 2019 Apr;126:1-6. doi: 10.1016/j.fct.2019.02.004.
The Gut Health Cookbook!
180+ delicious recipes featuring 61 gut health superfoods!
The Gut Health Cookbook is fantastic! Thank you for researching and creating The Gut Health Cookbook! Such wonderful recipes! I'm so excited to try them all! -Sue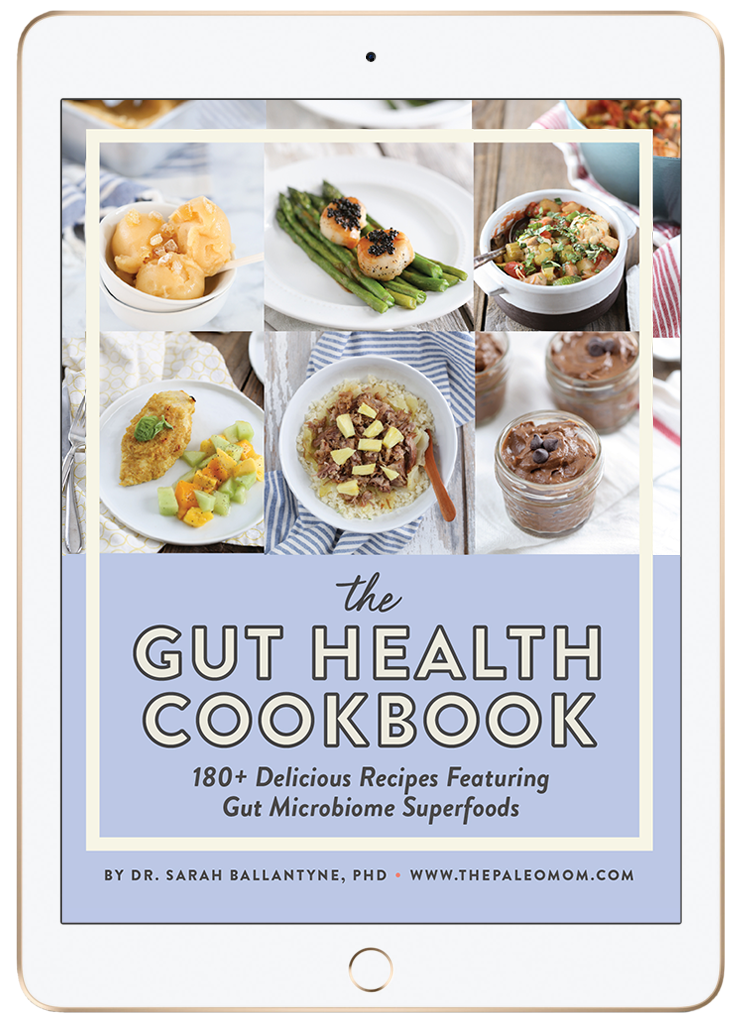 Cléro É, Doyon F, Chungue V, Rachédi F, Boissin JL, Sebbag J, Shan L, Rubino C, de Vathaire F. Dietary patterns, goitrogenic food, and thyroid cancer: a case-control study in French Polynesia. Nutr Cancer. 2012;64(7):929-36. doi: 10.1080/01635581.2012.713538.
Knowles SO, Grace ND. Serum total iodine concentrations in pasture-fed pregnant ewes and newborn lambs challenged by iodine supplementation and goitrogenic kale. J Anim Sci. 2015 Jan;93(1):425-32. doi: 10.2527/jas.2014-7854.
Paśko P, Krośniak M, Prochownik E, Tyszka-Czochara M, Fołta M, Francik R, Sikora J, Malinowski M, Zagrodzki P. Effect of broccoli sprouts on thyroid function, haematological, biochemical, and immunological parameters in rats with thyroid imbalance. Biomed Pharmacother. 2018 Jan;97:82-90. doi: 10.1016/j.biopha.2017.10.098.
Paśko P, Okoń K, Krośniak M, Prochownik E, Żmudzki P, Kryczyk-Kozioł J, Zagrodzki P. Interaction between iodine and glucosinolates in rutabaga sprouts and selected biomarkers of thyroid function in male rats. J Trace Elem Med Biol. 2018 Mar;46:110-116. doi: 10.1016/j.jtemb.2017.12.002.
Paśko P, Prochownik E, Krośniak M, Tyszka-Czochara M, Francik R, Marcinkowska M, Sikora J, Malinowski M, Zagrodzki P. Animals in Iodine Deficiency or Sulfadimethoxine Models of Thyroid Damage Are Differently Affected by the Consumption of Brassica Sprouts. Biol Trace Elem Res. 2019 Mar 29. doi: 10.1007/s12011-019-01694-7.
Shapiro TA, Fahey JW, Dinkova-Kostova AT, Holtzclaw WD, Stephenson KK, Wade KL, Ye L, Talalay P. Safety, tolerance, and metabolism of broccoli sprout glucosinolates and isothiocyanates: a clinical phase I study. Nutr Cancer. 2006;55(1):53-62.
Truong T, Baron-Dubourdieu D, Rougier Y, Guénel P. Role of dietary iodine and cruciferous vegetables in thyroid cancer: a countrywide case-control study in New Caledonia. Cancer Causes Control. 2010 Aug;21(8):1183-92. doi: 10.1007/s10552-010-9545-2.
Virion, A., et al., Opposite effects of thiocyanate on tyrosine iodination and thyroid hormone synthesis, Eur J Biochem. 1980 Nov;112(1):1-7