Jo is the blogger at Comfort Bites, and the author of the book and Kindle ebook SPICE, containing over 90 recipes that feature herbs and spices on the autoimmune protocol.  In the summer of 2013, she decided to tackle psoriasis she had suffered with for 25 years using the autoimmune protocol diet and lifestyle, and it worked. She hopes that she can use her experience to help others achieve the same results. Jo blogs at Comfort Bites Blog and you can follow her on Instagram @joromerofood.
---
I love playing with herbs and spices in my cooking. I think every fragrant herb and spice lends something that can really transform a dish – just a slight tweak here or there and you can change the flavor of a recipe completely.
Now. Herbs and spices on the autoimmune protocol can be a tricky subject. You might feel sad that spices such as paprika, chili powder and cardamom pods are eliminated at the start of the protocol, but it's important not to get too hung up on that and to focus on all the tasty flavors that you can use. You'll be surprised at what you can achieve. Replicating Thai, Chinese, Indian, Middle-Eastern and European flavors is totally possible on AIP, and I'm going to show you how it's done.
Nutrivore Weekly Serving Matrix
An easy-to-use and flexible weekly checklist
to help you maximize nutrient-density.
The Weekly Serving Matrix is very helpful! I've been eating along these lines but this really helps me know where to focus vs. which foods serve a more secondary role. It's super helpful and has taken a lot of worry out of my meal planning. Thanks!

Jan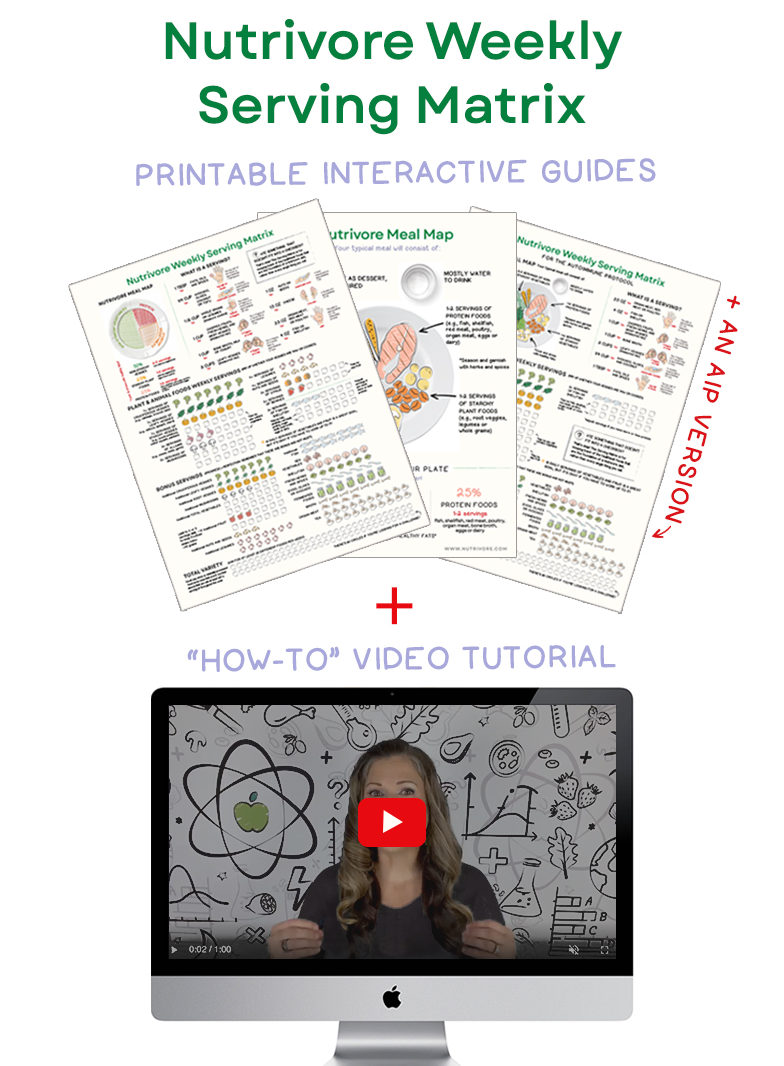 Avoiding seed and nightshade-based spices (and black pepper, which is pretty much in everything) you're not going to be able to generally buy spice blends off the supermarket shelf unless they're an AIP-friendly brand. The great news is that it's easy to make your own. Just double check the label to make sure there are no non-compliant ingredients – some spices might contain rice flours or stabilizers, for example.
Storing spices
Keep spices in a dark, cool cupboard or drawer – I use a small, fairly deep drawer and make sure the labels face upwards, on top of the jars, so I can see at a glance what I have. You might opt for a spice rack inside a cupboard or small tins that sit on a metallic strip on your kitchen wall. There are lots of storage options available, but just try and avoid what I had for years – a clutter of different-sized jars crammed into a cupboard, that used to tumble over when I tried to pick one out.
A quick reminder: if you're making a spice blend using fresh ingredients, for example, grated fresh garlic and dried herbs, then they should be made and used straight away. The only store dried and powdered herbs and spices in the cupboard. You can always create the dried blends and then add the fresh ingredients as you cook.
For fresh cut herbs, you'll make them last a little longer if you treat them like the plants they are – place the cut ends in a little glass of water. You can also try and buy herbs in pots to keep on the windowsill or even grow your own. Where I can, I like to buy frozen, chopped herbs, which often work out cheaper and last much longer. You just unclip the top of the box or packet and shake them out and into your dish as you need. These are better for cooking with, rather than sprinkling raw over a salad, as freezing can affect the texture of herbs such as basil. For tougher herbs, you can also freeze them yourself, by chopping them and placing in a clean, dry ice cube tray. You can then fill with water and freeze the ice cubes. When you drop them into a soup or stew, the water will melt and evaporate, leaving your beautiful herbs!
Making Your Spice Blends for Different Cuisines
I spent a long time researching the different herbs and spices and how they work together for my AIP recipe book SPICE. I managed to find ways to replicate the flavors of dishes from all around the world.
For Indian dishes, I used turmeric for earthiness and color, as well as a touch of ground cloves to create the 'body' that coriander seed and cumin would usually supply. I also like to add a little-dried coriander leaf or cilantro – the dried herb has a totally different flavor to when it's fresh, and it just lifts the flavors slightly and adds interest. Garlic and ginger add a zingy aroma and then I like to season with sea salt. You'd be surprised at how close to a basic curry blend this can taste. You can make a batch of this blend and store in a small container, adding coconut yogurt or coconut oil to make a marinade. Add a squeeze of lemon juice once cooked to lighten everything up.
I created a Green Thai Curry and also a Red Thai Curry, both AIP compliant, which are both in SPICE. The green curry was easier to develop, as there were no chilies. When I think of Thai cuisine, I imagine the sweet fragrance of lemongrass, lime, and coconut, along with punchy garlic and fresh ginger. To add a fresh fragrance to a Thai-based meal on AIP, use lots of fresh coriander and fresh basil. I love to add a little turmeric too, for color and sweetness. The Red Thai Curry used all of this, plus some cooked beetroot to create the amber-red color and sweetness of the Red Curry. You can use this spice paste as a marinade, or a base for a beautiful, aromatic curry or soup. Just add coconut milk.
For Chinese flavors, your closest bet to soy sauce is going to be coconut aminos, although I've found that frying chopped smoked bacon and brown mushrooms together result in an umami taste that kind of resembles the flavor of soy sauce. You'll also need spring onions, ginger, and garlic, which will make any stir-fry taste authentic. Tamarind paste is also a good ingredient to have in the cupboard – stir-fry some chicken or prawns in a pan with tamarind paste, spring onions, ginger and garlic and drizzle in a little runny honey at the end. Heaven.
If you're after an Italian based spice blend, you won't go wrong with garlic, along with dried leafy herbs like oregano, tarragon, parsley, and thyme. Marjoram is another herb that you see a lot in Italian dishes. Add them to your No-Mato sauces, sprinkle them into your AIP bread dough or trickle in a little olive oil and marinate pork, chicken, beef or lamb.
Don't be afraid to experiment with your herbs and spices. One of the reasons I wrote my book SPICE was because I missed the spicy, fragrant dishes I enjoyed before I went on the autoimmune protocol. Curries, stir-fries, aromatic roasts and dishes inspired by countries around the world. So I included over 90 fully AIP compliant recipes that mean you can enjoy those things again, even with a more limited range of herbs and spices – and so much is possible! Most types of cuisines around the world can be replicated on AIP, you just need to be a little more creative, that's all. So give yourself the freedom to experiment, and add totally new dimensions to your favorite foods. Enjoy experimenting!

Become a Member for FREE!
The Paleo Mom Members' Area is resource central!  
You'll get FREE, unlimited access to dozens of quality resources, including introductory series, downloadable e-books, exclusive recipes, printables, videos and guides!
You may enjoy these related posts:
When it comes to herbs and spices, figuring out which ones are safe on the …