After six excruciatingly long weeks, I'm so excited to be back online! Where has my website been? My site got caught up in a ransomware attack on someone else. And, even though my website is back, I still need your help.
So, here's the story…
What Happened to My Website?
My website service provider, BizBudding, develops and hosts websites for hundreds of bloggers, businesses, and creators. Part of BizBudding's infrastructure uses a cloud service provider called 365 Data Centers.
Nutrivore Weekly Serving Matrix
An easy-to-use and flexible weekly checklist
to help you maximize nutrient-density.
The Weekly Serving Matrix is very helpful! I've been eating along these lines but this really helps me know where to focus vs. which foods serve a more secondary role. It's super helpful and has taken a lot of worry out of my meal planning. Thanks!

Jan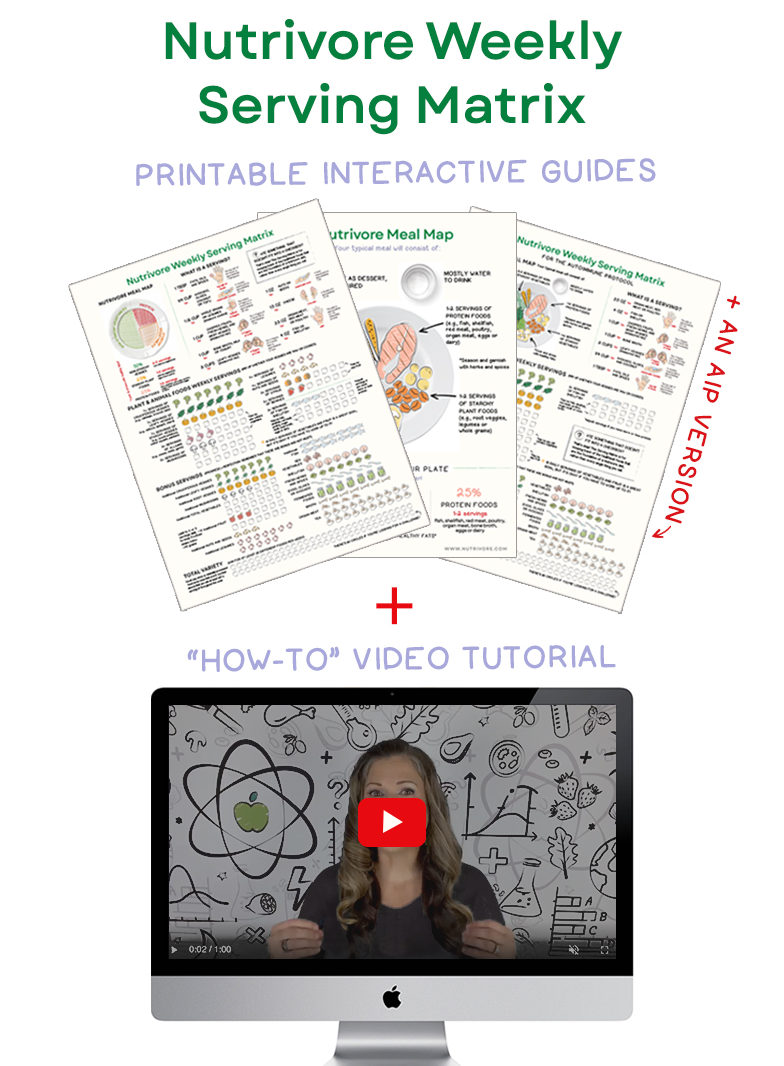 On Saturday, May 14th, there was a ransomware attack targeting someone else whose data is stored in a dedicated environment on 365 Data Centers' cloud platform; but the cyber attacker broadened the attack so it ended up taking down all of 365 Data Centers' northeast data centers.
Thousands of websites went offline as a result of this cyber attack, from hospitals to fortune 500 companies. Other websites like mine, whose primary and backup systems were both affected by this hack, were unable to access our data. (Those websites lucky enough to have backups outside of the affected northeast data centers were able to be back online in a matter of hours or days.)
Third-party cyber security experts confirmed that no customer data was accessed and that, aside from the targeted third party, no data was taken from the 365 Data Centers cloud environment.
This situation was completely out of my control, since I was not ransomed and I was powerless to affect the outcome of this attack. After three weeks of increasingly cryptic and unhelpful updates from 365 Data Centers, I lost confidence that I would regain access to my site or my backups in a timely manner. Even with ongoing litigation, my team and I surmised that our best path forward was to rebuild. So, my team and I dropped everything else that we were working on (largely building Nutrivore.com) to start rebuilding ThePaleoMom.com, a huge job that we estimated it would take all of us working together a full month to complete.
How I Got the Site Back
365 Data Centers told us that they could not initiate restoration of my website (or anyone else's who is affected) until the ransomware attack was resolved on all fronts. Then, 365 Data Centers informed us that they had finally obtained decryption tools (I do not know if this means they paid the ransom), and after six whole weeks of my site being offline, they were able to fully recover our data at last!
Once the data was recovered, BizBudding had some tricksy work to do to actually get my site back online. I am so fortunate through all of this to have such amazing web developers. BizBudding was incredibly responsive and helpful throughout this ordeal.
My team and I had just reached the halfway point of our rebuild; so yes, this does mean all our work over these past weeks won't be of any use to us now. And yes, it would have been helpful to know exactly when (and if!) we were going to get my website back, because then our efforts could have continued to focus on building Nutrivore. It's frustrating to have lost so much valuable time and energy, but I will say that going through this with my team has brought us even closer together, and we can view the new skills we've all learned as post traumatic growth. I'm sure that, after this, any future challenges won't seem so big.
The Not-Cool Repercussions
Unfortunately, my website being down for 6 weeks has hurt my Google ranking. This means that, when someone searches for a topic I have written about, where in the past my article would have shown up in the top page or two of Google's search results, now, that same article will be many pages deep, where most people will never see it. This basically halves my traffic, even though the high quality of my resources is the same. New people discovering my website through a web search, then finding value in my articles or recipes, and so purchasing one of my e-books or programs, is the main way my business makes money. So, I am not out of the woods yet.
Basically, my team and I have to switch gears from rebuilding the content of my website, to rebuilding the prestige and audience of my website. And, we know this will take time and support from you.
How You Can Help
The number one thing you can do right now is spend time on this website. This will help in restoring my google ranking that I worked so hard to build over this past decade. Read your favorite articles, maybe discover some you missed, look up your favorite recipes, and explore the entire website. Also, sharing my website with others really will help too! I know many of you used to share my site and/or specific articles with friends, family, clients or patients. I would be so grateful if you could do a bit extra of that over the next few months.
The second thing you can do is purchase something from my store, including e-books, online courses, merch and coming soon, live events! Whether you're looking to dive into the information on Nutrivore, or are looking for the foundational information about the Autoimmune Protocol, or want to improve your gut health, these premium resources have you covered.