Wasn't 2015 a fun year in food? As I look back over the blog, I think I came up with some really unique flavors last year! I tried new cooking techniques, dug into new ingredients (hello, cassava flour!) and even managed to perfect some of my family's favorite traditional recipes! And, I'm just one of HUNDREDS of Paleo food bloggers whose creations are getting more and more inventive and delicious each and every year.
In fact, I sometimes find the sheer number of new Paleo recipes I see each week overwhelming. This community has grown so much since I went Paleo 4 1/2 years ago, and it seems like someone has figured out a way to recreate every single one of my favorite Standard American Diet foods in a healthier way. So, I'm super proud to be included again this year in The Best Paleo Recipes of 2015!
Nutrivore Weekly Serving Matrix
An easy-to-use and flexible weekly checklist
to help you maximize nutrient-density.
The Weekly Serving Matrix is very helpful! I've been eating along these lines but this really helps me know where to focus vs. which foods serve a more secondary role. It's super helpful and has taken a lot of worry out of my meal planning. Thanks!

Jan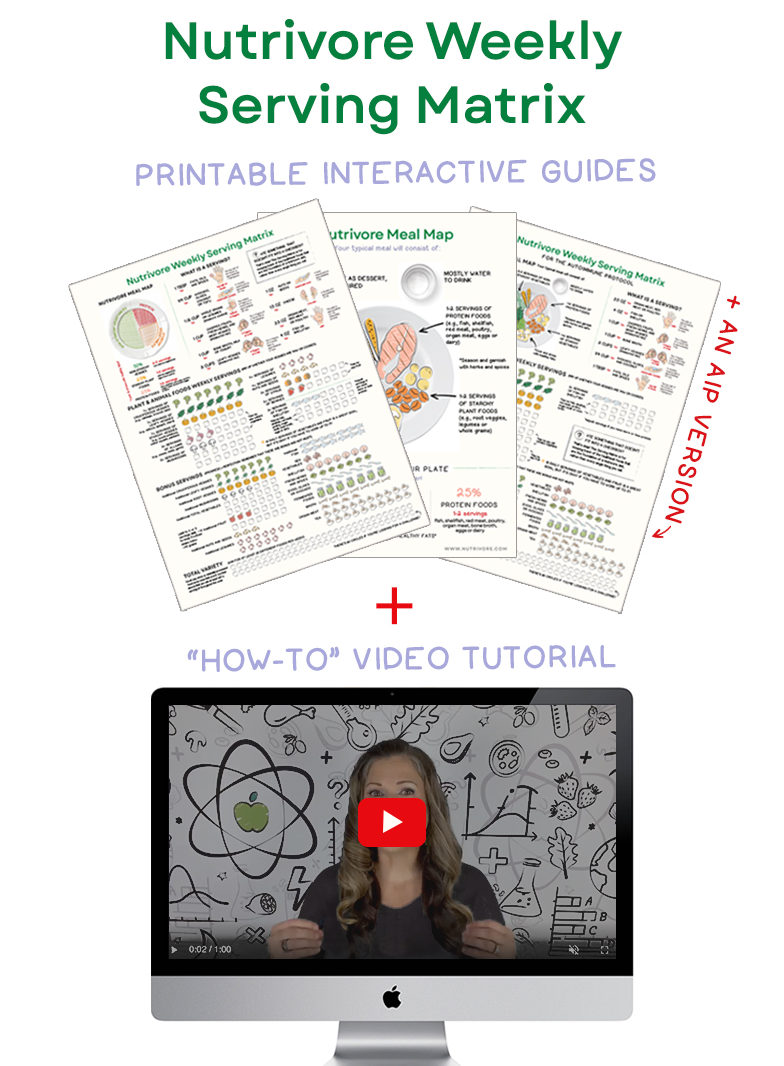 This fantastic e-book is exactly what it sounds like — a collection of the best Paleo recipes of last year, covering a huge assortment of needs from breakfast to dessert, organized by some of the original recipe creators of amazing Paleo recipes, Bill and Hayley Staley of Primal Palate. Bill and Hayley managed to wrangle up OVER 30 of the top names in the Paleo community like Juli Bauer, Danielle Walker, Mark Sisson, Brittany Angell, Steph Gaudreau, Russ Crandall, and many more. This year's group of contributors is super impressive, bringing the eBook to nearly 500 pages of recipes!
Even if you purchased the 2014 e-book, you'll be blown away by this year's collection (it's also 100% new!!!). While some recipe e-books are clunky and difficult to view, this one is absolutely beautiful! It's easy to navigate, and the recipes are easy to follow. Plus, you can find them organized by type OR by author! I love that this gives you a chance to find some new favorite recipe creators so you'll have a full arsenal of recipes in 2016!
Since I knew I'd be working with some pretty incredible contributors, I wanted to bring my A-game for this e-book! I contributed some of my favorite, most nutrient-dense recipes, but I also created a NEW recipe exclusively for the collection — a Paleo recreation of my Great-Great-Great-Grandmother's Rhubarb Coffee Cake!
This coffee cake recipe is so incredibly special to me (not to mention delicious!).  My Great-Great Uncle Alex, who my family used to visit every summer, would make this for us every year using the rhubarb from his extensive vegetable garden.  Once my mom earned the privilege of access to the recipe, she made it as a special treat (often when family came to visit) from the beautiful rhubarb that she always grew in her vegetable garden.  This flavor and texture makes me think of warm summer days, camping, blue skies, playing in my Great-Great-Uncle's orchard, the tight bonds of family over generations, and what we used to call the Man-Eating Rhubarb (because it was so big, it rivaled a gunnera in size).  And in my family, being trusted with a traditional family recipe was always a great honor (never automatic, we had to earn that trust!).
I've been tinkering with a Paleo adaptation of this recipe for years and I'm so happy I could finally recreate that amazing flavor and texture but keep it grain-free and dairy-free! It's the perfect complement to a cup of coffee or tea, and you'll only find it in The Best Paleo Recipes of 2015 e-book!
If you've been struggling to decide what Paleo cookbooks to buy in the next year, this is a fantastic option. You'll find new bloggers to follow, get a huge range of recipes, flavor combinations and dishes for every palate, and probably try some brand-new cooking techniques too! I encourage you to check it out today!

Become a Member for FREE!
The Paleo Mom Members' Area is resource central!  
You'll get FREE, unlimited access to dozens of quality resources, including introductory series, downloadable e-books, exclusive recipes, printables, videos and guides!
You may enjoy these related posts:
This family recipe dates back to my great-great-Grandmother, who was "Nana" to …