The ability to get affordable and tasty Paleo meals on the table fast is a key skill for most of us to be able to stick with Paleo over the long term.  When my family gets home late and exhausted from swim practice, dance class or parent-teacher conference night, getting dinner on the table for an on-time bedtime is my number one priority. And, when I'm out of inspiration, cookbooks like Mel Joulwan's new Well Fed Weeknights are true lifesavers!
Bursting with vibrant flavors and foolproof recipes, the third installment in the best-selling Well Fed cookbook series puts more than 125 complete—and crazy-delicious—Paleo meals on the table in 45 minutes or less. In real-food land, that's darn fast!
Pre-Order Well Fed Weeknights!
Nutrivore Weekly Serving Matrix
An easy-to-use and flexible weekly checklist
to help you maximize nutrient-density.
The Weekly Serving Matrix is very helpful! I've been eating along these lines but this really helps me know where to focus vs. which foods serve a more secondary role. It's super helpful and has taken a lot of worry out of my meal planning. Thanks!

Jan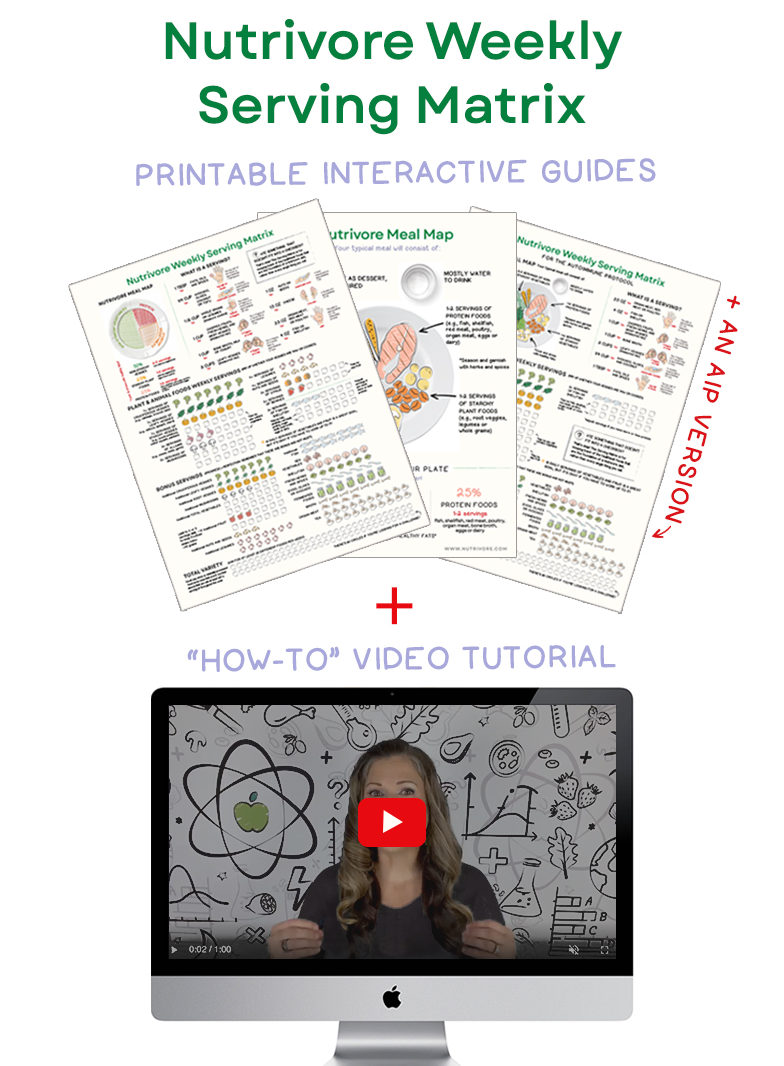 Well Fed Weeknights won't ship until Nov. 1, but right now, Mel is running a FANTASTIC deal! When you pre-order this cookbook, you'll get amazing bonuses, including:
Well Fed Weeknights Bonus Recipes ebook with 13 additional recipes
Epic Well Fed Meal Plan ebook with a month of menus, shopping lists, step-by-step instructions, and more
Free grass-fed burgers (6 x 6oz) + $10 off from ButcherBox
Free jar of Justin's Almond Butter & 1-month free at Thrive Market
Free issue & 20% off Paleo Magazine
Pre-Order Well Fed Weeknights!
Mel is one of my favorite cooking inspirations (check out our interview with her in TPV Episode. 205, Melissa Joulwan and the Weekly Cookup) thanks to her awesome and innovative flavor creations. She's an expert at taking flavors from around the world and incorporating them into completely grain, gluten, dairy and soy-free recipes that are an absolute breeze to put together! And Well Fed Weeknights is no different!
Want more convincing? You can download a FREE PDF preview of the book (including 18 recipes!) HERE!
It's a knockout collection of weeknight recipes inspired by takeout classics, food trucks, and cuisines from around the world—all totally free of grains, dairy, legumes, and soy.
You won't mind skipping the drive-through or delivery when you can quickly cook meals like…
Bacon-Jalapeño Burger Balls
Thai Yummy Salad
Dirty Rice
Fried Chicken Meatballs
Pizza Noodles
Sticky Orange Sunflower Chicken
Italian Hoagie Salad
Street Fries
… and so many more.
If you own Well Fed and Well Fed 2, you'll know that Mel's signature style includes easy mixes of protein, veggies and carbohydrates, plus delicious sauces and spice blends to keep things exciting.
Every meal is thoroughly tested and easy to make, with affordable ingredients you'll find at your neighborhood grocery store. And all of the recipes include the popular "You Know How You Could Do That?" variations, as well as Cookup Tips to help shorten meal prep time. You'll want to dog-ear the Mini Cookup page where you'll find step-by-step instructions for cooking six Paleo kitchen staples in under an hour. Cook once, and fancy-up your meals all week long with cauliflower rice, zucchini noodles, homemade mayo, and more (this is one of my favorite time-saving methods—see 3 Time-Saving Strategies for the AIP).
Debuting in Well Fed Weeknights are fun and flexible Food Court Recipes: detailed blueprints of your favorite dinner themes, like Meat & Potatoes, Burger Night, Velvet Stir-Fry, The Ultimate Salad Bar, and more, all offering basic techniques and creative variations to satisfy your personal cravings.
With fresh ingredients, flavorful spices and herbs, luscious sauces, and simple prep, Well Fed Weeknights is sure to become a splattered-and-bookmarked kitchen companion.
Pre-Order Well Fed Weeknights!
Save
Save
Save

Become a Member for FREE!
The Paleo Mom Members' Area is resource central!  
You'll get FREE, unlimited access to dozens of quality resources, including introductory series, downloadable e-books, exclusive recipes, printables, videos and guides!
You may enjoy these related posts:
In this episode, Stacy and Sarah talk to Melissa Joulwan of MelJoulwan.com about …