In this week's episode of The Whole View, Stacy and I share recent science showing that there's actually zero benefit to soaking or activating nuts. Surprised? I was too. So, here's the history.
When I wrote The Paleo Approach, I discovered that there was lots of science showing that soaking, sprouting or fermenting grains and legumes could reduce antinutrients; but, there wasn't a single study evaluating whether or not there was a similar benefit for nuts. In fact, I wrote at the time: "It is commonly postulated that soaking nuts in salted water and then drying them improves digestibility, reduces enzyme-inhibitor activity, and decreases phytic acid. This has not been documented in the scientific literature, but anecdotal accounts suggest that many people can tolerate nuts that have been soaked and dried even if they do not tolerate raw or roasted nuts." So, when listener Venessa asked a follow-up question to Episode 413 – The Gut Health Benefits of Nuts about whether soaking/activating nuts could reduce digestive issues, I went back to the literature to see if there were (finally) any studies. There were! And, they didn't show what I would have guessed!
So this week, Stacy and I summarize why it was reasonable to think that activating nuts would have reduced phytates, but then dive into four very recent studies that show the opposite! Yes, for some nuts, soaking actually slightly increases the phytates! Don't worry, it's a small difference, about 5%. What this science tells us is that soaking doesn't improve the digestibility or nutrient bioavailability of nuts, but that it's okay to soak nuts in the fridge if a recipe calls for it.
Nutrivore Weekly Serving Matrix
An easy-to-use and flexible weekly checklist
to help you maximize nutrient-density.
The Weekly Serving Matrix is very helpful! I've been eating along these lines but this really helps me know where to focus vs. which foods serve a more secondary role. It's super helpful and has taken a lot of worry out of my meal planning. Thanks!

Jan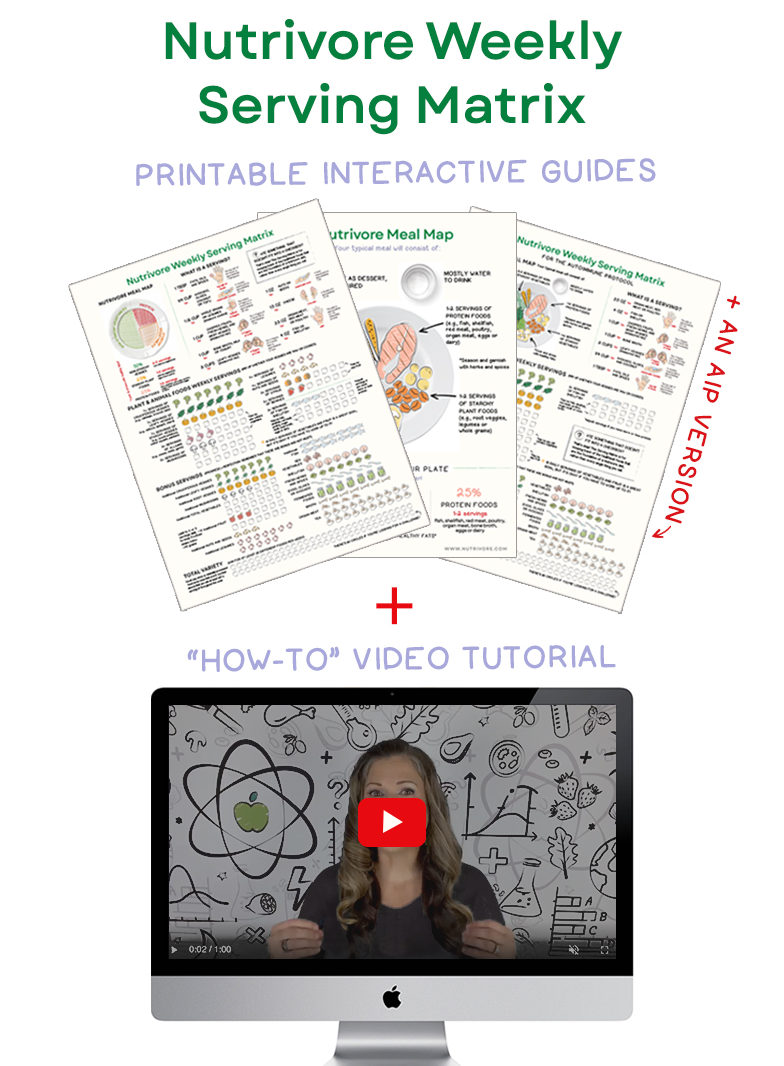 If you enjoy the show, please review it on iTunes!
Recommended Reading and Listening
Citations
Coucke F. Food intolerance in patients with manifest autoimmunity. Observational study. Autoimmun Rev. 2018 Nov;17(11):1078-1080. doi: 10.1016/j.autrev.2018.05.011. Epub 2018 Sep 11. PMID: 30213697.
Kawaguchi T, Mori M, Saito K, Suga Y, Hashimoto M, Sako M, Yoshimura N, Uo M, Danjo K, Ikenoue Y, Oomura K, Shinozaki J, Mitsui A, Kajiura T, Suzuki M, Takazoe M. Food antigen-induced immune responses in Crohn's disease patients and experimental colitis mice. J Gastroenterol. 2015 Apr;50(4):394-405. doi: 10.1007/s00535-014-0981-8. Epub 2014 Aug 7. PMID: 25099432; PMCID: PMC4387251.
Atkinson W, Sheldon TA, Shaath N, Whorwell PJ. Food elimination based on IgG antibodies in irritable bowel syndrome: a randomised controlled trial. Gut. 2004 Oct;53(10):1459-64. doi: 10.1136/gut.2003.037697. PMID: 15361495; PMCID: PMC1774223.
Alqahtani JM. Asthma and other allergic diseases among Saudi schoolchildren in Najran: the need for a comprehensive intervention program. Ann Saudi Med. 2016 Nov-Dec;36(6):379-385. doi: 10.5144/0256-4947.2016.379. PMID: 27920408; PMCID: PMC6074205.
Lee LY, Mitchell AE. Determination of d-myo-inositol phosphates in 'activated' raw almonds using anion-exchange chromatography coupled with tandem mass spectrometry. J Sci Food Agric. 2019 Jan 15;99(1):117-123. doi: 10.1002/jsfa.9151. Epub 2018 Jul 15. PMID: 29808577.
Taylor H, Webster K, Gray AR, Tey SL, Chisholm A, Bailey K, Kumari S, Brown RC. The effects of 'activating' almonds on consumer acceptance and gastrointestinal tolerance. Eur J Nutr. 2018 Dec;57(8):2771-2783. doi: 10.1007/s00394-017-1543-7.
Feng Y, Lieberman VM, Jung J, Harris LJ. Growth and Survival of Foodborne Pathogens during Soaking and Drying of Almond (Prunus dulcis) Kernels. J Food Prot. 2020 Dec 1;83(12):2122-2133. doi: 10.4315/JFP-20-169.
https://www.wikihow.com/Plant-a-Walnut-Tree

Become a Member for FREE!
The Paleo Mom Members' Area is resource central!  
You'll get FREE, unlimited access to dozens of quality resources, including introductory series, downloadable e-books, exclusive recipes, printables, videos and guides!
You may enjoy these related posts:
This week on The Whole View, we circle back to an older topic in …