After following a Paleolithic diet, I think prioritizing sleep is probably the most important thing you can do for both your short- and long-term health. But sometimes just trying to get more sleep doesn't really work. If you wake up frequently at night, have a hard time falling asleep, or wake up super early in the morning without feeling refreshed, here are some ideas that might help.
1. Avoid sugars in the evening (even from fruit). Avoid alcohol altogether and avoid caffeine after late morning. This helps your metabolism slow down while you're sleeping.
2. Eat a BIG meal about 4 hours before bed. Research shows that eating a meal that contains dense carbohydrate sources (like starchy vegetables) about 4 hours before bed improves sleep.
3. Do not eat for at least 2 hours before going to bed. When you do, you kick up some growth hormones and boost your metabolism right when these things are supposed to be slowing down.
Save 80% Off the Foundations of Health
Expand your health knowledge on a wide range of topics relevant to you, from how to evaluate scientific studies, to therapeutic diet and lifestyle, to leaky gut and gut microbiome health, to sustainable weight loss, and much more!!!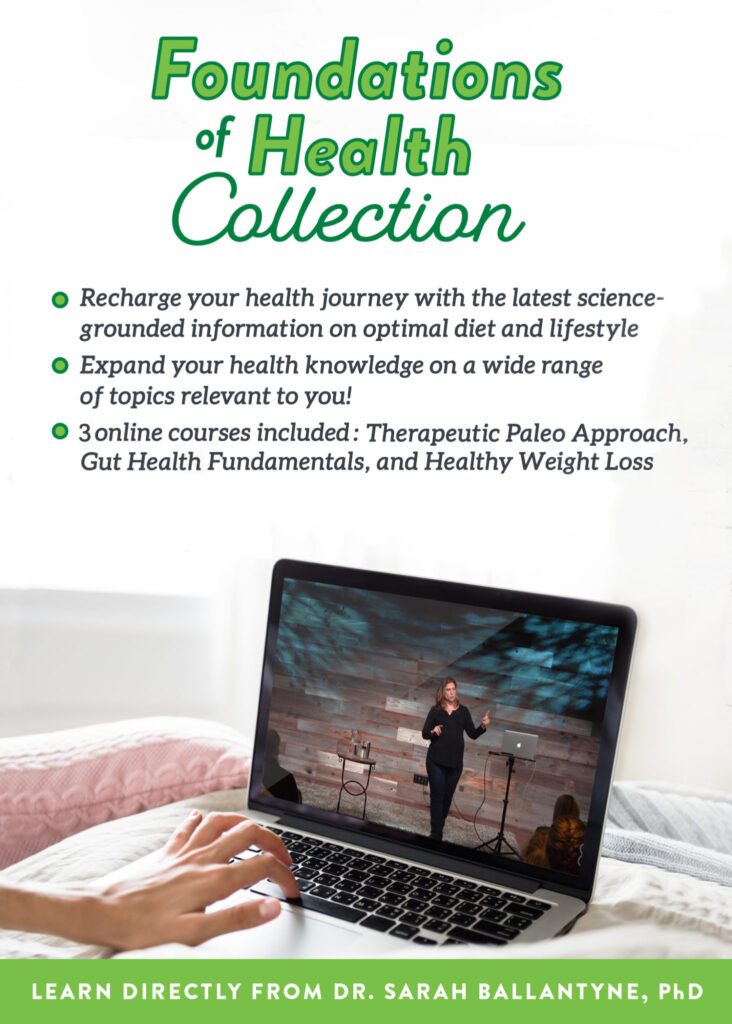 4. Protect your dim-light melatonin production.
Your body starts releasing melatonin about two hours before you normally go to bed to start preparing your body for sleep. This makes you feel sleepy and lowers your body temperature. But, melatonin production can be inhibited by exposure to bright indoor lights. You can help protect this melatonin production by keeping lights dim in the evening and by wearing
amber-tinted gasses
(which blocks out blue light) for the last 2-3 hours before bed. You also protect your dim-light melatonin production by getting outside or using
lightbox therapy
during the day.
5. Make sure to have "wind-down" time before bed (not TV) in a dim room. Read, solve a cross-word, cuddle with a loved-one, do some yoga stretches or listen to music. It's important to have a routine that cues your body that you are getting ready to sleep.
6. Sleep in a cold, dark, quiet room.
Maybe use a
white noise generator
if your bedroom isn't very soundproofed. Dark means REALLY dark: black-out curtains, no alarm clock light (turn it so it faces away from you), no little LED lights from phone chargers etc. Duct tape can do wonders for LED lights. If you use masking tape, you can still see though it, which is useful for alarm clocks.
7. Manage stress.
Stress increases cortisol, which decreases sleep quality, which increases cortisol. One of the sneaky ways you can tell if high cortisol levels are a problem is whether or not you need to pee in the middle of the night (high cortisol levels mean the kidneys don't slow down at night the way they are supposed to–note that once is probably normal, but more than that is indicative of the need to better
manage stress
). If stress is a problem, try getting more low-strain exercise, like walking or yoga. Also eating a moderate-carbohydrate Paleo diet (too low is a problem and too high is a problem, so if you aren't sure, you might want to get a
glucometer
and start measuring your blood sugars), limiting caffeine especially coffee, getting sufficient vitamin D3, and getting a large amount of dietary omega-3 fats (lots of
fish
!) will help too.
8. Take a magnesium supplement before bed
. My favorite magnesium supplement is
magnesium glycinate
because it's so highly absorbable.
Natural Calm
is a great close second (and cheaper). The cheaper the magnesium supplement, typically the less absorbable it is, which and may upset some people's stomachs or cause diarrhea since any unabsorbed magnesium acts like a stool softener. It also helps to eat more dark green vegetables during the day. Plantains are also very high in magnesium. Other herbal remedies which may help (and don't contain gluten which is common in herbal sleep aids) are:
Bach's Rescue Sleep
,
Bach's Rescue Night
, and
Gaia SleepThru
.
9. Try melatonin
. Of course, check with your doctor first. Melatonin is the hormone normally produced by your pineal gland that is the dominant player in regulating your circadian rhythms. It normally peaks at night, but taking a little extra (go low dose, 0.25-1mg) will help you sleep more soundly. I recommend a
sublingual tablet
(stay away from the extended release capsules unless your doctor suggests it) when you start your wind-down time (less than 30 minutes before bed). Be warned that bright light after you take it will be very confusing for your body. It can take anywhere from 3 weeks to 3 months to reset your circadian rhythms, so one you feel like you're sleeping well, you can wean off the melatonin slowly.
If none of these ideas help, or you need more information, I suggest checking out the book Lights Out: Sleep, Sugar, and Survival by T.S. Wiley
.