In this episode, Stacy and Sarah cover Paleo Philosophy Part 4, the lifestyle elements. Click the links to revisit Paleo Philosophy part 1, 2 and 3.
Listen in iTunes
or download and listen by clicking the PodBean player below
The AIP Lecture Series
RETIREMENT SALE! SAVE 70% OFF!
I am loving this AIP course and all the information I am receiving. The amount of work you have put into this is amazing and greatly, GREATLY, appreciated. Thank you so much. Taking this course gives me the knowledge I need to understand why my body is doing what it is doing and reinforces my determination to continue along this dietary path to heal it. Invaluable!

Carmen Maier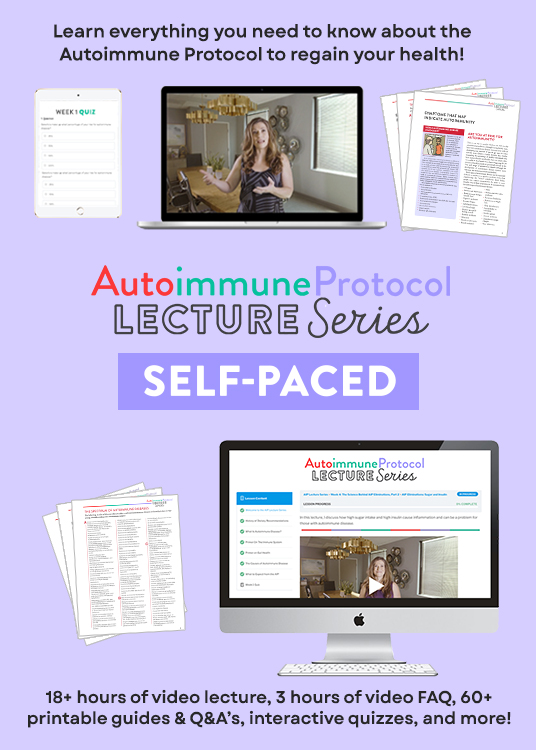 We're now on Stitcher!
If you enjoy the show, please review it in iTunes!
The Paleo View (TPV), Episode 69: Paleo Philosophy Part 4
0:00 – Introduction
0:47 – News & Views

Virginia got a couple of inches of snow and then rain, which turned everything into an icy mess – Stacy and Matt have stocked up on their winter essentials and are ready to take on the next round of storms (i.e. they are baking cookies)
Sarah is doing the same thing, but for the rain
Sarah hasn't been feeling well for awhile, but right after the book was turned in she got much worse and had symptoms similar to pneumonia, baking has been a relaxing outlet as she gets better
Pot roast and cookies is all Stacy wants in the winter; Sarah doesn't like pot roast
Stacy and Matt prefer to make their pot roast in a dutch oven, they aren't really slow cooker fans
Sarah loves her slow cooker, which is also a pressure cooker in one – check out the Instant Pot
On last week's show an awesome announcement was made about The Paleo View's recent partnership with Be Well Radio – check out more information and similar podcasts here!
The blooper show from last week was pretty funny – don't miss it! It is only 6 minutes long
Sarah reflected on the process of creating The Paleo Approach and how she will implement the lessons she learned with the cookbook release

19:49 – Questions & Answers

Part 1, 2 and 3 of the Paleo Philosophy discussions were centered around Paleo perceptions and misconceptions, so this week's show will revisit the Paleo perceptions discussion, but will focus on the lifestyle factors that are often associated with Paleo
Coconut Oil

Stacy doesn't cook with coconut oil in savory dishes, they typically uses it with sweet dishes
Stacy and Matt have most commonly used coconut oil to treat skin conditions
Stacy is not able to digest many fats, lard and coconut oil are the two that she likes the best and can tolerate
Sarah notes that Pure Indian Food's ghee is cultured and has no trace casein, even her youngest daughter can tolerate it
Stacy also uses coconut oil topically because it is anti-microbial
Just like with bone broth, you don't have to eat coconut oil by the spoon to gain the health benefits, simply consuming full-fat coconut milk in a smoothie will give you the same nutrient boost
The same nutrients that coconut oil gives you on the inside, also provides the same nutrient boost when applied on the outside
Both Sarah and Stacy use coconut oil as makeup remover
Sarah makes a balm that is tallow based because her kid's have a hard time with coconut oil when there skin is incredibly dry
Stacy always puts Green Pasture Beauty Balm on her face at night

Lard
Stacy has found that moms in particular are interested in finding alternative hygiene products, especially after they learn about baby hygiene products and what is or is not safe for their kids
Hair Care
Sarah notes that people go the "crunchy" route for a number of reasons – sometimes you realize an organic product works better than a chemical based one does, sometimes it is about being environmentally friendly, sometimes its about wanting to optimize health – these aspects of a Paleo lifestyle aren't mandatory and people aren't going to judge you for your choices
Cleaning Products
As you can see, adopting a Paleo lifestyle is all about finding the balance that works for you and your life – you aren't trying to achieve Paleo perfectionist status
Check out Amazon's Subscribe and Save feature if you are looking to Amazon for any of these products, it is a great way to save some money
Fermenting

Jill from Fermented started it all 😉
The amazing thing about fermented foods is that it adds beneficial bacteria to our guts – they are pre-digested in a controlled way so that they are easier for us to digest and to absorb all the nutrients in those foods
There are so many different choices, so try different things and find what kind of fermented foods or beverages you enjoy
Stacy recommends Bubbies sauerkraut as a good starting point for fermented foods
Stacy's boys also love Bubbies fermented relish and GT's Kombucha

Natural Movement Shoe
Another thing that some link with Paleo is Crossfit, which you don't have to do when Paleo, but you tend to find a lot of Paleo folks in the Crossfit community and vice versa
Stacy and Sarah have a wonderful topic planned for next week, so be sure to tune in!
We will likely revisit the Paleo philosophy discussion again very soon
The take away from this show, do what works for you!

1:16:39 Outro