In this episode, Stacy and Sarah talk about boosting fertility, creating a healthy internal environment for conception and pregnancy, and managing the symptoms that come during the first trimester.
Listen in iTunes
or download and listen by clicking the PodBean player below
LAST CHANCE to get the AIP Lecture Series!
RETIREMENT SALE! SAVE 70% OFF!
This online course is being retired on January 31st!
I am loving this AIP course and all the information I am receiving. The amount of work you have put into this is amazing and greatly, GREATLY, appreciated. Thank you so much. Taking this course gives me the knowledge I need to understand why my body is doing what it is doing and reinforces my determination to continue along this dietary path to heal it. Invaluable!

Carmen Maier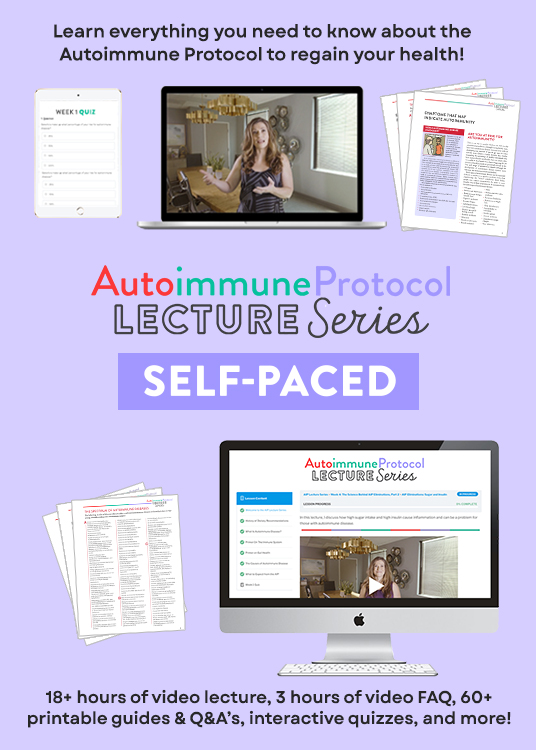 We're now on Stitcher!
If you enjoy the show, please review it in iTunes!
The Paleo View (TPV), Episode 62: Fertility & Early Pregnancy
0:00 – Introduction
0:52 – News & Views

Make sure you go over to the Paleo Magazine 'Best Of's' nominations and vote!

Stacy's sister recently moved in and Stacy took her to her first Crossfit class – check for other life updates here
Sarah recently had one of those weeks where she desperately wished there was a Paleo friendly food-delivery option close by
Stacy has a peruvian rotissere chicken restauraunt within delivery range and they rely on that option when necessary
Sarah finalized design for The Paleo Approach and will soon be reviewing a full proof copy
This week's show is a follow up to the pregnancy show and will touch on the topics of hormone regulation, fertility and early pregnancy

(15:28) Science with Sarah – Morning Sickness

The  lower esophageal sphincter is at the opening of the stomach and it stays closed until you swallow, with the goal to keep things in the stomach – this is the reflux that fails when you have heartburn
The cause of morning sickness is the massive hormone shift that is happening during early pregnancy and it happens so that women instinctually avoid foods that may be of harm to the developing, very young fetus
At the beginning of the second trimester when the fetus is formed and more robust, morning sickness tends to subside
By making choices about the food you eat you can help impact the sickness
Foods that are easy to digest are braised or stewed meats, fish, well cooked vegetables
Protein can help tighten the lower esophageal sphincter
The sphincter is relaxed by caffeine, smoking, alcohol, chocolate, high fat meals and peppermint tea
Ginger, raw almonds, and papaya enzymes are all helpful with morning sickness
Stacy always attributed her morning sickness to low blood sugar regulation, and Sarah noted that while she hasn't studied the correlation at length there is a tie between insulin and hormones

(21:46) Questions & Answers

Megan – how do you prepare the body for pregnancy?

Check both Westin A. Price and Chris Kresser on this subject
A Paleo diet, great sleep habits, plenty of sunshine, and stress management will all set you up for success
There are many fertility complications that are often linked to lifestyle, so be sure to stay optimistic about your ability to influence the outcome
Be sure to look at last week's show on nutrient density and what foods will provide you with all the essential building blocks
Getting adequate folate and B-vitamins, six months leading up to pregnancy is incredibly important, which are abundant in organ meats and shellfish

(27:35) Rachel – what can I do to handle ovulation struggles?

As addressed on the previous show to Rachel's other question, keep working on the stress management, stay patient and relax
Sarah suggests taking a look at The Hormone Cure book, not going too low or too high with carbs, cut back on exercise intensity, and regulate your sleep schedule and quality to help with hormone regulation

(34:35) Karen – what foods should I eat to have a healthy pregnancy? What foods can I eat when dealing with nausea?

Stacy had all of her boys when she was 150 pounds overweight, which wasn't ideal, but being overweight will not necessarily negatively impact you, especially if you are eating for health and implementing healthy lifestyle strategies
Stacy also reminds Karen to tune out the negative variables, it creates unnecessary stress that your body than has to deal with on a hormone level
Surround yourself with people, support and information that empowers you
Try your best to trust your body
Stacy suggests Sarah's plantain crackers and Paleo muffins
Stacy also notes that she wouldn't be so concerned with the rules, with a Whole 30 or a 21 Day Sugar Detox – to instead follow your cravings and look at what your cravings may tell you about your nutrient deficiencies 
Listen to what you are craving and ask yourself what aspect of the craving you want – if it is something from a SAD you will be able to find a Paleo version
Sarah also notes the importance of high-quality foods, like raw dairy products from a trusted source and seafood

(50:16) Jenna – how can I monitor my glucose during pregnancy?

Stacy didn't have the glucose test in her third pregnancy, she simply declined because of the results from her first two pregnancies
Sarah notes that some doctors will allow you to test with whole foods as opposed to the sugar drink from the lab
Let your doctor know that you are already following a diet that is close to the gestational diabetes diet because how suagr makes you feel
It is also possible to get false positives with the test if you are on a low carb diet
If you are following a low carb diet, make sure when you get your carbs in that they are incredibly nutrient dense and being consumed from vegetables
Stacy and Sarah both feel that ox bile supplementation is safe while pregnant

Sarah is fully prepared for Halloween and Stacy is preparing for her big Halloween party and a huge book signing featuring a handful of other Paleo all-stars!
If you make bad choices on Halloween listen back to this episode on recovery
But know that you don't have to make bad choices – check out these awesome Halloween recipe roundups (one, two and three)
Have a great week everyone and a wonderful Halloween!
(1:06:24) Outro