In this episode, Stacy and Sarah do a quick check-in with each other, as there was a last minute schedule conflict with this week's guests. The two hosts give a teaser on what to expect in the upcoming weeks, and share a bit on what is going on behind the scenes at home.
Listen in iTunes
or download and listen by clicking the PodBean player below
The AIP Lecture Series
RETIREMENT SALE! SAVE 70% OFF!
I am loving this AIP course and all the information I am receiving. The amount of work you have put into this is amazing and greatly, GREATLY, appreciated. Thank you so much. Taking this course gives me the knowledge I need to understand why my body is doing what it is doing and reinforces my determination to continue along this dietary path to heal it. Invaluable!

Carmen Maier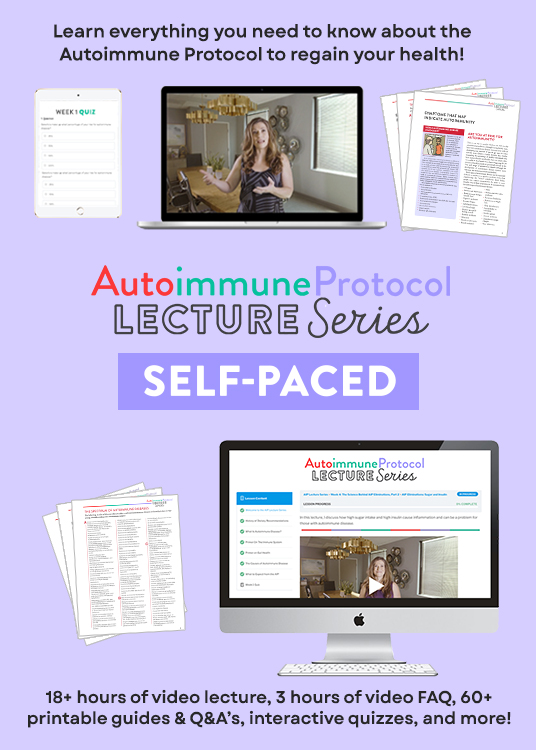 We're now on Stitcher!

Download this episode (right click and save)
If you enjoy the show, please review it in iTunes!
The Paleo View (TPV), Episode 58: Quick Check-In
0:00 – Introduction
0:46 – News & Views

Sarah has been cleaning up the manuscript for The Paleo Approach and is frantically trying to clean up the second half of the book so she can combine the two separate parts she has been working on
Part one of The Paleo Approach was turned in five or six weeks before the second part, so it is a lot to blend together
Stacy wants to shake Sarah and remind her that this is just a phase of the book publishing journey
Sarah notes that her daughters were sick this past week and she has been dealing with some very exhausting situations
Stacy is worn out as well from the close of the fiscal year at her job
The guests that were teased for this week's show (Jayson and Mira Calton!) unfortunately needed to reschedule
Next week Jayson and Mira will be on the show to discuss Naked Calories and the importance of micronutrients
Due to the short notice Stacy and Sarah were unable to prepare for a new show, so this week is a quick check-in
On a really exciting note, Stacy and Matt recreated Pumpkin Delights and they were posted on the Paleo Parents site on Monday – check them out! They are so good!
Stacy is supporting Barbells for Boobs and announced this on Facebook in the hopes that people will support this amazing program funding breast cancer research at any amount (even a dollar helps!)

To thank those who donate, Matt and Stacy will be sharing an exclusive pumpkin waffle recipe

With your extra time please go leave reviews!
Also, if there is a specific topic that you would like us to cover or a guest you would like us to feature, please submit your suggestions
Sarah finished the illustrations for The Paleo Approach over the weekend
Thanks everyone for joining us for a quick chit chat!

(21:41) Outro