In this episode, Stacy and Sarah are joined by Diana Rodgers, the mastermind behind Sustainable Dish and Radiance Nutrition, to tackle a series of questions focused around the topic of affordable Paleo meals.
Listen in iTunes
or download and listen by clicking the PodBean player below
The AIP Lecture Series
RETIREMENT SALE! SAVE 70% OFF!
I am loving this AIP course and all the information I am receiving. The amount of work you have put into this is amazing and greatly, GREATLY, appreciated. Thank you so much. Taking this course gives me the knowledge I need to understand why my body is doing what it is doing and reinforces my determination to continue along this dietary path to heal it. Invaluable!

Carmen Maier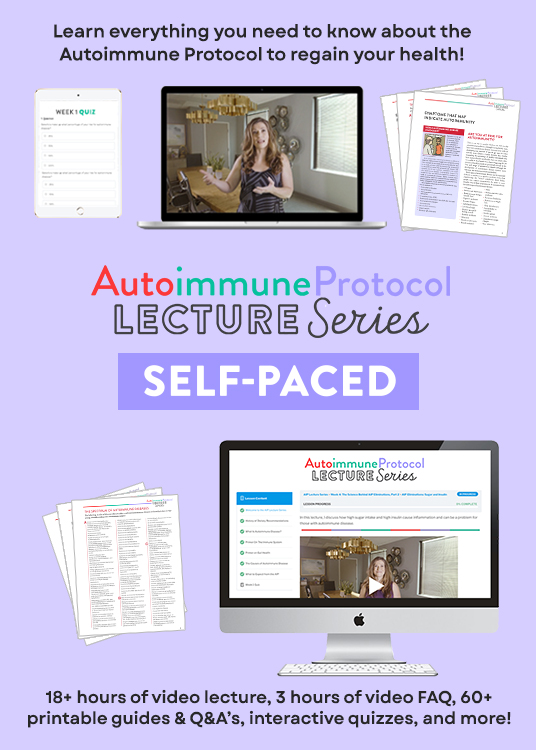 We're now on Stitcher!
If you enjoy the show, please review it in iTunes!
The Paleo View (TPV), Episode 54: Paleo Meals; What's easy, quick and cheap?
0:00 – Introduction
1:19 – News & Views

Welcome Diana Rodgers from Radiance Nutrition (second-time guest)!
Diana recently released Paleo Lunches and Breakfasts on the Go and also offers consulting services through her site
Happy Birthday to Cole!
Sarah has a special announcement for the end of the show
Skipping 'Science with Sarah' this week to tap into Diana's expertise and tackle as many questions as possible
Save Your Bacon event series is September 7 and 8 – Stacy and Diana will be in attendance and competing in BaconPalooza – get tickets here, and know that you can buy tickets to the individual events for a fraction of the cost

17:54 – Q&A

Carma – What are some grain-free breakfast ideas we can feed our son?

Diana has a whole chapter on breakfast foods in Paleo Lunches and Breakfasts on the Go
Get up five minutes earlier, scramble some eggs
Make a double batch of sausage with some meat and herbs/spices and you have meat for breakfast ready to go for the week
On days where you have a little bit more time, make a big batch and use the leftovers throughout the week (i.e. pancakes)
Every weekend Stacy and Matt make a batch of soup and Stacy has that daily
Other make ahead meals: egg muffins, frittata, poached eggs, porridge, grain-free granola, bars, muffins

(27:00) Jane – What breakfast dish is quick, easy and satisfying enough to keep hunger at bay until lunch time? Is BulletProof coffee recommended?

Diana suggests eating more food, try more eggs – and a cup of coffee shouldn't be a problem
Diana finds that fruit stimulates hunger, be careful with the fruit intake in the morning
Stacy finds that vegetables are key to feeling satiated through the morning
Don't use coffee to fill a nutrient void
It is safe to consume that much fat in your coffee, but if you are lactose intolerant your body will not handle lactose – try ghee with your coconut oil (try the Pure Indian Foods brand)
Learn to understand your hunger cues and eat when you are hungry

(40:57) Anne – What foods/meals can I suggest to those who will be dropping off meals once our baby is born?

Diana suggests sending recipes for ideas – link to blog posts, send pins
Or keep it really simple with rotisserie chicken, plain mashed potatoes, basic vegetable dishes
Don't be afraid to speak up about your intolerances, even to handle via email while expressing your gratitude, most the time people just need a little bit of education – or ask the organizer for feedback on how the group would respond to the unique situation
Select recipes that are basic and don't require a lot of hard to find ingredients
Make sure they are affordable and easy to put together
Everyone could chip in for a Paleo on the go meal service like Pete's Paleo

(53:37) Jan – what kind of binders can be used to hold turkey burgers together? What do you recommend for seasonings?

Try some other burger recipes, like 50/50 burgers or Citrus Pork burgers from Beyond Bacon, and recipes focused around red meat
Try seasoning with horseradish, cumin, tarragon, sage
Check out the Flavor Bible
Nom Nom Paleo also has an abundance of seasoning recipes
Chicken and turkey are high in omega 6's, so you want to watch your intake – try to stick to four legged animals
Eggs and almond flour can be used for binding, but a fatty cut of meat will do the trick
Use squashes to replace pasta, and cauliflower to replace rice

(1:06:28) Patrick – how do you afford eating Paleo? How do you set a budget?

Rethink how you buy food, get a chest freezer and buy meat in bulk
There are tricks and way to get more bang for your buck, you just have to know your priorities and be willing to invest the time and energy into planning out your meals and research your prices
Check out the Paleo Parents post on 'how to keep your Paleo family out of the poorhouse'
Organ meats and broth are more affordable and incredibly nutrient dense
Focus on cheaper produce, it is a great way to fill space in bellies
Buy from local farmers, buy in season, buy in bulk
Do the best you can, you don't have to do only grassfed and organic

Special thanks to Diana for coming on the show! Check out her work at Sustainable Dish! And Paleo Lunches and Breakfasts on the Go!
(1:20:40) News about The Paleo Approach

There will now be The Paleo Approach, set to release in the fall, and The Paleo Approach Cookbook set to release in the spring
More details will be on Sarah's blog soon

(1:37:37) Outro