In this episode, Stacy and Sarah invite Mickey Trescott of Autoimmune Paleo, author of The Autoimmune Paleo Cookbook, to discuss the release of her new cookbook and to help address a series of questions that relate to autoimmune conditions and how to handle fruit consumption, the reintroduction of foods, ideal vitamin D levels and more.
Listen in iTunes
or download and listen by clicking the PodBean player below
LAST CHANCE to get the AIP Lecture Series!
RETIREMENT SALE! SAVE 70% OFF!
This online course is being retired on January 31st!
I am loving this AIP course and all the information I am receiving. The amount of work you have put into this is amazing and greatly, GREATLY, appreciated. Thank you so much. Taking this course gives me the knowledge I need to understand why my body is doing what it is doing and reinforces my determination to continue along this dietary path to heal it. Invaluable!

Carmen Maier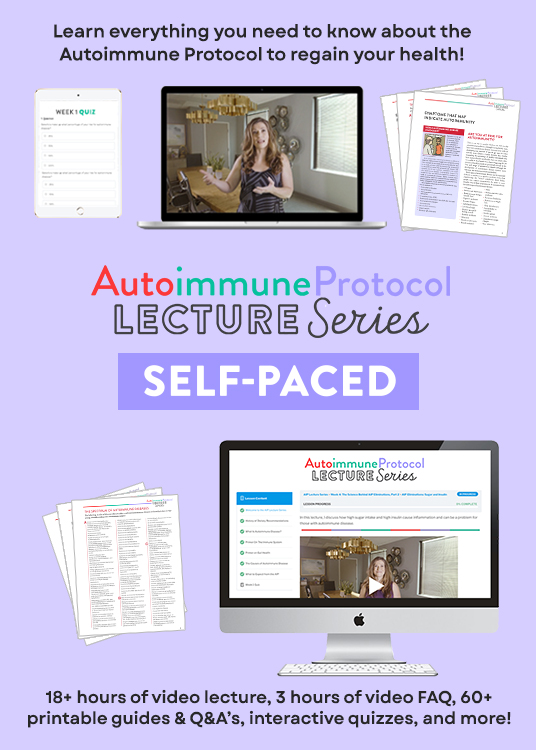 We're now on Stitcher!
If you enjoy the show, please review it in iTunes!
The Paleo View (TPV), Episode 40: Practical Autoimmune Protocol
0:00 – Introduction
1:19 – News & Views

The Paleo Parents family has been busy doing fun things and Stacy is feeling tired, but as a result of good outdoor activities and fun with the boys
Sarah turned in part two of her book this last week after spending a bit of time making final adjustments and edits
Part 3 is the cookbook and Sarah needs to finalize and type the recipes, but isn't feeling very motivated
Sarah is having a hard time switching her brain out of science mode to develop the cookbook portion of The Paleo Approach, but has been giving herself some slack to recharge a bit since over 100 recipes are ready
Sarah has the relief of being done without actually being done and is in a tired fog
This week's guest is Mickey Trescott, who is the blogger behind autoimmune-Paleo.com and is a personal chef with amazing recipes to offer
Mickey has both celiac and Hashimoto's disease and follows the autoimmune protocol
She just released an e-book that is called The Autoimmune Paleo Cookbook, which has 110 autoimmune protocol friendly recipes that cover the whole gamut of food needs
Stacy was most impressed by the quality of the food photos and "soup to nuts" i.e. the level of information behind the 'why'
Stacy feels that her first 90 days on AIP wouldn't have felt so overwhelming and restricting had she had The Autoimmune Paleo Cookbook
Thanks to supportive friends, Mickey was able to pull together the book at the quality level that she expected
Recently Stacy requested that Matt make Julia Child's Chicken Live Mousse and Stacy is in love with the taste of this dish, and her joints and skin feel and look better after eating this dish with consistency for a week
Six months ago if Stacy would have had something with dairy fat in it, she feels like she would have had a major problem, and she is wondering if the livers are counterbalancing the impact of dairy fat or if her hard work to help repair her system is the result of her tolerance
Sarah notes that liver is the most nutrient dense food available and the ratio of amino acids is higher in organ meat, which is required for skin and connective tissue – the diary fat is helpful to bone, joint and connective tissue health as well
Sarah has been eating a homemade organ meat sausage everyday and is feeling amazing – the bison liver in the recipe is in particular the rockstar of the sausage
Stacy is surprised that she is handling the dairy fat
Sarah suspects that the raw dairy fat, which has some naturally occurring enzymes, is helping and that Stacy's gut health is in a calm state and not acting overwhelmed by each exposure to possibly problematic foods
Stacy knows she is not totally healed, but is surprised and proud to make this discovery regarding her tolerance towards dairy fat – there is a light at the end of the tunnel folks!
Sarah recently found a local farmer with soy and wheat free eggs and she has been able to eat the eggs without any reactions – is very excited, but is still being very cautious
Mickey had a similar reaction to Stacy where she made a shocking discovery about her tolerance towards dairy fat – and she thought she would be on AIP forever, but is learning that her system is healing and may be able to tolerate a little bit here and there


29:41 – Science with Sarah: is fruit allowed on the autoimmune protocol?

Fruit is absolutely allowed on AIP, there are no restrictions on the types you can eat, and fruit is very vitamin, mineral and nutrient dense
When you look at the glycemic load of fruit, all fruits are either low or moderate, with the exception of dried fruit
If you are sticking to low and moderate glycemic foods, you have to eat a lot of fruit to receive a high glycemic load
The concern with fruit is making sure that your blood sugar is well regulated and not over-consuming fructose
Where as glucose is easily converted to energy, high levels of fructose can lead to high blood triglycerides
In a Paleo diet we don't tend to consume too much fructose, depending on how many pieces of fruit you are consuming
Sarah's recommendation is to make sure that your blood sugar levels are well regulated and make sure that your fructose is between 10 and 20 grams a day
Over avoiding fruit can be strenuous on the thyroid because you do want to stimulate the production of some insulin
Stacy notes that if you are eating a high fat, low carb, moderate protein diet, it may not be enough for the thyroid conversion
Both high and low carb diets are strenuous on the thyroid
Sarah does not recommend a ketogenic diet with autoimmune disease because the research shows that it makes it worse
Stacy recently reintroduced dates without guilt and found this to be funny because dates are good for you
Both Stacy and Sarah completed a 21 Day Sugar Detox and did so not to necessarily limit fruit, but to limit sweeteners
Everyone needs to find what works for them, but Stacy feels that she does well with a moderate carb intake from fruits and starchy vegetables
Mickey tried a ketogenic diet and didn't feel good, it is a little too intense and caused some thyroid issues
Include fruit, but don't go crazy – enjoy it and don't over-complicate this healthy choice

42:35 – Q&A
1:31:04 – Outro