In this episode, we're wishing you Happy Holidays, and discussing our family traditions, but also discussing the sad news that Stacy has been dealing with.
Click here to listen in iTunes
or download and listen by clicking the PodBean Player below
Nutrivore Weekly Serving Matrix
An easy-to-use and flexible weekly checklist
to help you maximize nutrient-density.
The Weekly Serving Matrix is very helpful! I've been eating along these lines but this really helps me know where to focus vs. which foods serve a more secondary role. It's super helpful and has taken a lot of worry out of my meal planning. Thanks!

Jan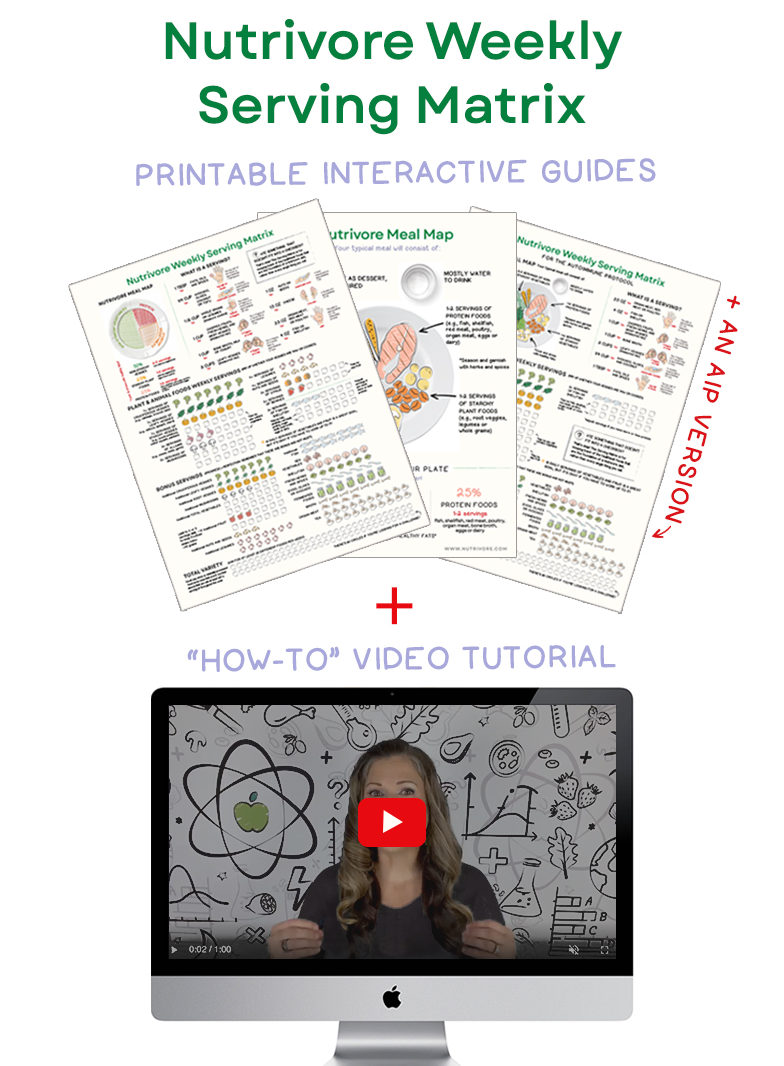 If you enjoy the show, please review it in iTunes!
The Paleo View (TPV), Episode 227: Happy Holidays
Intro (0:00)
News and Views (0:40)

Happy Holidays!
We do a tradition of opening up one book each day leading up to Christmas! Last night we read Archie: Sloth to the Rescue, a seemingly out of print book by this author.
Sarah is finishing up Paleo Principles this holiday season, making those final edits!
Sarah intends this book to be a definitive guide for sharing the science on Paleo to convince those obstinate family members.
Stacy and Matt unfortunately lost her uncle after a long illness, and Matt's brother Andrew over the past two weeks.
Andrew lived with us for 14 out of the last 15 years as an uncle, a friend, an extra husband, and an extra son. We were very very close, both us and the boys, and he was only 32.
He was a joy to everyone who knew him and the most full of life person we've ever known. We will miss him a ton.
Please talk to your loved ones and let them know how much you love them.
Andrew moved out to live with his girlfriend earlier this year, but we had just seen him on Wednesday and spent time with him just before he died and we'll cherish that time with him.
Our holiday traditions! We made Monkey Bread! Unfortunately, Legit Bread mix probably won't work.
Get yourself some Coconut Milk Powder to make anything you want creamy!
We also love to go to the National Christmas Tree!
Sarah tries to do one Atlanta touristy thing while family is in town this season.
They might go hiking with their national park pass
We encourage you to explore your own local cities, be a tourist, and don't have regrets about what you've missed if you move!
Google your best light displays in your areas!
Find the best restaurants in your area, of all price levels! There are hidden gems!
We're traveling in 2017, starting with California! The boys Christmas gifts are these.
We think our next show will be about New Years' Resolutions! Stay tuned!

Outro (24:00)

Become a Member for FREE!
The Paleo Mom Members' Area is resource central!  
You'll get FREE, unlimited access to dozens of quality resources, including introductory series, downloadable e-books, exclusive recipes, printables, videos and guides!
You may enjoy these related posts:
In this week's episode, Stacy and Sarah do a quick check-in, sharing their …