On this episode of The Paleo View, Stacy and Sarah are joined by Sarah from Primal Bites to answer 'how to' Paleo in the dorm room questions from listeners.
Click here to be taken to iTunes
or download and listen by clicking the PodBean Player below
Nutrivore Weekly Serving Matrix
An easy-to-use and flexible weekly checklist
to help you maximize nutrient-density.
The Weekly Serving Matrix is very helpful! I've been eating along these lines but this really helps me know where to focus vs. which foods serve a more secondary role. It's super helpful and has taken a lot of worry out of my meal planning. Thanks!

Jan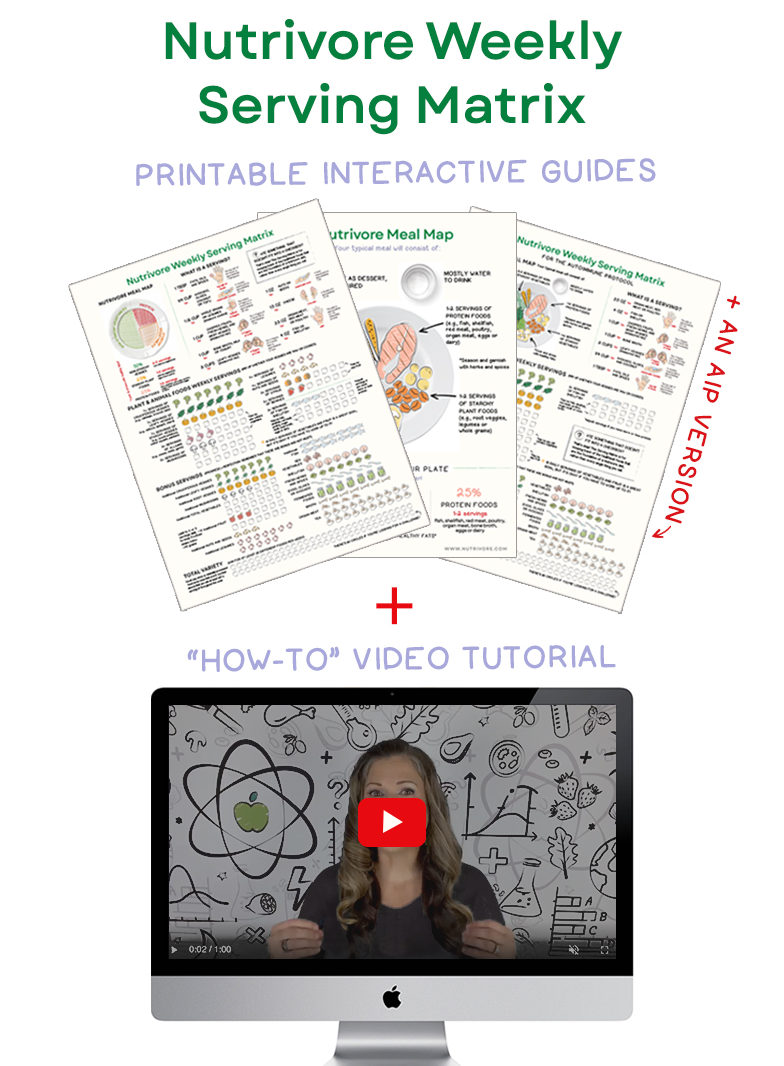 If you enjoy the show, please review it in iTunes!
The Paleo View (TPV), Episode 193, Paleo in the Dorm Room
Intro (0:00)
News and Views (1:18)

Welcome Sarah from Primal Bites!
Sarah is visiting Stacy, as she is in town competing for her second Strongman competition

This was her first competition where there was a significant number of competitors and she won open middleweight

Sarah B. had a busy day helping her daughter with a school project

Paleo in the Dorm Room (4:33)

Stacy and Sarah first met online, and then met in person at the New York book signing tour event

They then connected on Instagram, and lifted together when Sarah was back home from college
Sarah is a senior in college, working on a degree in sustainability and already has a lot of great opportunities for her professional future
Thought it would be great to have Sarah on the show to help Stacy and Sarah B address college related questions

Questions & Answers (7:51)

Shivam – dealing with difficult acne, but was able to clear up 80% of the acne after following an AIP protocol while home for the holidays. 

Should I just eat the dining hall food for these four years of college and start your autoimmune diet to fix my gut later when I can afford and have access to Paleo friendly food? Will my gut be harder to heal later if I don't act now?

Explore your meal plan options – is it required? Can you reduce the number of meals you are paying for?
Can still make good choices in the dining hall regardless of the cooking oil
Research protein options within the dining hall
How Stacy made "healthier choices" while in the dorm
Sarah suggests getting a mini fridge and microwave for her room – it is possible to follow the AIP with easy options from a grocery store and basic tools in your dorm room
There would certainly be a learning curve to navigating AIP from a dorm room, but it is certainly possible
Read labels and evaluate options
Check with your dining hall on how accommodating they are with food allergies
You may be able to see a huge improvement in your health from eliminating the highly inflammatory foods, and then following a full AIP later when possible
Play with reintroduction to see what it is your body is reacting to
The longer the body is in an inflammatory pattern the harder it is to break out of the pattern
There are compelling reasons to put in some efforts – and breaking your approach into pieces now will be hugely beneficial over the longterm
Making progress towards the endpoint in a sustainable way is what matters more than jumping into a Paleo approach full steam ahead
Do the best you can now, acknowledge that there will be limitations along the way
Stock up on the foods that work well for you

Sarah's approach to Paleo at college

Smaller batch cooking with one main protein, raw veggies, baked sweet potatoes
Keeping meat and veggies in the fridge
Preps for a few days in advance
Protein bars
Makes larger meals so she doesn't need to snack
Prioritizes her budget around meat, vegetables and fruits

Thank you so much Sarah for coming on this week's show!
Find Sarah:
Thanks everyone for listening – we will be back next week!
Outro (32:59)

Become a Member for FREE!
The Paleo Mom Members' Area is resource central!  
You'll get FREE, unlimited access to dozens of quality resources, including introductory series, downloadable e-books, exclusive recipes, printables, videos and guides!
You may enjoy these related posts:
In this episode, Stacy and Sarah were hanging out together and decided to answer …