On this episode of The Paleo View, Stacy and Sarah check in briefly to chit chat about life's current happenings, and to share their gratitude for all that being a healthy living blogger brings to their lives.
Click here to be taken to iTunes
or download and listen by clicking the PodBean Player below
Nutrivore Weekly Serving Matrix
An easy-to-use and flexible weekly checklist
to help you maximize nutrient-density.
The Weekly Serving Matrix is very helpful! I've been eating along these lines but this really helps me know where to focus vs. which foods serve a more secondary role. It's super helpful and has taken a lot of worry out of my meal planning. Thanks!

Jan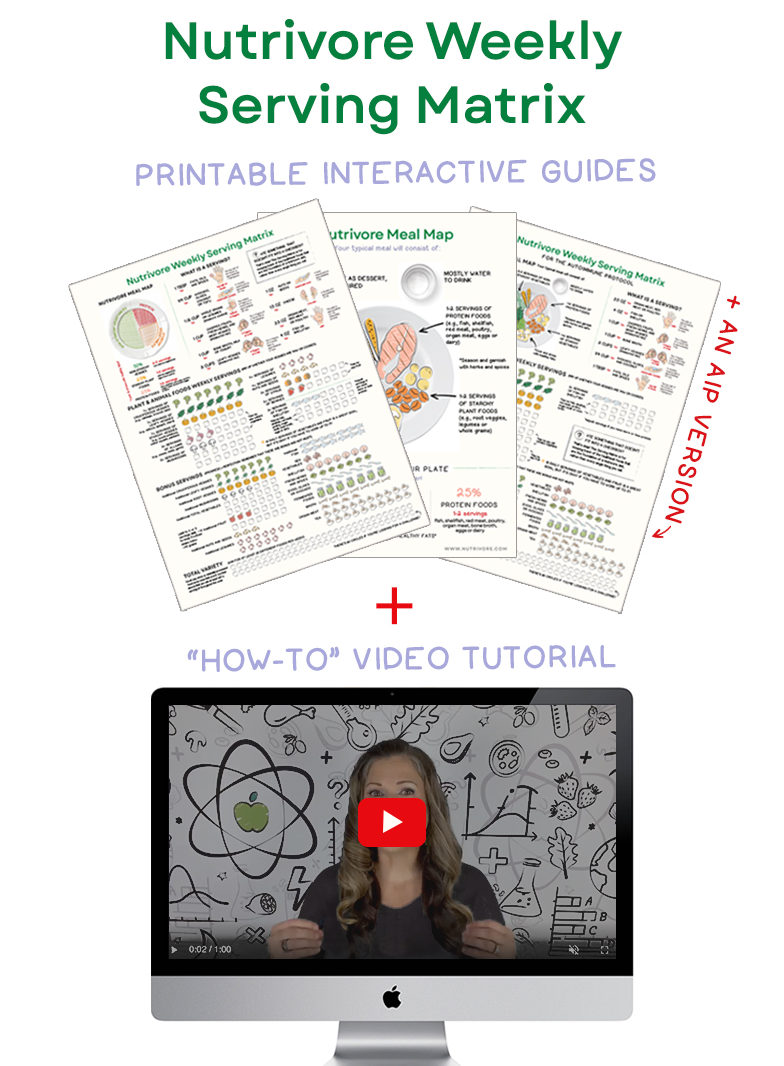 If you enjoy the show, please review it in iTunes!
The Paleo View (TPV), Episode 165, Chit Chat & Community
Intro (0:00)
News and Views (0:56)

Sarah's new Skype picture
The Healing Kitchen was turned in on time and the publisher's response – moving the release date from February 2016 to December 2015
Sarah is still prioritizing her health goals and getting in sleep and fitness, but doing a check in podcast this week was a must to balance all of Sarah's other demands
Work finally calmed down for Stacy and she has been spending a lot more time relaxing
This past weekend her and Matt went to Brent & Heather's wedding, and it was such an amazing celebration that included so many fun activities
Stacy also bought a convertible over the weekend
Stacy is going to give Sarah her chill vibes to help her get through the book publishing process
There is a MEGA AWESOME guest scheduled for next week and we can't wait to share that episode
Sarah's plans for future books
How book writing kind of landed in Sarah's lap and wasn't something she had consciously sought out as a career goal
Stacy's thoughts on sharing a passion with the world
When Sarah evaluated going back into academics vs. continuing on the path as a blogger and book author
The amazing benefits and privileges that come with being book authors
A huge thank you to everyone who has shared reviews, left comments, connected with Stacy and Sarah in whatever way you have over the years – it all means so much
Sarah is working on book tour plans for The Healing Kitchen, stay tuned for details
And a big congratulations to Brent & Heather on their amazing wedding!
Thank you for checking in with Stacy and Sarah this week – we will be back next week!

Outro (19:39)

Become a Member for FREE!
The Paleo Mom Members' Area is resource central!  
You'll get FREE, unlimited access to dozens of quality resources, including introductory series, downloadable e-books, exclusive recipes, printables, videos and guides!
You may enjoy these related posts:
In this episode, Stacy and Sarah are joined by Bill and Hayley from the Food …