On this episode of The Paleo View, Stacy and Sarah talk about skin health and how to heal the skin when inflammation causes external skin conditions.
Click here to be taken to iTunes
or download and listen by clicking the PodBean Player below
*NEW* Nutrivore Weekly Serving Matrix
An easy-to-use and flexible weekly checklist
to help you maximize nutrient-density.
The Weekly Serving Matrix is very helpful! I've been eating along these lines but this really helps me know where to focus vs. which foods serve a more secondary role. It's super helpful and has taken a lot of worry out of my meal planning. Thanks!

Jan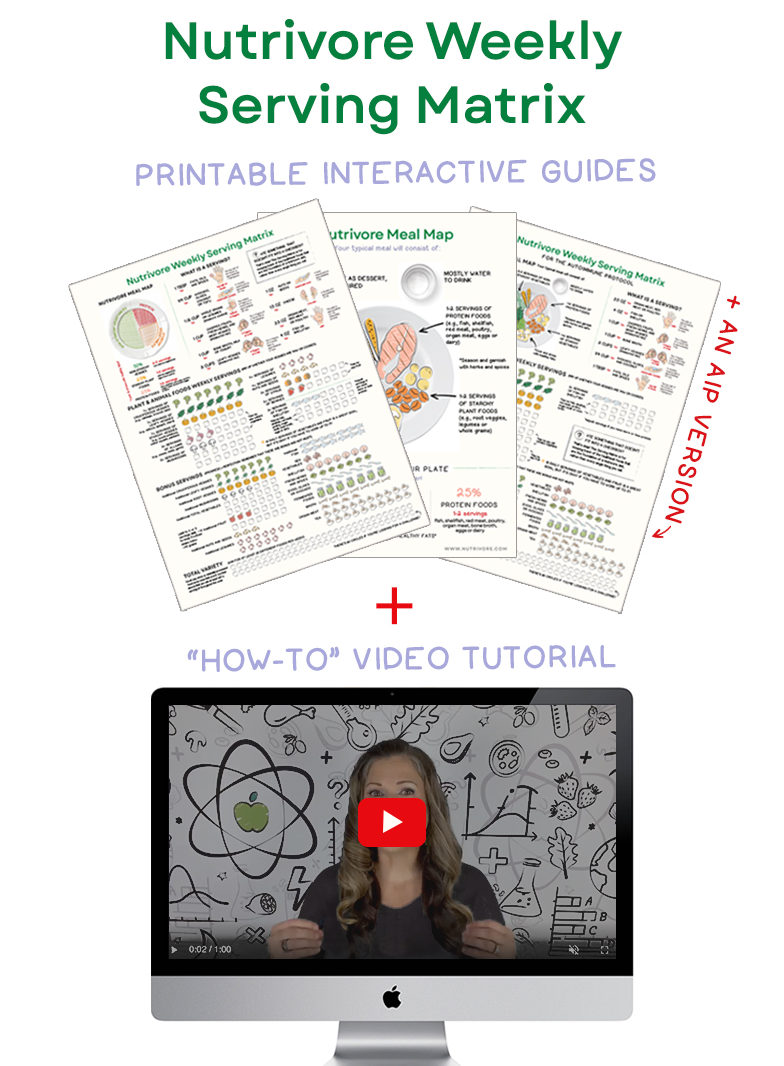 If you enjoy the show, please review it in iTunes!
The Paleo View (TPV), Episode 157
Intro (0:00)
News and Views (0:56)

Welcome to the first show of Stacy and Sarah's fourth year of podcasting!
Thoughts on the early episodes
The Reset & Thrive Library is live!

40 never been bundled before resources from 40 leading health, wellness and organization authors
28 discounts from some of the best vendors in the industry
AND a two-week BONUS meal plan using the cookbooks featured in the e-library
Only $39, and the 56 PDFs (not including the meal plan or discount codes) is valued at over $1000 ALONE!
We are calling this an e-library to avoid the confusion around bundles – these resources are yours to keep forever! You download one file and put any of those 58 PDFs on the devices of your choice
Why Sarah chose to include her book exclusively in the Reset & Thrive Library
Features resources extending far beyond the Paleo community

Sarah spent the weekend hanging out with Alaena from Grazed and Enthused shooting the cover from their new cookbook – The Healing Kitchen

Comes out February 23
Features 150 budget-friendly, quick and easy recipes made with everyday ingredients, you get to minimize time and effort preparing healthful foods without sacrificing flavor! Straightforward explanations and a comprehensive collection of visual guides will teach you which foods are the best choices to mitigate chronic illnesses, including autoimmune disease.
Stores from the photoshoot for the book cover

This week's show features a topic that Stacy and Sarah haven't discussed in a long time, but is one that they always receive questions on – skin health
Skin shows the benefits of health changes last, and that is because skin is the lowest priority organ for the body and there is so much internal healing that is happening
Science with Sarah (31:14)

When you are dealing with a skin condition, the first step is reducing inflammation and regulating the immune system
When you stop the immune system from attacking the skin, we then need to heal the wounds, which requires a different set of resources
The steps that happen in the body when healing from a wound
The superstar nutrients that support wound healing
The nutrients to pair to optimize nutrient absorption

Questions & Answers (51:09)

Carrie-Ann: how long does it take to see skin healing after adopting an autoimmune protocol to manage psoriasis?
Emelie – what can I do to improve my keratosis pilaris?

The Angel Food Cake Matt made on the night Stacy and Sarah were recording the podcast
Outro (1:13:21)