On this episode of The Paleo View, Stacy and Sarah discuss sedentary lifestyles and how they negatively impact our health. They also share a number of tips on how to offset these negative effects and improve your overall health and wellness.
Click here to be taken to iTunes
or download and listen by clicking the PodBean Player below
The AIP Lecture Series
RETIREMENT SALE! SAVE 70% OFF!
I am loving this AIP course and all the information I am receiving. The amount of work you have put into this is amazing and greatly, GREATLY, appreciated. Thank you so much. Taking this course gives me the knowledge I need to understand why my body is doing what it is doing and reinforces my determination to continue along this dietary path to heal it. Invaluable!

Carmen Maier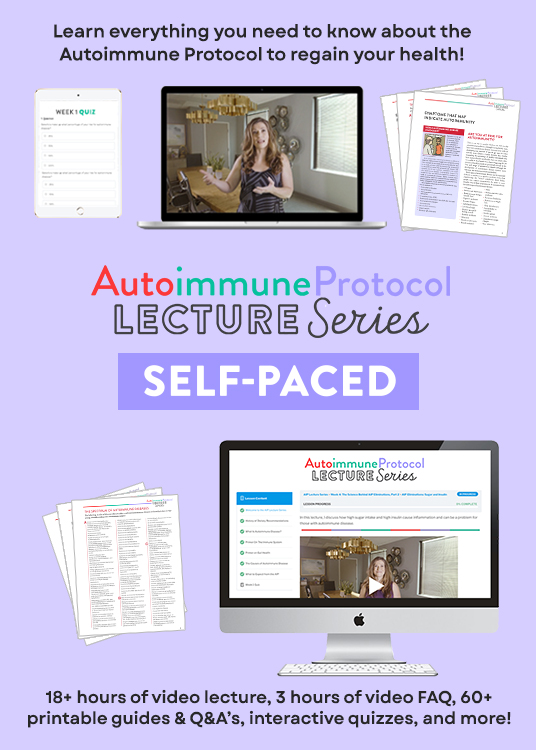 If you enjoy the show, please review it in iTunes!
The Paleo View (TPV), Episode 155, Breaking the Sedentary Habit
Intro (0:00)
News and Views (0:56)

Stacy and Sarah's shared love for naps
Sarah's daughters just started school and Sarah is trying to get back into the swing of things

The amazing e-library that the Paleo Parents will be launching to help with the Mother's New Year, i.e. the start of a new school year
The Reset & Thrive Library will help individuals and families create balance, health and wellness as we head into fall and a new academic season – to not miss the announcement about this launch, subscribe to Stacy's and Sarah's newsletters

Stacy's injury – and what she has been doing to help with muscle tension (i.e. a car polisher)
The power of Stacy's treadmill desk and how it is helping with her recovery now that she brought it into the office
Enter to win a treadmill desk on Sarah's site!
What inspired the topic for this week's show, which is on sedentary lifestyles, and the reality of how common this kind of lifestyle is for so many, and how we cannot offset our sedentary lifestyle with only an hour of exercise each day

Science with Sarah (24:20)

The studies on the negative effects of sitting – see here for more information
What the statistics show
The simple things you can do to offset the long periods of sitting
The related importance of supporting your lymph system
What is the minimum we have to do to offset the negative effects of sitting
Stacy's tips for working in more movement during her time at the office
Living healthy is about so much more than just food

Be sure to check out Sarah's upcoming schedule of book signing events
In two weeks we will be celebrating the 3 year podcasting anniversary of The Paleo View – watch social media for news on how we will be celebrating this milestone!
Outro (1:01:04)