On this episode of The Paleo View, Stacy and Sarah are joined by Ciarra Hannah, the talent behind the blog Popular Paleo, and the author of The Frugal Paleo Cookbook. The ladies discuss how to prioritize local versus conventional produce and protein with your grocery budget, and answer listeners Paleo on a budget related questions.
Click here to be taken to iTunes
or download and listen by clicking the PodBean Player below
LAST CHANCE to get the AIP Lecture Series!
RETIREMENT SALE! SAVE 70% OFF!
This online course is being retired on January 31st!
I am loving this AIP course and all the information I am receiving. The amount of work you have put into this is amazing and greatly, GREATLY, appreciated. Thank you so much. Taking this course gives me the knowledge I need to understand why my body is doing what it is doing and reinforces my determination to continue along this dietary path to heal it. Invaluable!

Carmen Maier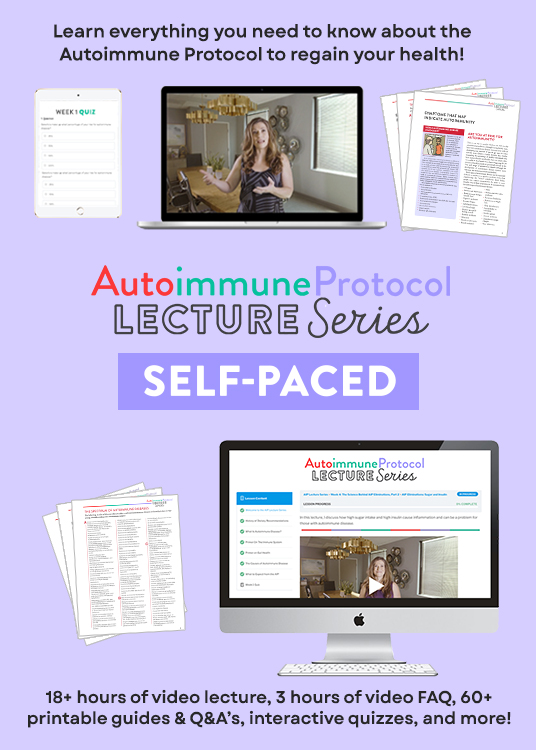 If you enjoy the show, please review it in iTunes!
The Paleo View (TPV), Episode 143, Ciarra Hannah
Intro (0:00)
News and Views (0:56)
Science with Sarah (16:53)

What we lose when we buy conventional produce and protein, versus organic, pasture-raised, etc.
Knowing what the issues are so you can get the biggest bang for your buck
The most nutrient dense produce items – how stable certain items are
How nutrients degrade and the timeline from farm to table
Using this list when determining what to buy organic vs. conventional
How to pick industrially produced meat
Doing the best you can – avoiding the perfectionist pit fall

Questions & Answers (39:27)

Patrick – how you afford eating Paleo? What is your grocery budget?

Buying a whole animal, the information you will find in Beyond Bacon

Christina – tips for bulk food prep to have a successful week?

A recent post Ciarra wrote on this
Tips for stocking your freezer

Thanks again Ciarra for coming on this week's show! Don't forget to check out her blog and her book for more amazing resources on budgeting!
Also watch her site for information on her July book signing tour!
Outro (1:16:55)