On this episode of The Paleo View, Stacy and Sarah share on their experiences from Paleo f(x) 2015 – – who their favorite speakers were, and what products they enjoyed while at the conference.
Click here to be taken to iTunes
or download and listen by clicking the PodBean Player below
Nutrivore Weekly Serving Matrix
An easy-to-use and flexible weekly checklist
to help you maximize nutrient-density.
The Weekly Serving Matrix is very helpful! I've been eating along these lines but this really helps me know where to focus vs. which foods serve a more secondary role. It's super helpful and has taken a lot of worry out of my meal planning. Thanks!

Jan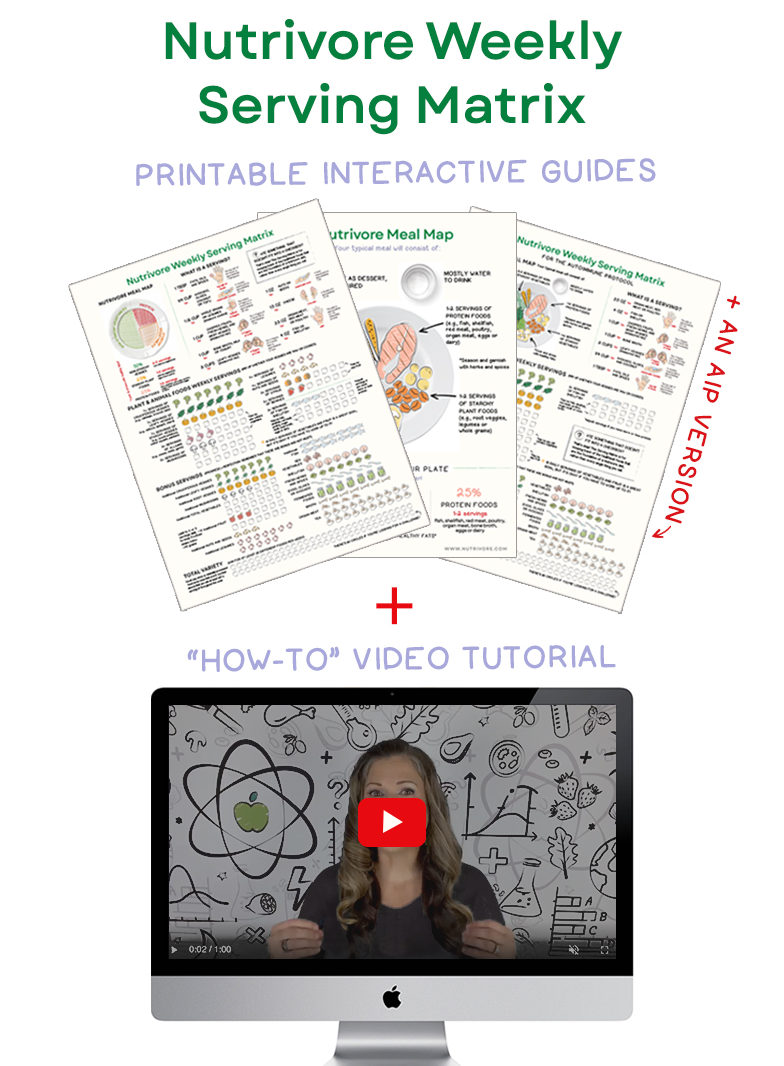 If you enjoy the show, please review it in iTunes!
The Paleo View (TPV), Episode 141, Paleo f(x) 2015 Recap
Intro (0:00)
News and Views (0:56)

Stacy and Sarah recorded an epic Paleo f(x) round up show while in Austin last weekend, but experienced technical difficulties so had to re-record
Ingredient snafu with Matt & Stacy's cooking demo
Stacy felt that overall all of Paleo f(x) looked really pulled together and ran very smoothly
Sarah felt the same, and felt like while the event grew, it was incredibly easy to follow the timeline and to know where to go and where things were
Stacy's reflection on what sparked the growth of the Paleo movement
Sarah shared on her ridiculously busy schedule for the duration of the five days she was in Austin
Sarah will be sharing a post soon outlining the details from her presentation at Paleo (f)x on ketogenic diets

For more on Sarah's presentation, listen to this show where she shared more on the research she presented on
The one individual who was very vocal with Sarah on his feelings towards her presentation
Sarah's feelings from those who opposed the points she raised in her talk

Sarah's favorite people she connected with from Paleo f(x) 2015
Stacy's favorite people she connected with while at Paleo f(x)
Favorite vendors (sorry none of the discount codes from the event are still valid!):

One Stop Paleo Shop, will be offering Tin Star Foods ghee soon

Sarah will be launching two boxes with One Stop Paleo Shop, one of which features AIP staples
Be sure to also check out the Paleo Parents two boxes

Barefoot Provisions

Also have a Paleo Mom AIP approved kit

Footage from Paleo f(x) footage will be available soon, we will share the details once available

Check out the Paleo Perfectionist Panel, and Nom Nom Paleo's and Chef Gregory's presentation on umami

Nom Nom will likely share on her presentation on her podcast as well

The awards Sarah won while at Paleo f(x) and thanked the podcast listeners for all they do as members of the Paleo community
Stacy shared her thanks as well, and a brief note on her 5 year Paleoversary

Outro (1:02:24)

Become a Member for FREE!
The Paleo Mom Members' Area is resource central!  
You'll get FREE, unlimited access to dozens of quality resources, including introductory series, downloadable e-books, exclusive recipes, printables, videos and guides!
You may enjoy these related posts:
In this episode, Sarah talks about her trip to Austin for PaleoFX! Click here to …