On this episode of The Paleo View, Stacy and Sarah are joined by a return guest, Diana Rodgers to talk about food sources and how to incorporate more homegrown foods into the mix.
Listen in iTunes 
or download and listen by clicking the PodBean Player below
Nutrivore Weekly Serving Matrix
An easy-to-use and flexible weekly checklist
to help you maximize nutrient-density.
The Weekly Serving Matrix is very helpful! I've been eating along these lines but this really helps me know where to focus vs. which foods serve a more secondary role. It's super helpful and has taken a lot of worry out of my meal planning. Thanks!

Jan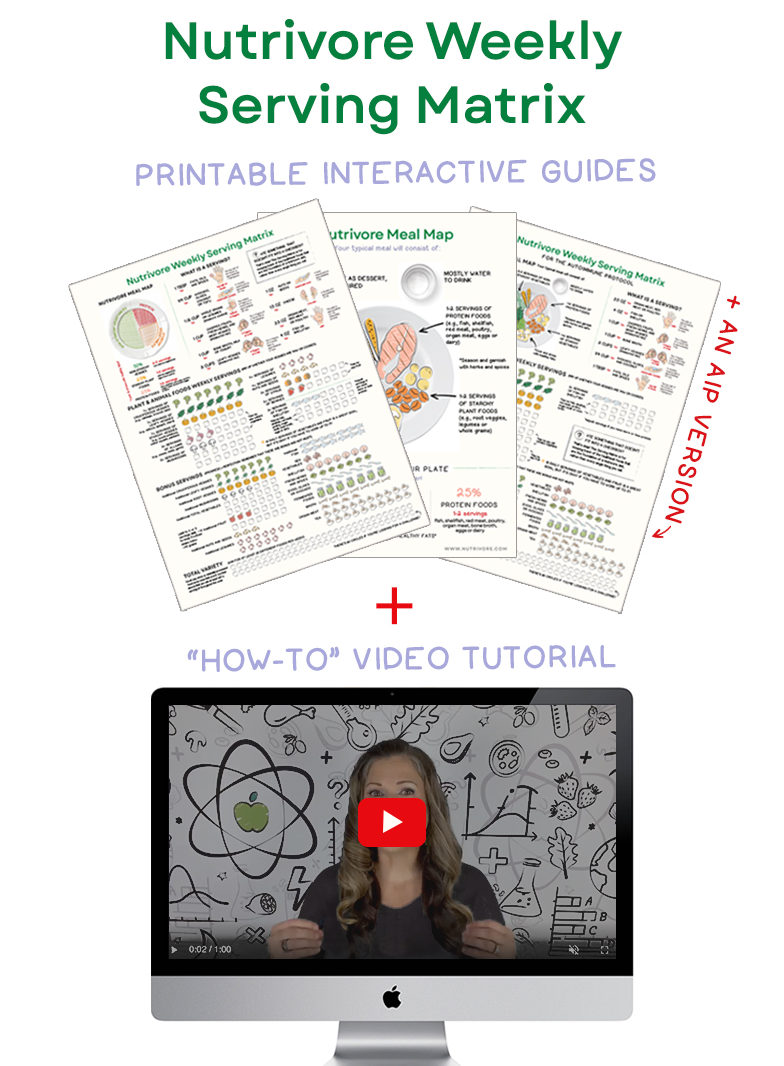 If you enjoy the show, please review it in iTunes!
The Paleo View (TPV), Episode 130, Homegrown & Diana Rodgers
Intro (0:00)
News and Views (0:56)

Welcome back Diana Rodgers!
Getting people in touch with where their food is coming from
What you will find in Homegrown Paleo and why
Sarah's experience with her home garden and what Stacy has had success with in her region and with her schedule
Diana's video resources on her site
What animals Diana has on her farm
How to handle country rules when it comes to farming at home
The answers to the wacky questions folks have when considering a home farm

Questions & Answers (46:18)

Paleo Sister's Journey – How many chickens is a good number for beginners to start with?
Jennifer – hen leaving eggs in random places, how to retrain?
Rachel – how to make the transition period smooth when introducing new breeds into the coop?

Boot etiquette with chickens – find the video referenced here
Modern Farm Girls podcast with Liz Wolfe
The lifestyle section of Homegrown Paleo and the seasonal recipe break down
Family members' favorite recipes from the book
Where to find Diana if they are looking for more information
If you go to Sustainable Dish here on the site and enter your pre-order number from Homegrown Paleo you can get a sneak peek preview copy with tons of discounts
Outro (1:06:12)

Become a Member for FREE!
The Paleo Mom Members' Area is resource central!  
You'll get FREE, unlimited access to dozens of quality resources, including introductory series, downloadable e-books, exclusive recipes, printables, videos and guides!
You may enjoy these related posts:
On this episode of The Paleo View, Stacy and Sarah are joined by Diana Rodgers …