On this episode of The Paleo View, Stacy and Sarah discuss autoimmune diseases and Sarah shares on her recent diagnosis and how she plans to manage her health from this point forward.
Listen in iTunes 
or download and listen by clicking the PodBean Player below
Nutrivore Weekly Serving Matrix
An easy-to-use and flexible weekly checklist
to help you maximize nutrient-density.
The Weekly Serving Matrix is very helpful! I've been eating along these lines but this really helps me know where to focus vs. which foods serve a more secondary role. It's super helpful and has taken a lot of worry out of my meal planning. Thanks!

Jan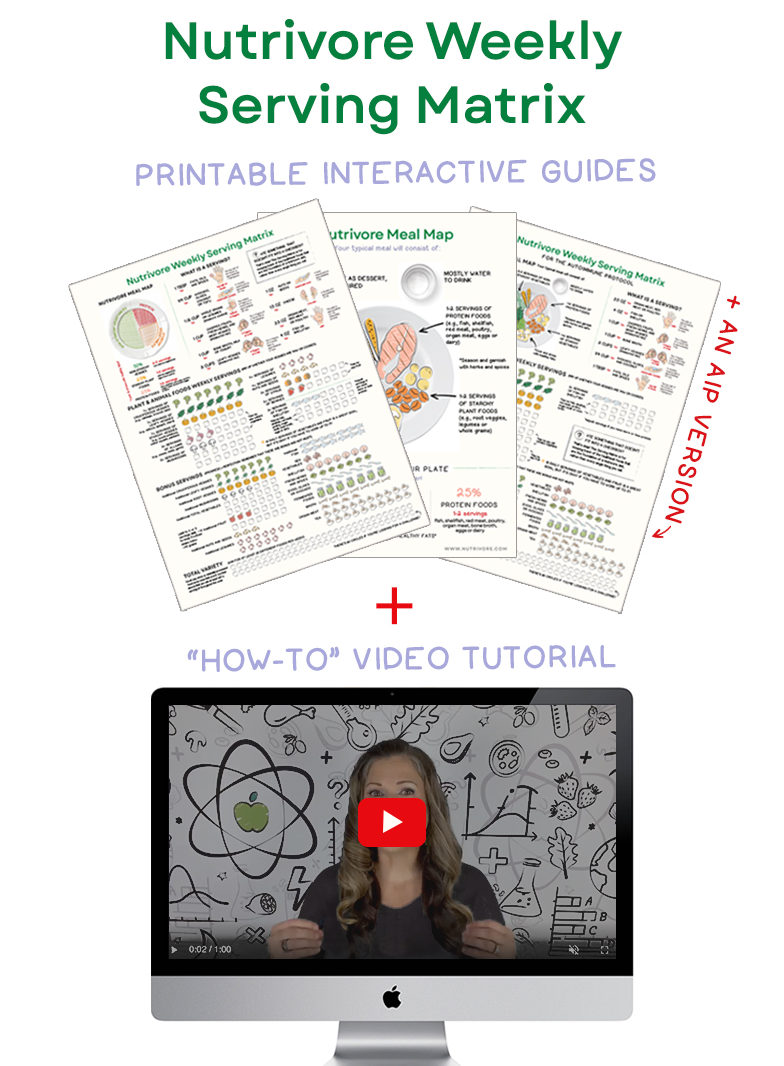 If you enjoy the show, please review it in iTunes!
The Paleo View (TPV), Episode 126: More on Autoimmune Diseases
Intro (0:00)
News and Views (0:56)

Stacy felt a bug coming on, but got 15 hours of sleep and kicked it
Sarah was recently diagnosed with Hashimoto's thyroiditis and she shared on what she has and is going through since this new diagnosis
More on undiagnosed autoimmune diseases and autoimmune diseases in general – check out The Paleo Approach for more information
How to handle if you suspect issues with low thyroid
When to do the autoimmune protocol without a diagnosis
Pets reduction on stress
Special thanks to Sarah on being honest and open about this situation
Sarah has postponed and/or cancelled her scheduled book signing events due to this diagnosis – find out more here

Science with Sarah (38:14)

How coffee and caffeine impact the thyroid and the signals it stimulates in the body
Check out the caffeine podcast for more information here

Stacy's new caffeine replacement that she is obsessed with is Delicious Obsessions herbal coffee
Check out Sarah's recipe for herbal coffee in The Paleo Approach Cookbook
Questions & Answers (48:53)

Karen – what is the best way to tell if I can add back in certain foods?

Proper ways to handle food reintroductions

Diana – would the autoimmune protocol help with my Hashimoto's thyroiditis in place of medication? And if so how best should I transition into the protocol and off my medicines? (58:32)

We are wishing Sarah all the best as she begins her healing
Outro (1:05:40)

Become a Member for FREE!
The Paleo Mom Members' Area is resource central!  
You'll get FREE, unlimited access to dozens of quality resources, including introductory series, downloadable e-books, exclusive recipes, printables, videos and guides!
You may enjoy these related posts:
On this episode of The Paleo View, Stacy and Sarah have a part-two discussion on …