On this episode of The Paleo View, Stacy and Sarah share on all that they are thankful for, specifically all the fans who read their blogs, listen to this podcast, buy their books, and submit comments on their health journeys.
Listen in iTunes 
or download and listen by clicking the PodBean Player below
Nutrivore Weekly Serving Matrix
An easy-to-use and flexible weekly checklist
to help you maximize nutrient-density.
The Weekly Serving Matrix is very helpful! I've been eating along these lines but this really helps me know where to focus vs. which foods serve a more secondary role. It's super helpful and has taken a lot of worry out of my meal planning. Thanks!

Jan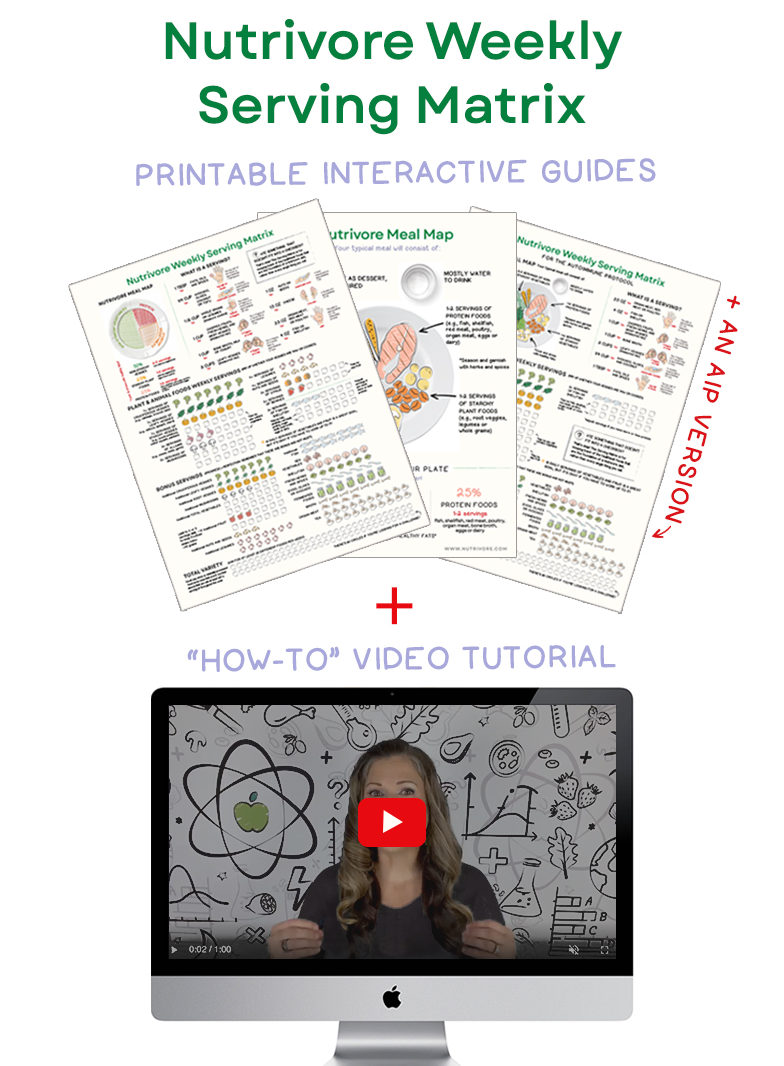 If you enjoy the show, please review it in iTunes!
The Paleo View (TPV), Episode 119: Thankful
Intro (0:00)
News and Views (0:56)
Beyond Bacon's success in the Buck Books campaign
Stacy's overwhelming gratitude – feelings of connectivity to our podcast listeners
Sarah's excitement for her books hitting Costcos
Sarah's gratitude for her team and launching a "business" through this passion
Science with Sarah (42:04)

Research on gratitude through gratitude journals and mindful meditation
Keep a small journal this holiday season to track three things every day that you are grateful for to see how it impacts your mental health
How Stacy's family shows gratitude

Questions & Answers (49:12)

Comments from fans expressing their gratitude

Cheryl – feedback from the tour and how Sarah and Stacy have impacted both her and her family's lives
Kristen – significant change for 7 year old son thanks to Paleo Parents
Janet – amazing help with SIBO
Anonymous – finding self love
Shauna – looking beyond diet alone

A big thank you from Stacy to everyone who attended the tour and brought her gut healing foods to help her avoid getting sick despite a stressful time
Thank you all for listing – we are wishing you a wonderful holiday season!
Outro (1:17:23)

Become a Member for FREE!
The Paleo Mom Members' Area is resource central!  
You'll get FREE, unlimited access to dozens of quality resources, including introductory series, downloadable e-books, exclusive recipes, printables, videos and guides!
You may enjoy these related posts:
On this episode of The Paleo View, Stacy and Sarah check in briefly to chit chat …