On this episode of The Paleo View, Stacy and Sarah are joined by Cindy Sexton, blogger at PALEOdISH and author of the recently released book Paleo Takes 5 or Fewer, for a wonderful discussion on physical and health education in the school system.
The AIP Lecture Series
RETIREMENT SALE! SAVE 70% OFF!
I am loving this AIP course and all the information I am receiving. The amount of work you have put into this is amazing and greatly, GREATLY, appreciated. Thank you so much. Taking this course gives me the knowledge I need to understand why my body is doing what it is doing and reinforces my determination to continue along this dietary path to heal it. Invaluable!

Carmen Maier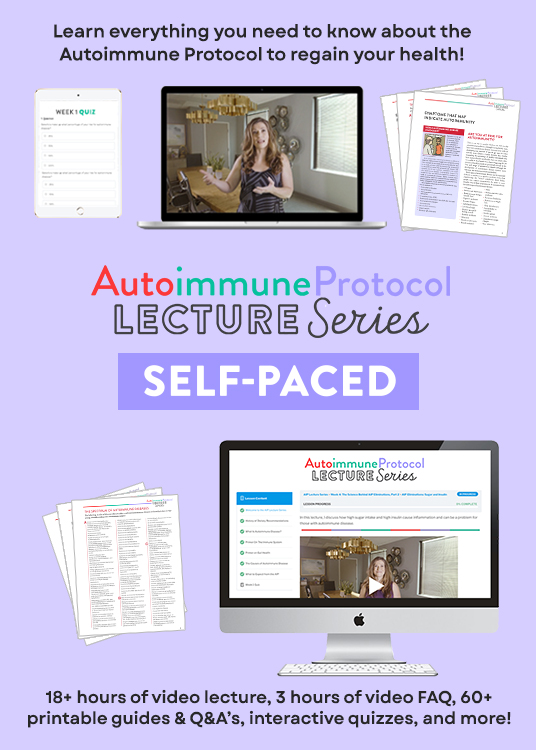 Listen in iTunes
If you enjoy the show, please review it in iTunes!
The Paleo View (TPV), Episode 113: Cindy Sexton
Intro (0:00)
News and Views (0:56)
Health in the School System (27:19)

How do you both educate and motivate healthy lifestyle and diet choices in your kids
How to encourage the formation of healthy habits in kids
Exposing children to as many forms of physical activity as possible – find what suits them and their interests
Sarah's exposure to different forms of physical activity as a child and teen
Stacy's first exposure to weight training
The benefits of increasing blood flow to the brain
Avoiding athletic burnout – giving kids time to imagine, explore, have unstructured play
The value of regular, frequent breaks, especially for those who are homeschooled
What Stacy does to teach the boys how to enjoy activities
How Sarah encourages physical activity with her daughters
Handling accidental exposures to food intolerances

Thanks Cindy for coming on The Paleo View!
Check out her site PALEOdISH and her book Paleo Takes 5 or Fewer
Don't forget to register for The Paleo View Book Tour
If you are in the DC area be sure to head to the Real Life Paleo Release Party
Outro (1:11:41)