On this episode of The Paleo View, Stacy and Sarah talk a bit about the upcoming Paleo View Book Signing Tour, talk about the sweetener alternative lucuma powder, and answer questions on self-control and challenges.
*NEW* Nutrivore Weekly Serving Matrix
An easy-to-use and flexible weekly checklist
to help you maximize nutrient-density.
The Weekly Serving Matrix is very helpful! I've been eating along these lines but this really helps me know where to focus vs. which foods serve a more secondary role. It's super helpful and has taken a lot of worry out of my meal planning. Thanks!

Jan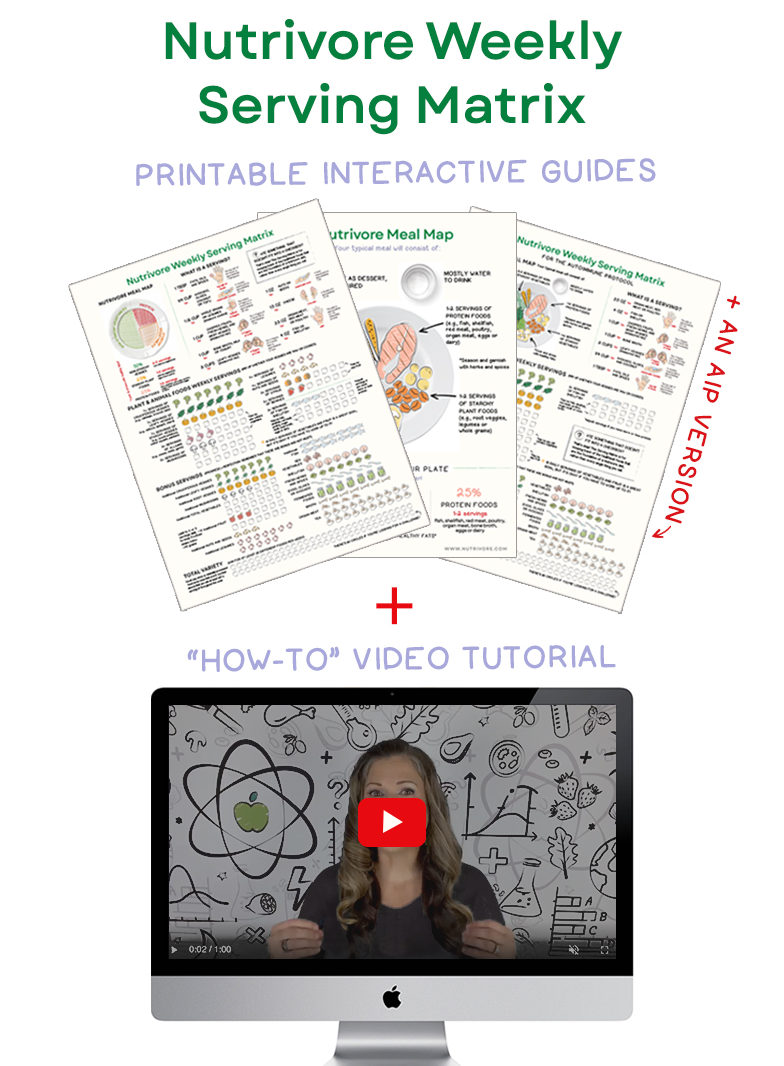 Listen in iTunes
If you enjoy the show, please review it in iTunes!
The Paleo View (TPV), Episode 111: Self-Control and Challenges
Intro (0:00)
News and Views (0:56)

Stacy and Sarah are going on a book tour!

Be positive and appreciative folks!
Stops on The Paleo View Book Tour
The schedule
The Real Life Paleo book release party
Make sure you RSVP so the book stores have enough copies of the book
Show up with broth and organ meat and you will be getting hugs and kisses

This week's show is about self-control and challenges

Science with Sarah (17:50)

Lucuma powder – is it a good choice as a sugar alternative in a Paleo diet?
Possible benefits
The red flags
Sarah's recommendations on sweeteners
Stacy's recommendations on what to do when eating sweeteners

Questions & Answers (34:02)

How can I better approach elimination diets to not worsen disordered eating?
Have either of you been to over eaters anonymous? (52:32)

Check out this episode of The Paleo View where eating disorders were discussed

Sarah will be in the Pennsylvania area this weekend – check her events page here
Real Life Paleo will be in Stacy's hands on October 16 – don't forget to place those orders to reserve your copy
And don't forget to leave podcast reviews so other folks can find The Paleo View
Outro (1:14:45)