In this episode, Stacy and Sarah continue the discussion about weight loss with the Paleo diet and answer your questions left over from episode 6. Trust us, this episode is completely awesome and terrific and does not suffer from the lack of Stefani Ruper of Paleo for Women at all! In this episode, we continue our discussion about losing weight with the Paleo diet. We answer questions on meal frequency, overcoming food addiction and why your loss may have stalled.
The AIP Lecture Series
RETIREMENT SALE! SAVE 70% OFF!
I am loving this AIP course and all the information I am receiving. The amount of work you have put into this is amazing and greatly, GREATLY, appreciated. Thank you so much. Taking this course gives me the knowledge I need to understand why my body is doing what it is doing and reinforces my determination to continue along this dietary path to heal it. Invaluable!

Carmen Maier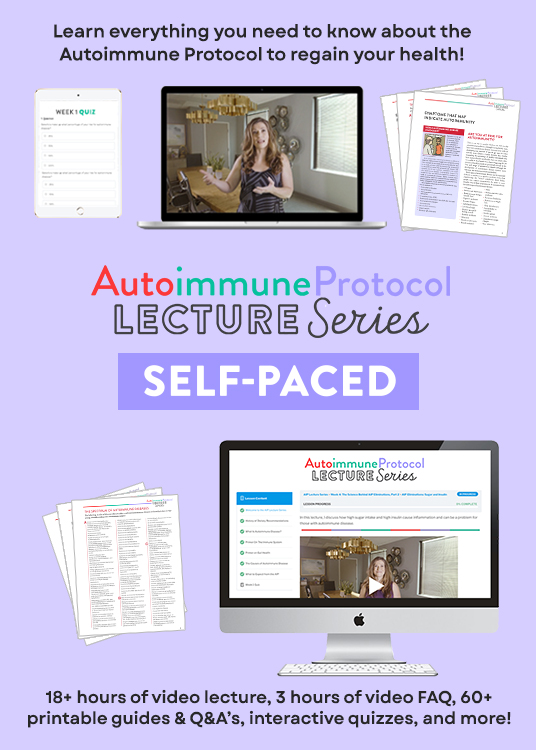 Listen in iTunes
or download and listen by clicking the PodBean player below
If you enjoy the show, please review it in iTunes!
The Paleo View (TPV), Episode 8: Weight Loss with Paleo Part 2
0:00 – Introduction
1:18 – News and Views
13:43 – Science with Sarah: Meal frequency; Is it better to eat more times per day or just three?

Sarah's article on this topic with citations

21:43 – Questions and answers

23:07 – Is there such thing as a set point and how do I change mine?

Stacy's post on losing weight before her 30th birthday
The study that found that slightly overweight people lived longer

(It's worth noting that the most disadvantage people for longevity were the underweight, meaning being a model is not only unobtainable for most people, but it is also more deadly than weighting 250 pounds)

33:09 – Why did I lose weight quickly the first time I went Paleo, but slow the second time?
46:13 – How do I overcome food addiction and obsession that repeatedly derails me?

Chris Kresser podcast on brain and gut connection
The Balanced Bites podcast with Chris Kresser

1:03:22 – Why would adding protein make me gain weight?

1:09:57 – Outro