In this episode, Stacy and Sarah are joined by Matt of the at-home dad of the Paleo Parents to answer your questions about how to actually accomplish this whole Paleo family thing in the kitchen. Learn all the secrets on how to plan, pre-cook and eat on the go. This is one to listen to as Stacy gets quite flustered having Matt on the line with her!
*NEW* The Gut Health Cookbook!
The Gut Health Cookbook is fantastic! Thank you for researching and creating The Gut Health Cookbook! Such wonderful recipes! I'm so excited to try them all! -Sue
The Gut Health Cookbook puts the 20 Keys to Gut Health into practice with:
180+ recipes featuring 61 gut health superfoods

Gut health food lists

Why's behind each gut health superfood
Get instant digital access for $27.99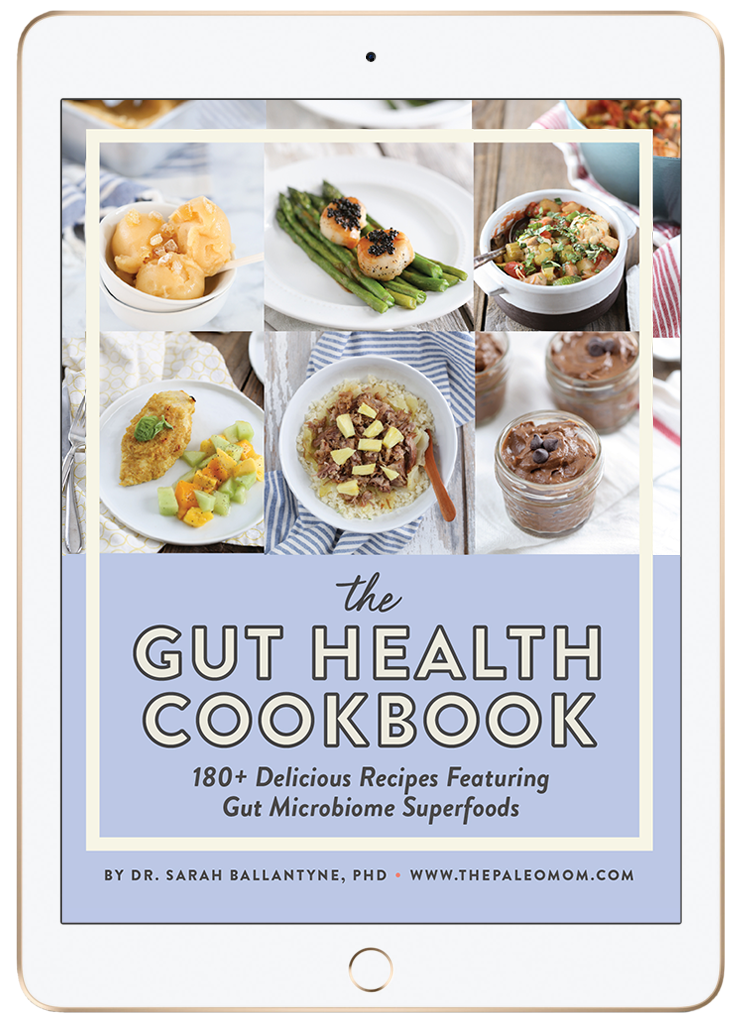 Listen in iTunes
or download and listen by clicking the PodBean player below
If you enjoy the show, please review it in iTunes!
The Gut Health Guidebook!
The depth of information, practical tips, and the accessible way Dr. Sarah shows me how to apply complex science to improve my health is truly remarkable. -Wendy
The Gut Health Guidebook is the culmination of 6 years of research. This unprecedented deep dive into the gut microbiome delivers:
A new diet for gut health, built from the ground up

Essential gut microbiome superfoods

20 Keys to gut health
Get instant digital access for $27.99
The Paleo View (TPV), Episode 5: Practical Paleo, Cooking
0:00 – Introduction
1:18 – News and Views
8:20 – Science with Sarah: What are lectins and why are they to be avoided?
23:15 – Questions and answers

23:58 – What are some quick breakfast idea?
33:03 – What are some ways to eat dinner quickly?
38:54 – How do plan your Paleo kitchen with food and ordering and preparing?
54:15 – How do you get your husband on board?

1:00:06 – Paleo Parenting – How do you include children in meal preparing?

By the way, almost every recipe on Paleo Parents includes steps that kids can help with!

1:08:43 – Outro