First of all, a warm welcome to the newest Paleo Parents Team member, Monica of ThePaleos! Monica will be helping Paleo Parents organize some of the administrative chaos of the blog in an effort for Matt & Stacy to spend more time on blog content and spending time together.   As a side effect, she's also helping me because she is taking over some of the essential podcast jobs, like show notes!

PLEASE comment welcoming Monica, and if there's ANYTHING more you'd like out of the show notes (or blog in general) please let us know – since we've got some help we're ready for (reasonable) requests! FYI, transcripts aren't reasonable (yet) … sorry.
In this episode, Stacy and Sarah invite Mira and Jayson Calton, authors of Rich Food, Poor Food and Naked Calories, to share suggestions on nutrient dense Paleo convenience foods. Learn about beverages that support your health, how to prepare your pantry for storms and power outages, and how to fuel your family in healthy ways while on the road or in the woods.
Nutrivore Weekly Serving Matrix
An easy-to-use and flexible weekly checklist
to help you maximize nutrient-density.
The Weekly Serving Matrix is very helpful! I've been eating along these lines but this really helps me know where to focus vs. which foods serve a more secondary role. It's super helpful and has taken a lot of worry out of my meal planning. Thanks!

Jan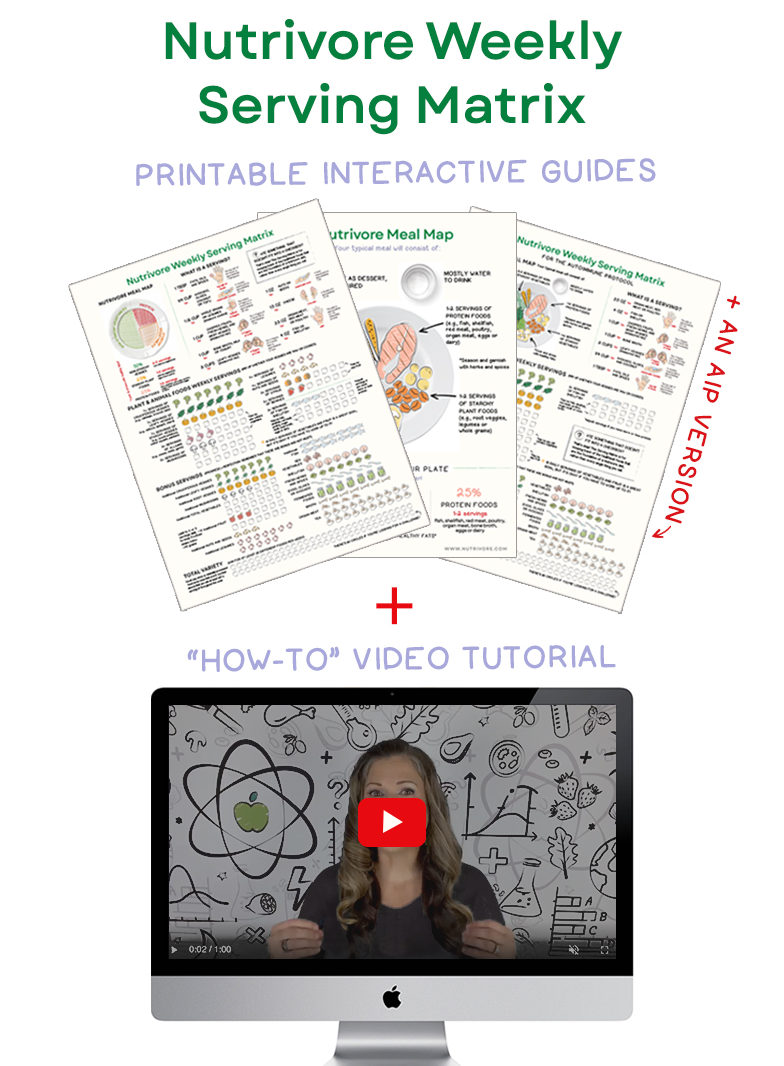 Listen in iTunes
or download and listen by clicking the PodBean player below
Download this episode (right click and save)
If you enjoy the show, please review it in iTunes!
The Paleo View (TPV), Episode 35: Paleo Convenience Foods
0:00 – Introduction
1:19 – News & Views
34:20 – Science with Sarah: The role of vitamin D in the body

How the body synthesizes vitamin D and what it impacts
We produce vitamin D from the sun, but also get it from rich sources of food
Foods with high levels of vitamin D are seafood, eggs from pasture raised chickens, and pasture raised animals
Recent studies have been released on the crucial role that vitamin D plays while pregnant
Every major disease is linked to vitamin D deficiencies in some capacity
The role that vitamin D plays on melatonin production
Micro-nutrient competitors and synergies for vitamin D

50:41 – Q&A

Joseph: What are some nutrient dense beverage ideas? Specifically looking to satisfy a sweet tooth through drinks with meals.

Check micro-nutrient levels because sweet cravings point to a deficiency

Sweet teas made from stevia, Kal recommended by Jayson
Fruit based lose tea, could sweeten with honey to transition into less sugar
Coconut sugar is a great sweetener
In general, shouldn't be drinking much during meals

(1:02:24) Stephen: What would you recommend for preparing for a bad storm?

Prepare your grill if you know a storm is coming and cook things as they thaw
Remove ice cubes and bag them to create a mini fridge in a cooler
Prepare to catch your own food, think fishing pole and traps
Consider a backup generator and a crockpot that plugs into the car
Pantry staples: dates, nuts and seeds, Paleo Kits, jerky, hard salami, BPA-free canned vegetables, Native Forest canned fruits, Natural Value products, canned tuna fish and sardines, coconut oil
Store items in dark, cool, dry places and containers

(1:12:08) Linda: What would you recommend for Paleo non-perishables?

1:22:14 – Outro
Monica is the latest member of the Paleo Parents Team! Raised in a full-on hippy house, she was taught to love the land and the animals that feed from it. From old school hog butcherings to berry farm harvesting treks, her parents showed that health began with food choices. However, her teen years brought her down a rebellious path with food and she began to struggle with the world of weight-gain, yo-yo diets, and eating in secret. It wasn't until her husband nudged her in the direction of the Primal Blueprint that she learned how to break my unhealthy cycle.
Now she is carving out her own hippy life and learning how to raise a Paleo family in our modern-day grain and sugar crazed world. Monica can be found at thePaleos.com as well as Instagram, Twitter, and Pinterest .

Become a Member for FREE!
The Paleo Mom Members' Area is resource central!  
You'll get FREE, unlimited access to dozens of quality resources, including introductory series, downloadable e-books, exclusive recipes, printables, videos and guides!
You may enjoy these related posts:
In this episode, Stacy and Sarah are joined by Mira and Jayson Calton from …