In this episode, Stacy and Sarah welcome Arsy from Rubies and Radishes, author of The Paleo Slow Cooker, to talk about breastfeeding and first foods. Discussed are such topics as handling food sensitivities in babies, how to deal with issues with milk supply, and why Stacy knows so much about this stuff.
*NEW* The Gut Health Cookbook!
The Gut Health Cookbook is fantastic! Thank you for researching and creating The Gut Health Cookbook! Such wonderful recipes! I'm so excited to try them all! -Sue
The Gut Health Cookbook puts the 20 Keys to Gut Health into practice with:
180+ recipes featuring 61 gut health superfoods

Gut health food lists

Why's behind each gut health superfood
Get instant digital access for $27.99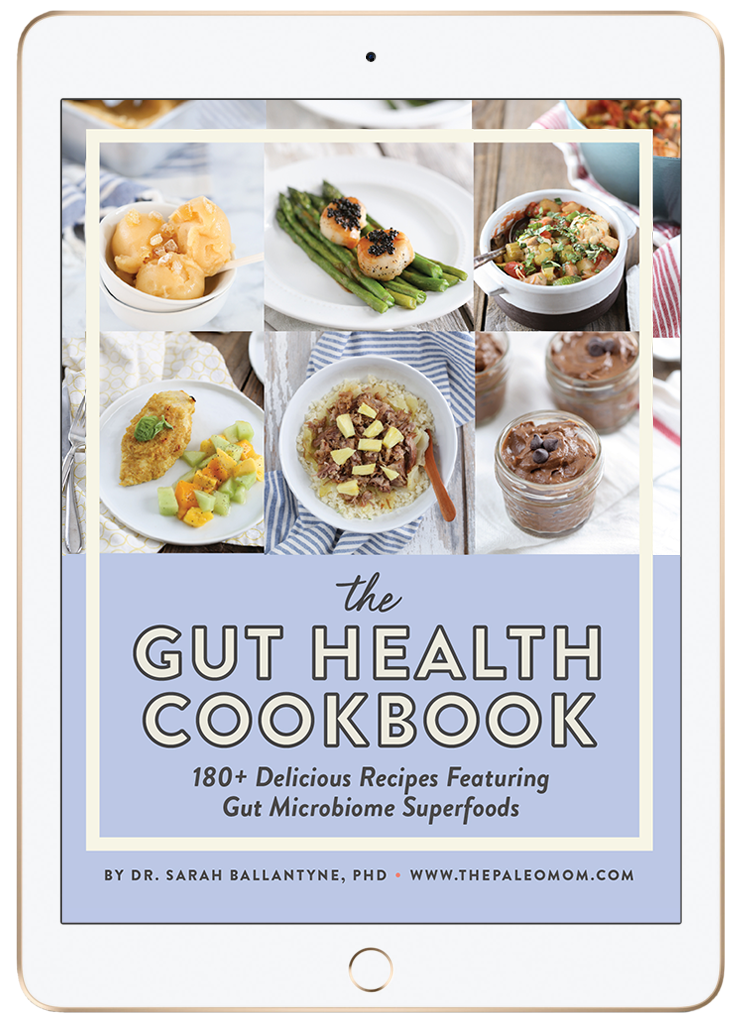 Listen in iTunes
or download and listen by clicking the PodBean player below
Download this episode (right click and save)
If you enjoy the show, please review it in iTunes!
The Paleo View (TPV), Episode 33: Breastfeeding and First Foods
0:00 – Introduction
1:19 – News & Views
26:04 – Science with Sarah: Is napping problematic?
36:29 – Q&A

What are some Paleo options for increasing milk supply?
50:37 – I have oversupply and my lactation consultant says it may be food allergy. Is it possible to develop an allergy to eggs later?
1:05:29 – What are some lumpy consistency recipe resources for my disabled daughter?
1:11:22 – How do you introduce foods to a baby prone to food allergies?
1:23:52 – How do I solve issues with constipation with my baby?

1:34:08 Outro