In this episode, Stacy and Sarah tackle your issues transitioning kids to a Paleo diet. They discuss tips and tactics that have worked for them, and answer your burning questions on changing your child's diet through difficult situations. They end with a roundtable featuring Daphne of FitDaffy, Lea from Paleo Spirit, and Sunny from And Love it Too about how to solve food conflict from your little ones. They also start with reacting to the tremendous response we've received, both for the PodCast and for Stacy's "What Losing 135 Pounds Looks Like" post. Thank you! Scroll down to the bottom of the page to see the winner of our giveaway!
Listen in iTunes
or download and listen by clicking the PodBean player below
If you enjoy the show, please review it in iTunes!
The Paleo View (TPV), Episode 3: Transitioning Kids to Paleo
0:00 – Introduction
1:18 – News and Views
9:48 – Science with Sarah:Does a Paleo diet provide adequate nutrition for children?

The abstract of a paper on the better absorption of calcium from kale as opposed to dairy
The abstract of Dr. Cordain's paper on the nutritional content of a Paleo diet
Our Paleo guide on Paleo parenting

20:44 – Questions and answers
1:01:01 – Paleo Parenting – How do you deal with temper tantrums and refusing to eat?

Yes, that's me in what Stacy calls "My radio voice" introducing this segment. I had to interject because the ladies were so psyched to get talking that they forgot to introduce the segment themselves!
We're really thankful for our guests taking the time to come on the show. Please visit their sites to show your appreciation!

Daphne of FitDaffy

Daphne writes an fantastic blog about her daily life with a three year old and a newborn while Crossfitting and working full time. She visited us from all the way on the other side of the country, despite being pregnant and dragging a toddler! She is definitely someone to be admired!

Lea of Paleo Spirit

Lea blogs about her Paleo experiences, and, fairly uniquely in this sphere, tackles it from a Christian perspective. She recently guest posted for us and shared her journey to health

1:26:17 – Outro
Nutrivore Weekly Serving Matrix
An easy-to-use and flexible weekly checklist
to help you maximize nutrient-density.
The Weekly Serving Matrix is very helpful! I've been eating along these lines but this really helps me know where to focus vs. which foods serve a more secondary role. It's super helpful and has taken a lot of worry out of my meal planning. Thanks!

Jan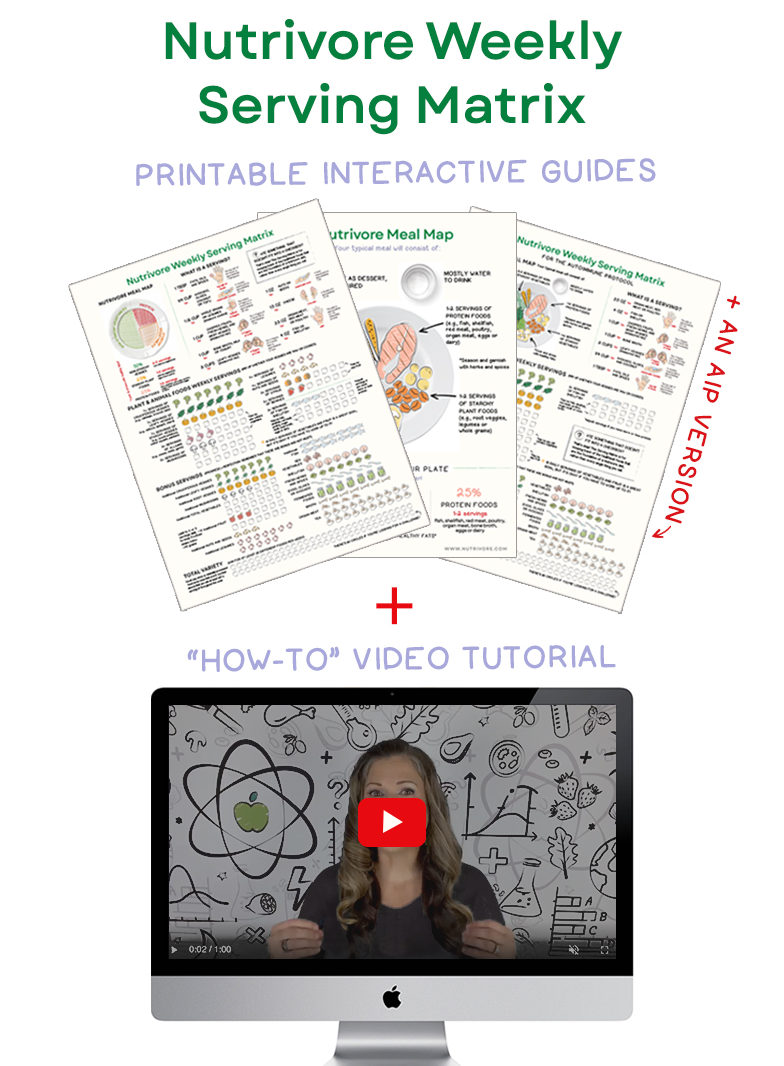 And now the winner of our giveaway! If you see your name, email us immediately!

Become a Member for FREE!
The Paleo Mom Members' Area is resource central!  
You'll get FREE, unlimited access to dozens of quality resources, including introductory series, downloadable e-books, exclusive recipes, printables, videos and guides!
You may enjoy these related posts:
In this episode, Stacy and Sarah are joined by the much requested Juli from …