In this episode, Sarah had no internet for days and days so we've put together a clip show in the great tradition of television sitcoms! Remember: if you haven't heard it, it's new to you! This episode also features the never-before heard moment where Stacy convinces Sarah to start taking fermented cod liver oil as well as such guests as Diane Sanfilippo, Michelle from Nom Nom Paleo, Danielle from Against All Grain, and more!
Listen in iTunes
or download and listen by clicking the PodBean player below
LAST CHANCE to get the AIP Lecture Series!
RETIREMENT SALE! SAVE 70% OFF!
This online course is being retired on January 31st!
I am loving this AIP course and all the information I am receiving. The amount of work you have put into this is amazing and greatly, GREATLY, appreciated. Thank you so much. Taking this course gives me the knowledge I need to understand why my body is doing what it is doing and reinforces my determination to continue along this dietary path to heal it. Invaluable!

Carmen Maier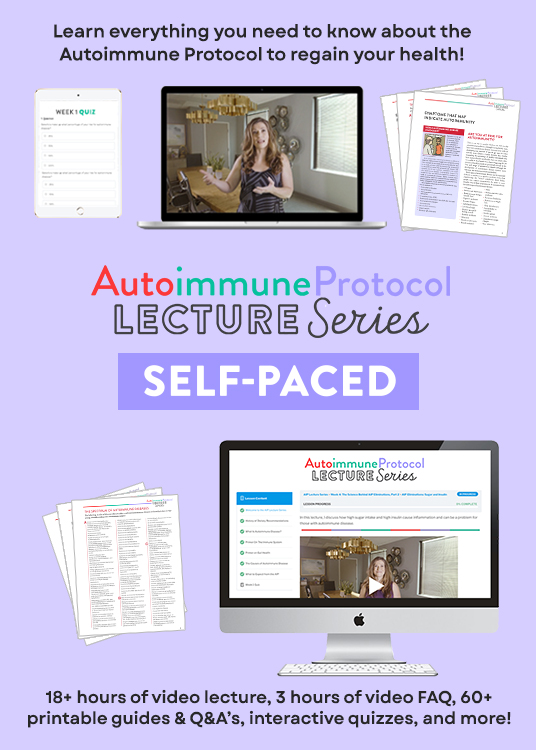 If you enjoy the show, please review it in iTunes!
The Paleo View (TPV), Episode 26: The Best of the Paleo View
0:00 – Introduction
1:13 News and Views
13:55 – Science with Sarah: What's in dairy that's potentially problematic?
Questions and Answers

27:11 – What can you do to heal when you accidentally consume a food that makes you sick?
41:37 – Tips about freezing food and food safety
58:52 -What natural products are you using?

I'm going to try to keep up with all these products and references that are being tossed about, but keep in mind I still use the cheapest bottle of Suave I can find because I am a man and I am lazy.
The OraWellness Brushing Blend used by Wellness Mama and Liz
Primal Life Organics Tooth Powder
Liz on the No Poo method and her results
Sarah on No Poo
Me, Matt? Well, I have a medical condition that causes me to constantly sweat, even in 40 degree weather. I've given up hope of ever controlling that, even if I plated my armpits in aluminum alloys.
Salt Spray, I guess?
Jane Iredale Mineral Makeup on Amazon and their website
Did I hear books? Like as in by Liz Wolfe, Diane Sanfilippo, and Hayley Mason featuring her makeup work?
Green Pastures Beauty Balm, which, and I can tell you from personal experience, does not smell so bad as to be an anaphrodisiac.
Where do you get all this coconut oil? Try Tropical Traditions!
Stacy's hair care products

1:21:56 – Is there anything you wish you knew before you began Paleo?
1:40:22 – What are some quick and easy Paleo snack?

1:46:59 – Paleo Parenting

Danielle is from the great recipe blog Against All Grain. Definitely check her out because her photography is amazing! Follow her on Facebook, Twitter, and Pinterest! Also, look out for her book next year!
What are the most important factors in managing your autoimmune disease?

2:14:10 – Outro