In this episode, Stacy and Sarah are joined by the fantastic Stefani Ruper of Paleo for Women. Together, they tackle questions related to women's health. If you have questions related to menstruation, fertility or hormones, this is the podcast for you!
Listen in iTunes
or download and listen by clicking the PodBean player below
Nutrivore Weekly Serving Matrix
An easy-to-use and flexible weekly checklist
to help you maximize nutrient-density.
The Weekly Serving Matrix is very helpful! I've been eating along these lines but this really helps me know where to focus vs. which foods serve a more secondary role. It's super helpful and has taken a lot of worry out of my meal planning. Thanks!

Jan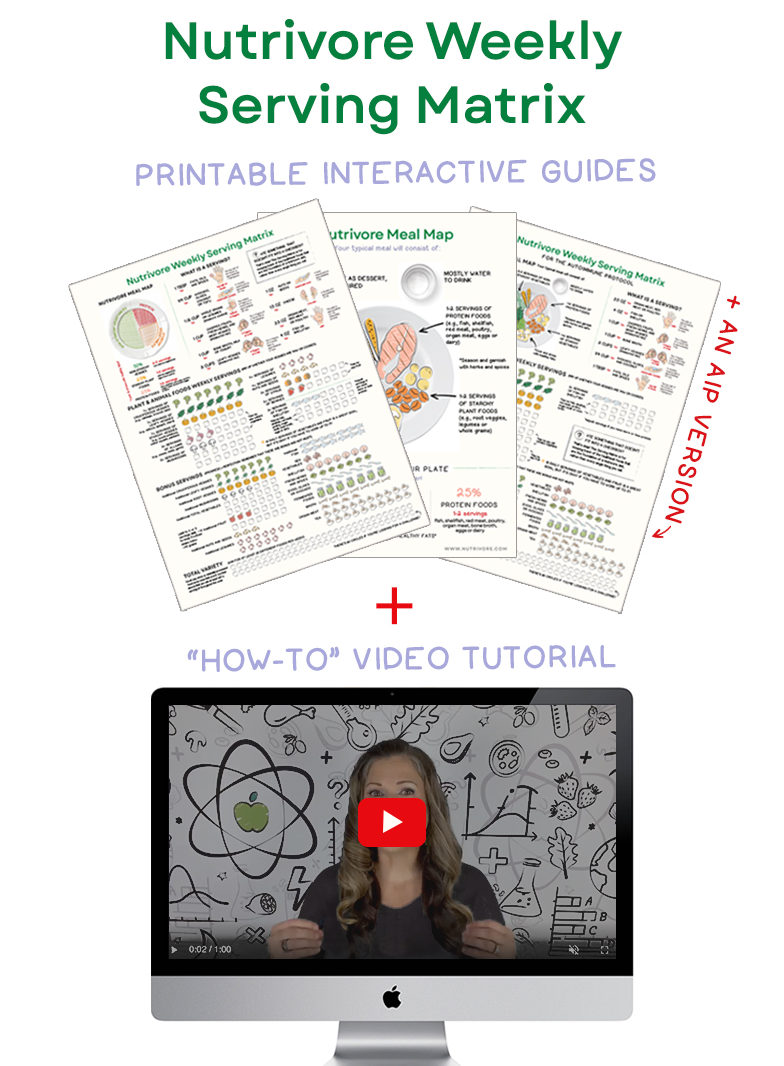 If you enjoy the show, please review it in iTunes!
The Paleo View (TPV), Episode 23: Fertility, PCOS, and Female Hormones
0:00 – Introduction
1:13 – News and Views
15:03 – Science with Sarah: What is normal for the menstrual cycle?
36:56 – Questions and Answers

Since going off the pill, I have not menstruated. Will more fully embracing the Paleo diet help regulate my hormones?
47:31 – My Naturopath recommends decreasing my body fat for fertility. I have PCOS, hypothyroidism, and low estrogen?
55:02 – How can I solve my uterine fibroids that cause terrible heavy periods?
1:06:32 – Can I shrink my benign breast tumors with Paleo?

Practial Paleo by Diane Sanfilippo contains a modification for cancer patients

1:08:59 – What is the effect of hormonal birth control and are there any more "natural" birth control options available?
1:21:19 – What are some natural feminine hygiene, tampons, skin care?
1:27:42 One more plug for Stefanie of www.PaleoForWomen.com and PCOS Unlocked

1:31:44 – Outro


Become a Member for FREE!
The Paleo Mom Members' Area is resource central!  
You'll get FREE, unlimited access to dozens of quality resources, including introductory series, downloadable e-books, exclusive recipes, printables, videos and guides!
You may enjoy these related posts:
In this episode Stacy and Sarah are joined by Stefani Ruper of Paleo for Women, …