In this episode, Stacy and Sarah continue to talk about the basics of Paleo in hopes of helping those that are getting on board. What do these Paleo ladies actually do to stay healthy and strong? What foods are they actually eating? They share their tips in this episode!
The AIP Lecture Series
RETIREMENT SALE! SAVE 70% OFF!
I am loving this AIP course and all the information I am receiving. The amount of work you have put into this is amazing and greatly, GREATLY, appreciated. Thank you so much. Taking this course gives me the knowledge I need to understand why my body is doing what it is doing and reinforces my determination to continue along this dietary path to heal it. Invaluable!

Carmen Maier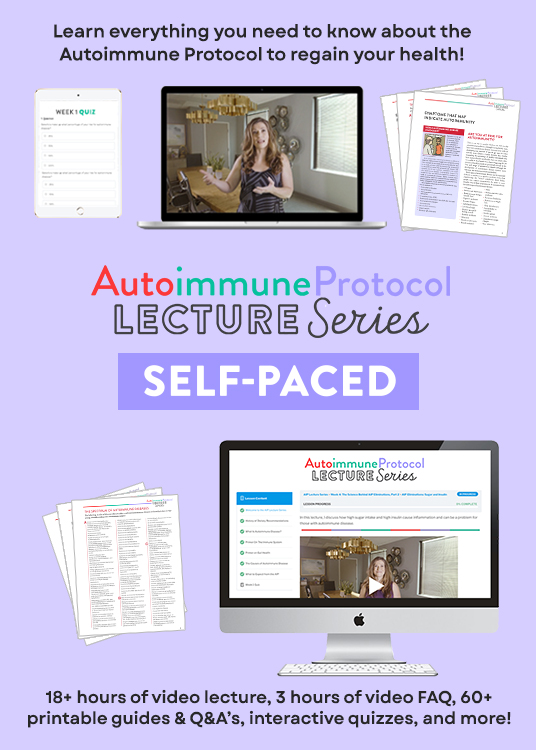 Listen in iTunes
or download and listen by clicking the PodBean player below
If you enjoy the show, please review it in iTunes!
*NEW* Nutrivore Weekly Serving Matrix
An easy-to-use and flexible weekly checklist
to help you maximize nutrient-density.
The Weekly Serving Matrix is very helpful! I've been eating along these lines but this really helps me know where to focus vs. which foods serve a more secondary role. It's super helpful and has taken a lot of worry out of my meal planning. Thanks!

Jan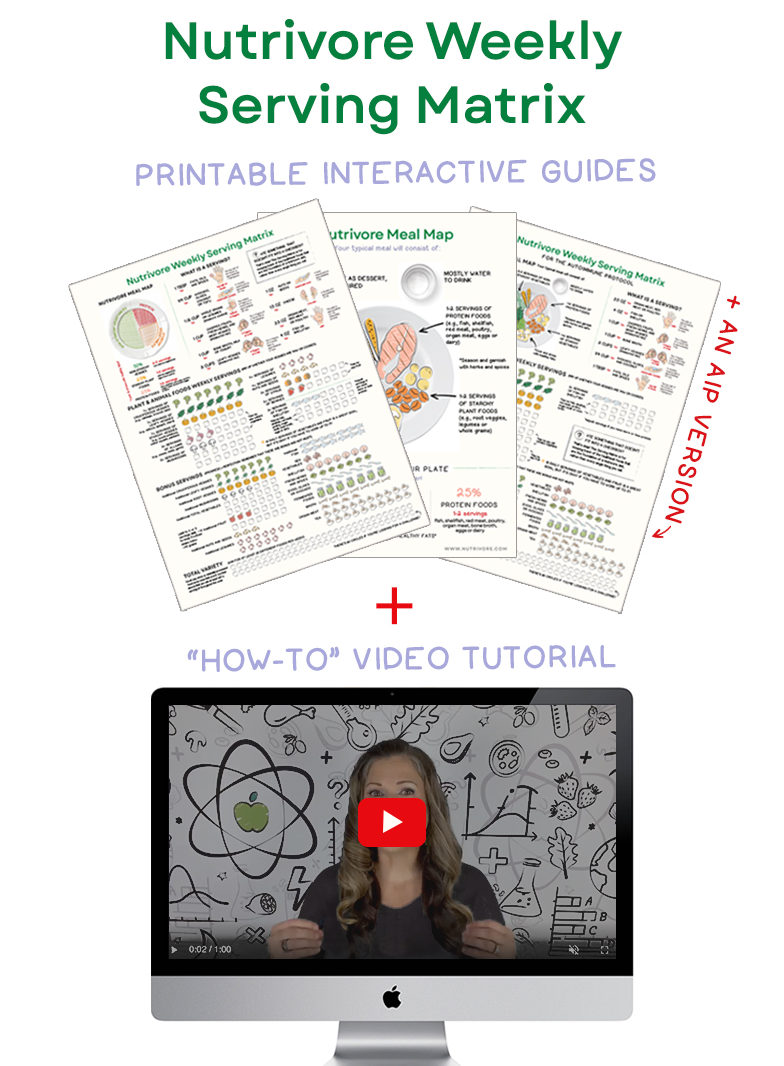 The Paleo View (TPV), Episode 18: Paleo 102
0:00 – Introduction
1:07 – News and Views
13:35 – Science with Sarah: Paleo Lifestyle Factors
24:32 -Discussion Topics

25:35 – What foods do you eat?

Meat
Fish
Eggs
Vegetables
Fruit

Want to reset your taste so that grapefruit tastes sweet to you? Try the 21 Day Sugar Detox!

Nuts and Seeds
Dairy Fat
Bone Broth and Organ Meat
Fermented Foods

54:02 – What do your meals look like?

Sarah's recipe section is organized very nicely
Breakfast

Frittatas? Just omelets cooked in the oven!
An Auto-Immune compatible hot cereal we tried and loved!
And many more egg recipes for you to google!

Lunch

1:08:25 – What is a "well-balanced Paleo meal"?
1:15:45 – Time Management

1:22:55 – Outro