In this episode, we hope to provide an overview of the Paleo diet and help you navigate why the "rules" are the way they are. Why is it that we avoid grains? Beans? Sugar? What is inflammation and why are we trying so hard to avoid it? We hope we can take you by the hand and lead you through the reasoning. After this show, we hope you will be on a happy, healthy path for your life!
Listen in iTunes
or download and listen by clicking the PodBean player below
Nutrivore Weekly Serving Matrix
An easy-to-use and flexible weekly checklist
to help you maximize nutrient-density.
The Weekly Serving Matrix is very helpful! I've been eating along these lines but this really helps me know where to focus vs. which foods serve a more secondary role. It's super helpful and has taken a lot of worry out of my meal planning. Thanks!

Jan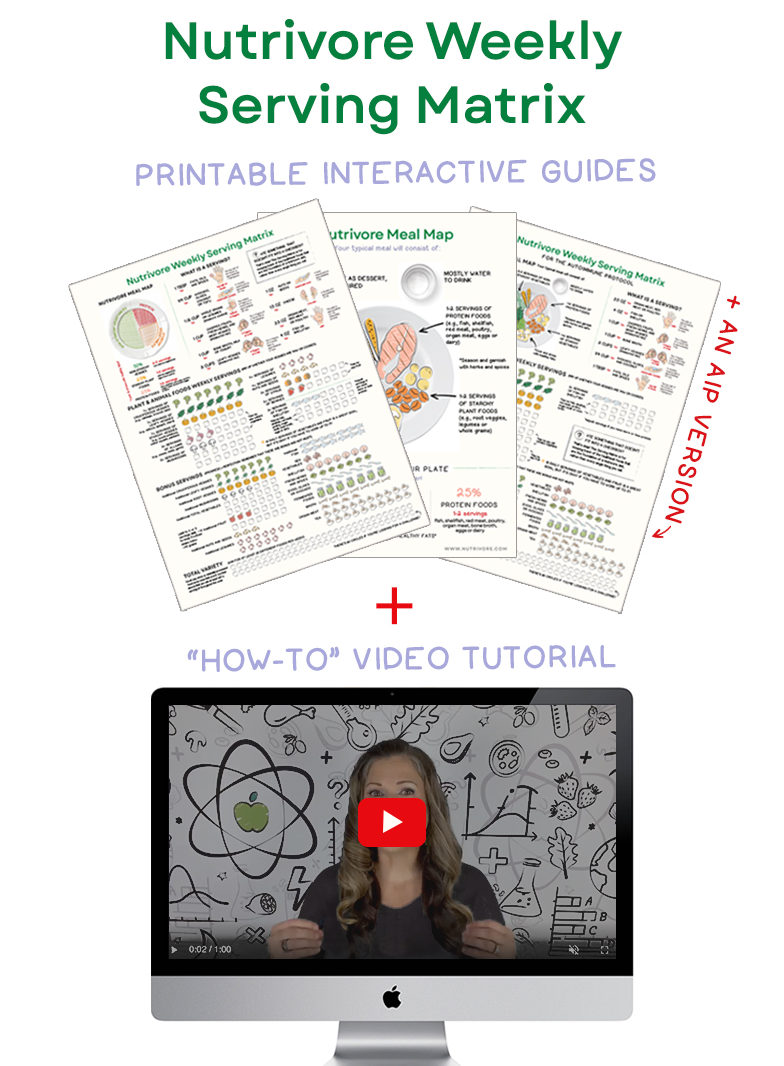 If you enjoy the show, please review it in iTunes!
The Paleo View (TPV), Episode 17: Paleo 101
0:00 – Introduction
1:07 – News and Views

Stacy sprained/broke her clavicle after getting knocked over by a chair going up for a handstand. She has been positing her crazy yoga stunts on Instagram
Stacy attributes her bone health to fermented cod liver oil from Green Pastures
Robb Wolf's 30 day challenge is described in the Paleo Solution

13:31 – Science with Sarah: What is the theory behind the Paleo diet?
21:21 – The Whys

21:51 – Why no grains?
35:25 – Why no legumes?
40:20 – Why no dairy?
48:44 – Why no sugar?
1:00:05 – Which fats are best?
1:08: 26 – Paleo perfectionism

1:16:05 – Outro


Become a Member for FREE!
The Paleo Mom Members' Area is resource central!  
You'll get FREE, unlimited access to dozens of quality resources, including introductory series, downloadable e-books, exclusive recipes, printables, videos and guides!
You may enjoy these related posts:
In this episode, Stacy and Sarah continue to talk about the basics of Paleo in …