In this episode, Stacy and Sarah discuss how they deal with their autoimmune condition on top of all the daily issues of being a wife and mother. Find out how to deal with stress, how to stay sane, and how to manage all the various demands. Plus, they are joined by Danielle from Against All Grain (directly from Hawaii!) to discuss her own solutions.
Listen in iTunes
or download and listen by clicking the PodBean player below
Nutrivore Weekly Serving Matrix
An easy-to-use and flexible weekly checklist
to help you maximize nutrient-density.
The Weekly Serving Matrix is very helpful! I've been eating along these lines but this really helps me know where to focus vs. which foods serve a more secondary role. It's super helpful and has taken a lot of worry out of my meal planning. Thanks!

Jan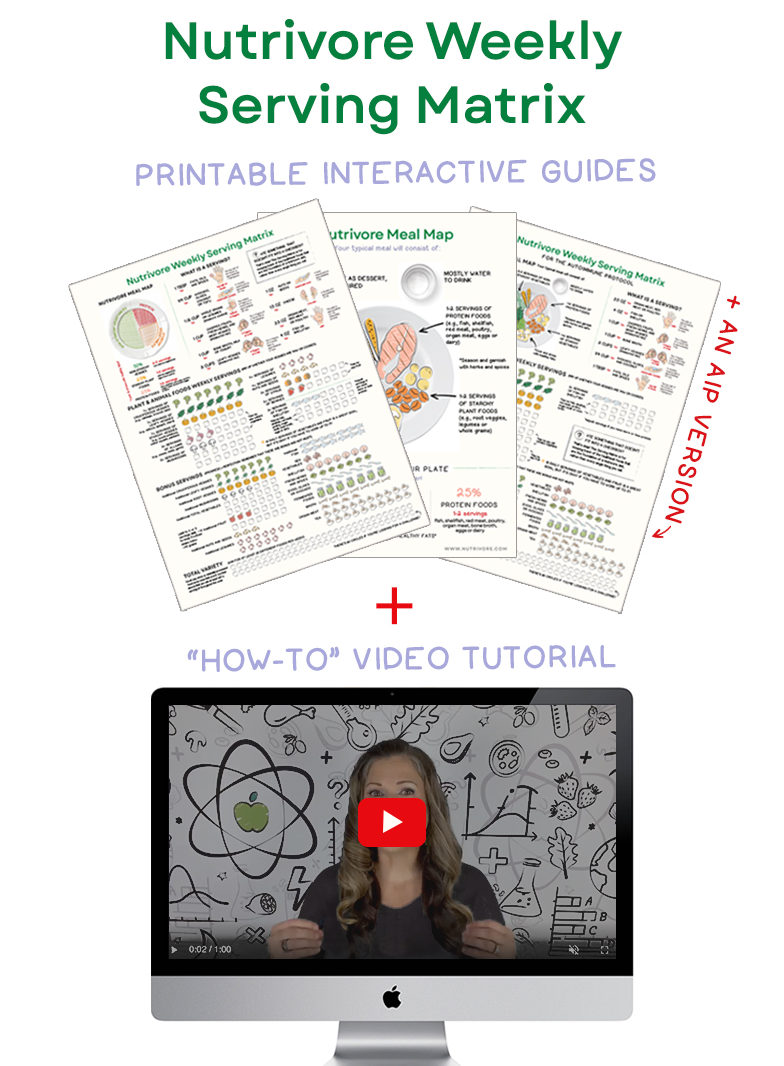 If you enjoy the show, please review it in iTunes!
The Paleo View (TPV), Episode 13: The Autoimmune Protocol Part 2
0:00 – Introduction
1:18 – News and Views
13:17 – Science with Sarah: Is the Autoimmune Protocol forever?
Questions and answers

31:19 – Should I jump right into the Autoimmune or start Paleo first when I have an autoimmune condition?
32:58 – How do I keep things fresh when so many Paleo recipes involve eggs, nuts, etc.?
40:12 – Advice on keeping sane dealing with your issues.

47:24 – Paleo Parenting

Danielle is from the great recipe blog Against All Grain. Definitely check her out because her photography is amazing! Follow her on Facebook, Twitter, and Pinterest! Also, look out for her book next year!
What are the most important factors in managing your autoimmune disease?

1:13:36 -Outro