In this episode, Stacy and Sarah tackle all your questions about the eating habits of your kids. Do you have a picky eater? Do you have a child who snacks too much? Are you at wits end, living in a world of no convenient packaged foods? Does your child refuse to eat vegetables or meat? Should you supplement? Stacy and Sarah try to help you out while sharing some of their favorite tips!
Listen in iTunes
or download and listen by clicking the PodBean player below
Nutrivore Weekly Serving Matrix
An easy-to-use and flexible weekly checklist
to help you maximize nutrient-density.
The Weekly Serving Matrix is very helpful! I've been eating along these lines but this really helps me know where to focus vs. which foods serve a more secondary role. It's super helpful and has taken a lot of worry out of my meal planning. Thanks!

Jan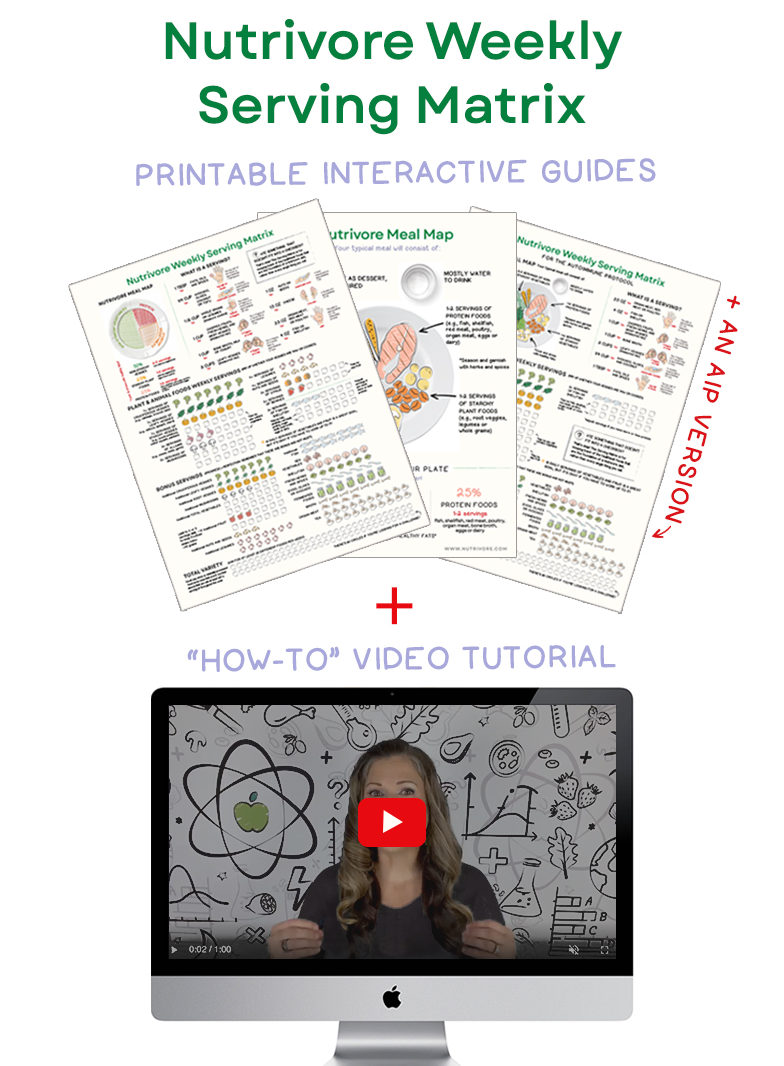 If you enjoy the show, please review it in iTunes!
The Paleo View (TPV), Episode 12: Please Help Our Kids!
0:00 – Introduction
1:18 – News and Views
13:46 – Science with Sarah: Should you supplement for a kid who is a picky eater?
23:12 – Questions and answers

23:23 – My child won't eat meat, what should I do?

I mostly found vegetarians encouraging parents with this issue to "go with it" because humans "shouldn't be eating meat anyway." What a load of BS

32:17 – My child won't eat vegetables, what should I do?
41:29 – How do I get my kids to get enough magnesium?
43:56 – Do you limit the amount of fruit your children eat? Do they snack?
54:36 – How do you explain why foods you avoid are bad?
1:00:40 – Is there a link between sugar consumption and thrush?
1:04:10 – How do I help my child who is teased for his lunch?

1:13:39 – Paleo Parenting
1:20:57 – Outro