My oldest is at school. Since we didn't do preschool with her, that feels very strange to say. I was so excited yet calm this morning as we got ready (I was very organized and got up early enough to have tons of time for a relaxing breakfast, packing lunch and snack and even taking some photos). We dropped her off in carpool line. She was excited and confident. We said a cheerful goodbye and I started driving back home. About two blocks later it hit me, the enormity of what just happened (and I cried on and off for a couple of hours). I just dropped my oldest child off at school. Woah.
We have entered a new phase for our family. A phase where we have to get up in the morning and get out the door. A phase where my oldest is learning from people who aren't me. A phase where the day is so much quieter with only one child to entertain at home. A phase where I have to pack school lunches!
I'm rather impressed with myself for having the wherewithal to remember to take a photo of my daughter's first ever kindergarten lunch (or course, I forgot to take a photo of her snack). In her lunch I packed: about 3oz US Wellness Meats Grass-fed Beef Bologna (Nitrite/Nitrate Free) which we absolutely love, a carrot cut into sticks, a celery stalk, a couple of florets of leftover steamed broccoli, a whole apple, and a mix of shelled pumpkin seeds, sunflower seeds, and pecans. This fit very nicely into our EasyLunchBox. To drink, I packed water.
Nutrivore Weekly Serving Matrix
An easy-to-use and flexible weekly checklist
to help you maximize nutrient-density.
The Weekly Serving Matrix is very helpful! I've been eating along these lines but this really helps me know where to focus vs. which foods serve a more secondary role. It's super helpful and has taken a lot of worry out of my meal planning. Thanks!

Jan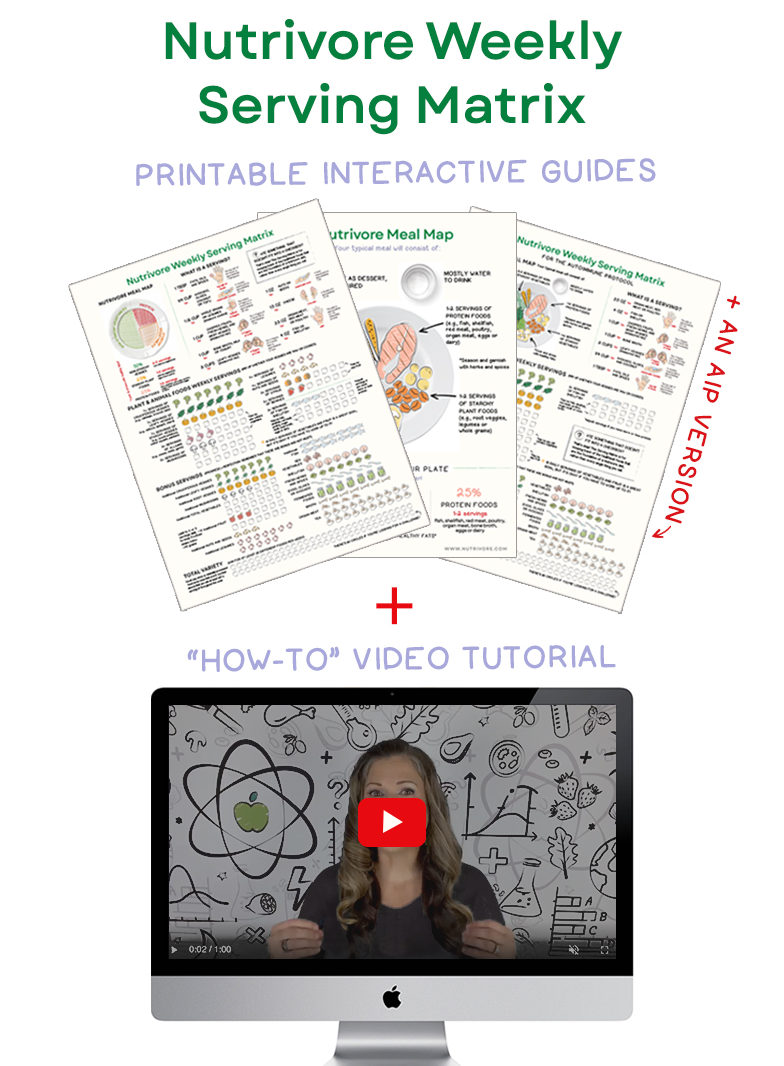 For her snack, I packed a small bunch of grapes and two large homemade date squares (a version of my recipe for chocolate date squares where I add a few more nuts and omit the cocoa).