Creating Paleo adaptations of our favorite recipes (a.k.a. Paleofying) helps us stay on board with Paleo through the holidays (and many other times of the year), help us feel like we can still celebrate and partake in all of the fun and food luxury of the season. I know that many of you are pulling out your old favorite recipes and wondering what to do with them (I've had many questions lately about rules of thumb for flour substitutions, and alternatives for those with nut or egg allergies). I am too. I have several family favorite recipes that I am tackling this year.
Paleofying is as much an art as it is a science. I vaguely remember a time when I did not have extremely well-honed cooking instincts (I think that was back in middle school). But even starting out as a fairly good cook, there was still a learning curve to all of these new ingredients and to baking without gluten. After a year of Paleo baking (and blogging!), I have a much better understanding of how to adapt conventional recipes now and thought it was high time I share some of this knowledge and experience with you, in addition to my perfected recipes.
This is the fourth in a 6-part post series to help you start the process of adapting your recipes (did I call this a 4-part series before? Yes, I have realized I needed two extra parts and I reserve the right to expand this to a 7-part series if needed!). In the first post, I discussed Paleo flours and other ingredients that add bulk to a recipe. In the second post, I discussed binders (ingredients that hold baking together). In third post, I discussed leavening agents and fats. In this part, I will discuss sugar. Part 5 will discuss liquid ingredients and wet-to-dry ratios. Part 6 will discuss some strategies for doing iterations and troubleshooting your recipes. You may also be interested in some of my posts that reference Paleo baking ingredients: Important Pantry Items for The Paleo Baker, Paleo Flour Substitutes, Sugar vs. Sweeteners, and Is Sugar Paleo?).
I've written about sugar in a couple of posts (see Sugar vs. Sweeteners, and Is Sugar Paleo?). I don't want to get into the merit of different sugars in terms of health in this post, partly because I've already covered that and partly because this isn't about which sugar is less bad for you. We've already agreed that we are making a special treat, which means we've already decided a little sugar is okay. This post is just about the chemistry of different sweeteners in your recipes.
Granulated sugar:
Most of the recipes you will be adapting will call for granulated sugar, typically white, light brown or dark brown. It would be a completely valid choice to just use refined sugar in your recipe (see Is Sugar Paleo?), but really, I know that most of us feel better if we can use healthier options. So, if your recipe calls for white sugar, the best substitute is Sucanat (also called Evaporated Cane Juice). This will have a bit of a molasses flavor to it, which you may or may not like in your baking (and depending on what other flavors you have going on, you might not even notice). Sucanat can be fairly large granules so you might want to pulse a few times in a food processor to replace white sugar in terms of texture too.
Dark Brown sugar can best be replaced by Muscovado Sugar (a.k.a. Barbados Sugar). This is a rich, dark brown, very molassesy moist sugar that behaves just like dark brown sugar in a recipe (but is unrefined). I love this stuff. Light brown sugar is also better replaced by muscovado sugar because of the moisture that it has compared to sucanat, however the molasses flavor is stronger. You could also replace light brown sugar with sucanat. and a little honey or molasses to replicate the moisture of light brown sugar. The general rule of thumb is to replace 1 cup of brown sugar with 1 cup of white sugar (or sucanat in this case) + 1 ½ Tbsp molasses (or honey).
The other granulated sugar options that I like in terms of health are is date sugar and maple sugar. Date sugar can replace either white or brown sugar in your recipe (although again, you may want to add a little molasses or honey for moisture). Maple sugar has a very strong maple syrup flavor, which may or may not be desired. No, I don't like powdered sugar alcohols, stevia, or coconut/palm sugar. I don't like palm sugar (a.k.a. coconut sugar) because it is very high in inulin fiber, which is a FODMAP and is not easily digestible by most people. I don't like stevia because it has a hormone structure and the longterm effects of regular consumption have not been studied. I don't like sugar alcohols because they are gut irritants (with the possible exception of erythritol, but I'm not comfortable enough with its benign-ness to actually recommend it). Just stick with glucose/sucrose (your body knows what to do with it) and don't eat too much.
Generally, 1 cup of granulated sugar equals 1 cup packed brown sugar or 1 cup of super-fine sugar. Really, you can replace granulated sugar cup for cup with any other form of granulated sugar.
The Gut Health Guidebook!
The depth of information, practical tips, and the accessible way Dr. Sarah shows me how to apply complex science to improve my health is truly remarkable. -Wendy
The Gut Health Guidebook is the culmination of 6 years of research. This unprecedented deep dive into the gut microbiome delivers:
A new diet for gut health, built from the ground up

Essential gut microbiome superfoods

20 Keys to gut health
Get instant digital access for $27.99
One of the biggest things that you will probably consider doing with your recipes is decreasing the overall sugar content. I typically use as little as a quarter the sugar called for in the original recipe when I'm Paleofying. In this case, it helps to know if sugar is a dry ingredient or a wet ingredient so you can figure out what other adjustments need to be made. Even though granulated sugar feels dry, it's really a wet ingredient (although, when it's creamed with butter, it also adds to the lightness of a recipe and in that respect behaves a little more like a dry ingredient). It doesn't contribute that much moisture though, so I've been relatively successful drastically reducing the amount of granulated sugar in a recipe without any other adjustments. However, if you choose to replace sugar with honey, molasses, dried fruit, applesauce etc., you will almost always have to adjust the wet and dry ingredients accordingly.
Liquid sugar:
If a recipe calls for molasses, honey, or maple syrup, then you're in luck. If you want to use less that your recipe calls for though, you will have to adjust your wet and dry ingredients, either by adding to your wet ingredients or by reducing your dry ingredients.
If a recipe calls for corn syrup, honey makes a pretty good substitute most of the time. It doesn't have quite the thickness or the ability to form long strings (unless you're making a candy and then it works very well). You can also replace each 1 cup of corn syrup with 1 cup granulated sugar (like sucanat) plus 1/4 cup whatever liquid is used in the recipe (water, coconut milk, etc.).
If you want to replace granulated sugar with a liquid sugar, then typically adjusting the wet and dry ingredients is necessary. The exception is if you plan to replace some or all of the flour in a recipe with coconut flour. In that case, replacing sugar with honey or molasses can actually really help a coconut flour based recipe hold together since coconut flour is such a thirsty flour (it absorbs water like crazy!).
When can you replace granulated sugar with liquid sugar? This is tricky to do in cookies, but it is possible (see my Orange-Strawberry (Nut-Free) Cut-Out Cookies and Chocolate Cut-Out Cookies (Nut-Free)). It's much easier to do with cake and muffin recipes where there's naturally more wet ingredients.
If you are trying to figure out sweetness levels to gauge how much honey or maple syrup to add, here's a general guide (this is by sweetness):
3/4 cup sugar = 1 cup unsulphured molasses.
Also, decrease the liquid by 1/4 cup for each cup of molasses, omit any baking powder and add 1/2 teaspoon baking soda instead.
1 1/4 cups sugar = 1 cup honey or maple syrup. Also, decrease liquid by 1/3 cup.
No, I don't like agave nectar because it is high in fructose (what's the point in avoiding high fructose corn syrup if we're just going to eat agave?). It might be important to mention that some honey can be high in fructose too. If you have a FODMAP sensitivity and honey is a problem, there's a huge variability in the fructose content from batch to batch and brand to brand, so simply trying another brand may be better tolerated. Honey also has the highest quantity of monosaccharaides, so often those with SIBO can tolerate honey but no other sugars.
Some flavor tips: I like the combination of maple syrup and honey to provide a more neutral flavor (neither the honey nor the maple syrup overwhelms) such as in my Best Paleo Pumpkin Pie recipe. Molasses pairs very beautifully with chocolate and coffee flavors and can actually trick the palate into thinking a chocolate flavor is stronger.
*NEW* The Gut Health Cookbook!
The Gut Health Cookbook is fantastic! Thank you for researching and creating The Gut Health Cookbook! Such wonderful recipes! I'm so excited to try them all! -Sue
The Gut Health Cookbook puts the 20 Keys to Gut Health into practice with:
180+ recipes featuring 61 gut health superfoods

Gut health food lists

Why's behind each gut health superfood
Get instant digital access for $27.99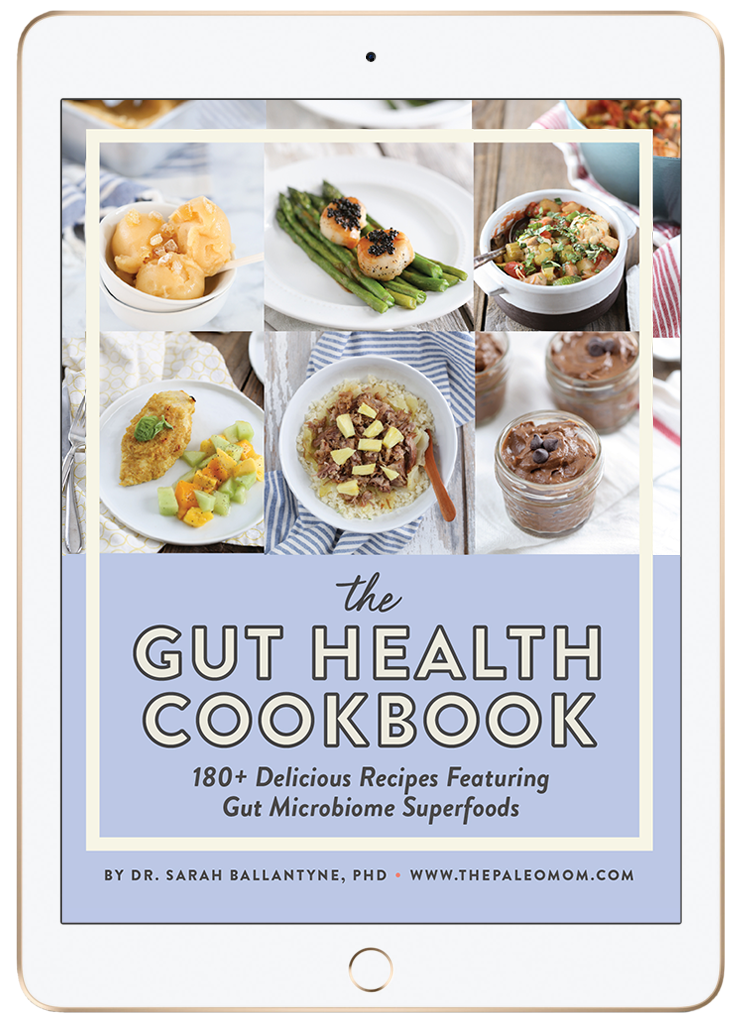 Icing/Confectioners sugar:
Icing sugar (a.k.a. confectioners' sugar) contains corn starch and is not Paleo. You can make a very fine powder by wizzing sucanat in your food processor or blender for a minute (careful when you take off the lid because it does that same powder in the air thing that icing sugar does). If you need the drying effects of the corn starch in icing sugar (which you may if you're making a frosting or icing to pipe onto cookies), try adding some arrowroot powder, perhaps as little as 1-2 Tbsp per cup of sugar. As a general place to start, replace
1 ¾ cups icing sugar = 1 cup ground granulated sugar + ¾ cups arrowroot powder.
Other Ways to Get Sweetness into Your Baking:
Depending on how long you've been Paleo (and exactly what version of Paleo you follow), your sweet tooth will have adapted quite dramatically. You might even find that your baking is sweet enough with the inclusion of some fruit ingredients and that you don't need sugar or honey at all. Here are some other ingredients that add sweetness to baking.
Fresh or Stewed Pureed Fruit—This is anything like mashed banana, applesauce, pearsauce, reconstituted dates, etc. You might be using this as a binder, but remember that is also adds sweetness to your recipe.
Dried Fruit—dates are magical, but they aren't the only dried fruit around. Raisins, dried cranberries (typically sweetened), dried apricots, dried papaya, dried pineapple, dried blueberries, dried strawberries, dried cherries, dried figs and dates all add sweetness and a lovely chew to a recipe. If a recipe calls for raisins, try replacing with a mix of dried fruit for a different flavor. Blended, these dried fruit can also help bind a recipe.
Chocolate—unless you are using 100% cocoa dark/baking chocolate or cocoa powder, you are adding sugar to your recipe. I have had great success with some recipes using only semisweet chocolate as a sweetener (see my Decadent Double Chocolate Cookies (Nut-free, Coconut-free, Egg-free) and Chocolate Cupcakes with Ganache Frosting (nut-free) recipes).
A note on candy making: it's very challenging to reduce the amount of sugar when making confections because heating the sugar and making long strings of sugar molecules is the whole reason why you can achieve the desired result (whether a chewy toffee or crunchy brittle). While changing the total amount of sugar doesn't typically work, you can often change the type of sugar (replace granulated sugar and water with honey for example). You can also reduce the total sweetness with other tricks, like adding more nuts to a brittle.
I hope this will get you started on your Paleofying adventures. As you play more and more with these ingredients and get to understand their properties better, it will be easier to intuit what will work in any particular recipe. But, I still have recipes that take me many iterations to get right. And of course, if you adapt a recipe that is absolutely awesome, you are welcome to contact me using the form on this page to discuss sharing it on the blog.