Creating Paleo adaptations of our favorite recipes (a.k.a. Paleofying) helps us stay on board with Paleo through the holidays (and many other times of the year), help us feel like we can still celebrate and partake in all of the fun and food luxury of the season. I know that many of you are pulling out your old favorite recipes and wondering what to do with them (I've had many questions lately about rules of thumb for flour substitutions, and alternatives for those with nut or egg allergies). I am too. I have several family favorite recipes that I am tackling this year.
Paleofying is as much an art as it is a science. I vaguely remember a time when I did not have extremely well-honed cooking instincts (I think that was back in middle school). But even starting out as a fairly good cook, there was still a learning curve to all of these new ingredients and to baking without gluten. After a year of Paleo baking (and blogging!), I have a much better understanding of how to adapt conventional recipes now and thought it was high time I share some of this knowledge and experience with you, in addition to my perfected recipes.
The Autoimmune Protocol E-Book!
One of my FAVORITE books I used to start the transition to AIP!!! It's so helpful! I printed mine out and spiral bound it. Thank you for this! -Rita Davidson
The Autoimmune Protocol e-book is your up-to-date guide to jump-start your healing with the AIP today.
3oo+ pages of quick-access information on the AIP

4 weeks of meal plans with shopping lists

over 80 family-friendly recipes, all 100% AIP!
Get instant digital access for $19.99
This is the third in a 6-part post series to help you start the process of adapting your recipes (did I call this a 4-part series before? Yes, I just realized I needed two extra parts and I reserve the right to expand this to a 7-part series if needed!). In the first post, I discussed Paleo flours and other ingredients that add bulk to a recipe. In the second post, I discussed binders (ingredients that hold baking together). In this post, I will discuss leavening agents and fats. In part 4, I will discuss sweeteners. Part 5 will discuss liquid ingredients and wet-to-dry ratios. Part 6 will discuss some strategies for doing iterations and troubleshooting your recipes. You may also be interested in some of my posts that reference Paleo baking ingredients: Important Pantry Items for The Paleo Baker, Paleo Flour Substitutes, Sugar vs. Sweeteners, and Is Sugar Paleo?).
Leavening Agents
Let's start with leavening agents. Leavening means anything that puts little bubbles of air into your baking making it lighter, often "rising" while baking. Classic leavening agents are baking soda, baking powder, yeast, butter (or more specifically the butter sugar combination), and eggs.
Baking soda is sodium bicarbonate. It comes from a natural mineral that was originally mined, but is now made industrially using the miracles of chemistry. Sodium bicarbonate is an alkali, so when it mixes with acid, it undergoes a chemical reaction and CO2 bubbles are released (woohoo for acid-base chemistry!). Depending on how much acid it is mixed with, it either reacts slowly or very quickly (think homemade volcano science projects). If your recipe calls for baking soda, then no substitution is necessary.
Baking powder is not Paleo. It contains corn starch (corn-free versions typically contain potato starch). It's actually one of my biggest pet peeves to see baking powder in Paleo recipes because that little bit of corn starch can be a big problem for many people. However, the active ingredients in baking powder, baking soda and potassium hydrogen tartrate (a.k.a. tartaric acid, a.k.a. cream of tartar), are Paleo.
Tartaric acid is an acid naturally found in grapes and is a byproduct of wine making. You can buy cream of tartar in the spice or baking section of just about any grocery store. Cream of tartar is an acidifying agent. It provides the necessary acid for baking soda to react with to make its little CO2 bubbles. Baking powder contains both baking soda and cream of tartar (and the aforementioned corn starch as a drying agent), so if you recipe calls for baking powder, here are some simple substitutions:
The Gut Health Guidebook!
The depth of information, practical tips, and the accessible way Dr. Sarah shows me how to apply complex science to improve my health is truly remarkable. -Wendy
The Gut Health Guidebook is the culmination of 6 years of research. This unprecedented deep dive into the gut microbiome delivers:
A new diet for gut health, built from the ground up

Essential gut microbiome superfoods

20 Keys to gut health
Get instant digital access for $27.99
1 tsp baking powder=1/4 tsp baking soda + ½ tsp cream of tartar
or
1 tsp bakin powder=1/4 tsp baking soda + 1½ tsp vinegar or lemon juice
or
1 tsp baking powder=1/4 tsp baking soda + ¼ cup molasses
or
1 tsp baking powder=1/4 tsp baking soda + some other acidic ingredients like applesauce
I will only briefly mention here that baker's yeast is a perfectly acceptable ingredient to use in Paleo baking (see my post Is Yeast Paleo?). However, you will have to pay close attention to binders in your recipe to hold in the air bubbles that yeast makes. I have two yeast-based Paleo bread recipes (almond flour and nut-free) and both took many, many iterations to get right.
Cookie recipes will often use the combination of butter creamed with granulated sugar to achieve some lightness. You can still do this with Paleo baking as long as you use a granulated sugar (there are unrefined options which I will talk about more in the next post of this series). If you replace sugars with liquid sweeteners like honey or with fruit, then you might need to add a little extra baking soda to replace the leavening effects of the butter and sugar. You won't need much though, maybe as little as an extra 1/8-1/4 tsp.
Eggs provide leavening in addition to binding in many recipes, especially if the recipe calls for beating the eggs very well before adding in other ingredients or separating the eggs and beating the whites. If you are struggling with dense baking (especially cakes and breads), then before changing anything, try beating your eggs for 3-5 minutes (this works best if the eggs are room temperature). You can also try beating the egg whites and folding them in (see my recipes for Holiday Trifle, Paleo Styleand Cinnamon "French Toast" Flat-bread (Nut-Free)).
Fats
If your recipe calls for vegetable oil, then the typical Paleo oil replacement is melted extra virgin coconut oil. If you don't want to coconut flavor that this brings to your baking, you can use a naturally refined coconut oil instead. Olive oil or avocado oil are also acceptable substitutes for vegetable oil in baking. While these oils have a higher mono- and polyunsaturated fat content, as long as you are baking at 350F or less, you really don't need to worry about the fats oxidizing.
If your recipe calls for peanut butter, then Almond Butter or any other nut butter will work well. Sometimes mixing a couple of different nut butters (like Almond Butter, Walnut Butter, and Pecan Butter) will provide a more neutral taste. You can also substitute some of all of the fat in a recipe with nut butters (or even coconut cream concentrate), which works well for cookies but can also be used in breads and cakes. Because of the fiber in nut butters, these can also help act as binders.
If your recipe calls for butter and you cannot tolerate any dairy, then palm shortening is the most similar ingredient in terms of chemistry. Lard also works. Often people get stuck on just using coconut oil for baking, but coconut oil can make baking heavy and chewy, which isn't always desired. I find palm shortening especially useful in cake recipes where butter contributes to the lightness of the cake. It will also be helpful in cookie recipes to achieve a crispier, less chewy, cookie. If you do want chewy cookies, then coconut oil is a great choice.
If your recipe calls for shortening or margarine, palm shortening is your go to substitute. You could also use butter or lard.
When my Paleo recipes call from palm shortening versus coconut oil, it is always extremely intentional. They have very different properties in baking. Palm shortening will help thicken a batter, keep baking lighter, provide a completely neutral flavor. Coconut oil is healthier and can help hold a recipe that is short on binders together. I love coconut oil for cookies because I tend to love chewy cookies. It's also great for use in brownie type recipe, anything where that chew is a good thing.
*NEW* The Gut Health Cookbook!
The Gut Health Cookbook is fantastic! Thank you for researching and creating The Gut Health Cookbook! Such wonderful recipes! I'm so excited to try them all! -Sue
The Gut Health Cookbook puts the 20 Keys to Gut Health into practice with:
180+ recipes featuring 61 gut health superfoods

Gut health food lists

Why's behind each gut health superfood
Get instant digital access for $27.99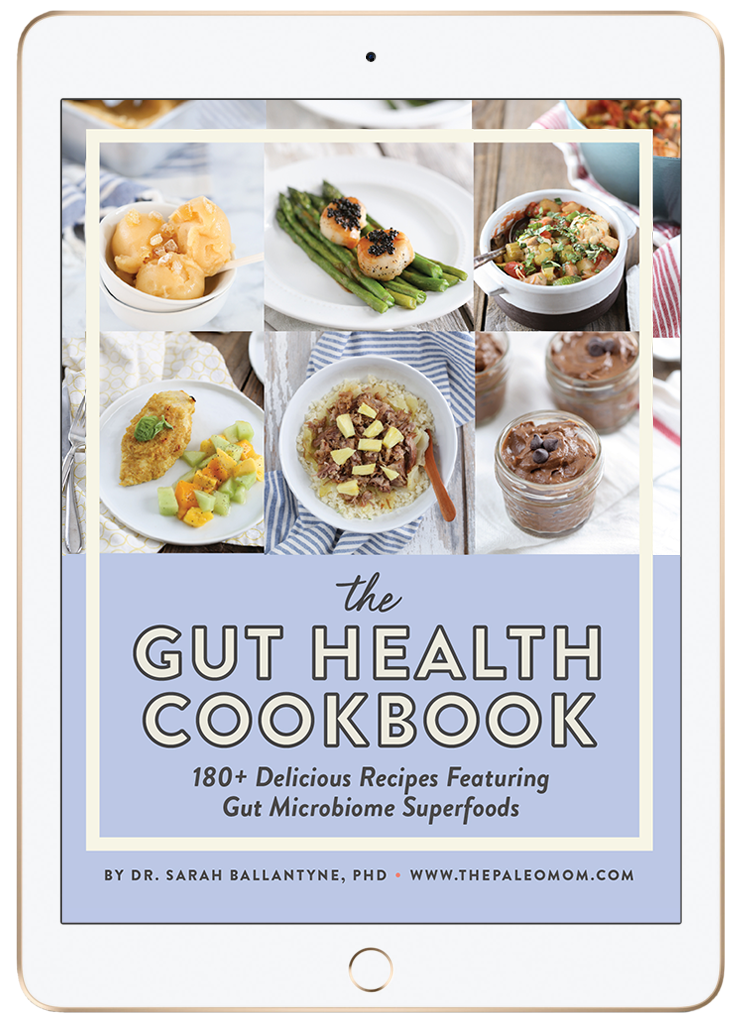 I will talk more about fatty liquids like heavy cream and buttermilk in the 5th post of this series, but I will mention here that if whipped heavy cream is an ingredient in your baking and you can not tolerate any dairy (many Paleo enthusiasts still consume heavy cream, especially if grass-fed), then whipped coconut "cream" is a good substitute. Chill a can of coconut milk in the fridge for 24 hours. Carefully scoop out the solid half at the top of the can, whip and go. You can also use Aroy-D brand coconut cream and then you don't have to worry about what to do with your half can of coconut water when you're done. If your coconut cream isn't holding together (sometimes happens if you get too much liquid from the bottom of the can mixed in), then try adding a little arrowroot powder to help it hold together.
One more quick note on fats. Many recipes that we might want to adapt are "low fat" recipes from the last 30 years of fat-phobia. I often find myself increasing the amount of fat in a recipe, either by straight up using more fat or by using nut flours that are higher in fat or replacing dry ingredients with fat (like using full fat coconut milk). Increasing the fat too much in a recipe can cause baking to be quite heavy, but sometimes increasing it a little can work magic. More fat often means it holds together better, and depending on what fat you use, you can have better control over the texture. And the best part? High fat baking tends to taste great even with less sugar.
I hope this will get you started on your Paleofying adventures. As you play more and more with these ingredients and get to understand their properties better, it will be easier to intuit what will work in any particular recipe. But, I still have recipes that take me many iterations to get right. And of course, if you adapt a recipe that is absolutely awesome, you are welcome to contact me using the form on this page to discuss sharing it on the blog.