Hormones tell your body whether to burn fat and lose weight or to store fat and gain weight or to find balance and weight maintenance in between. When it comes to your body "deciding" what state to be in, there are two key hormones that regulate food intake and energy balance: the adipocyte hormone leptin and the pancreatic hormone insulin. While there are many other hormone players with complex interactions between them, understanding these two hormones (which you could think of as the hormones of fat) will give you important insight into how the diet and lifestyle choices you make can help you achieve and maintain a healthy weight.
The hormone insulin, which is released by the pancreas in response to increased blood sugar, facilitates the transport of glucose into the cells of your body and signals to the liver to convert glucose into glycogen for storage. When glycogen stores are maxed out, increased insulin levels stimulate conversion of glucose into triglycerides (fat) for long-term storage in adipocytes (fat cells) 1. But beyond this important action for the metabolism of fuels, insulin has an additional role as an adiposity signal to the brain, i.e., it tells the brain whether or not you should eat and informs the brain about the energy status of your body.
*NEW* Guide to Nutrivore E-Book!
Nutrivore is the simple yet revolutionary concept:
Choose foods to meet the body's nutritional needs!
I'm very excited about the Nutrivore information! Thank you so much for all your research and hard work you put into this kind of information for all of us to use!! -Debbie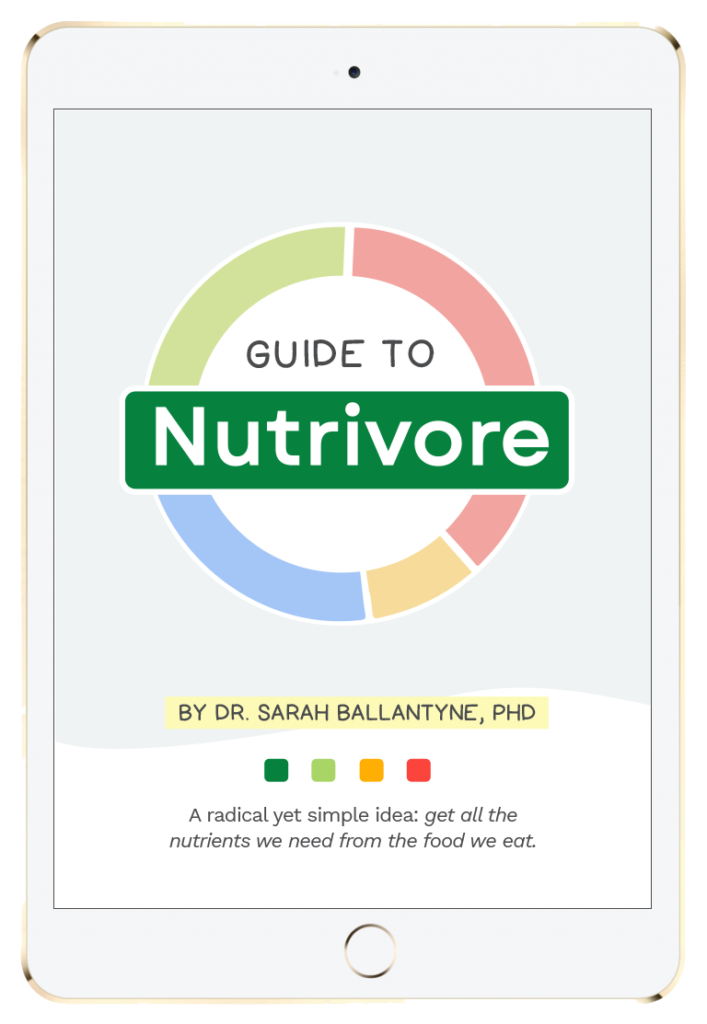 The major stimulant of insulin secretion is an increase of blood glucose levels, as detected by the pancreas (blood glucose levels go up when you eat carbohydrates). Circulating insulin enters the brain (proportionally to the amount that is circulating in the blood) where it binds to receptors in the hypothalamus region of the brain. Although the exact details are unknown, it is understood that through this interaction with the central nervous system, insulin stimulates a decrease in food intake 2,3. This makes some sense. You eat, your blood sugar level rises, your body releases insulin to store all that glucose, and that increase in insulin tells your brain that you've got enough energy, thank you very much. Importantly, the degree of glucose-stimulated insulin secretion by the pancreas is a direct function of body fat 4,5. The more body fat, the more insulin is secreted both at a basal level and in response to feeding. There is also a maximum amount of insulin that can actually cross the blood-brain barrier to stimulate satiety. As the blood concentration of insulin increases beyond this level, no further signaling to the brain can occur. Insulin resistance occurs when more insulin is required to maintain a normal level of blood glucose, and potentially when there is a decrease in insulin receptors in the brain, meaning that those high levels of circulating insulin don't decrease appetite the way they are supposed to.
Fat storage cells, called adipocytes, produce the hormone leptin, which acts as a negative feedback control for adiposity (fatness). Leptin is secreted by adipocytes (fat cells) in direct proportion to the amount of stored body fat, in particular, the amount of subcutaneous fat. Similar to insulin, circulating leptin enters the brain where it binds to receptors (there are receptors for leptin in the hypothalamus but also several other areas of the brain). Again, the exact details are unknown, but it is understood that leptin's interaction with the brain stimulates a reduction in food intake and increasing energy expenditure 6. This also makes some sense. You have a good amount of fat stores, leptin is released and tells your brain that you have enough energy so you don't need to eat anymore and hey, let's get moving! And analogous to insulin resistance, the body can also become leptin resistant, although this can happen from both obesity and overconsumption of energy 7 and by fasting or consuming too few calories and losing weight 8! Uh, yeah. Leptin is tricky.
It was initially believed that leptin's dominant role was to tell the brain to stop eating. However, recent studies have shown that it mediates the adaptation to fasting 8. Fasting or consuming too few calories on a regular basis can lower sensitivity to leptin, which leads to increased hunger, cravings and lack of energy. This has a very important implication in weight maintenance after weight loss since reduced leptin sensitivity is likely responsible for lowered metabolism and increased hunger, a combination that tends to lead to weight gain (why it's so hard to keep weight off after going on a diet). There is also a link between leptin and cortisol release, potentially explaining the cortisol spike that many people experience in response to intermittent fasting. The many roles of leptin in the human body are still being studied. It has also been implicated in the regulation of the reproductive, thyroid, growth hormone, and adrenal axes, independent of its role in energy balance.
To date, only the hormones leptin and insulin are known to act as adiposity signals 9. The amount of leptin and insulin in the blood correlates with adiposity. There are receptors in the brain for both insulin and leptin in areas of the brain known to be important in the control of food intake and energy balance. Studies which have injected insulin or leptin show that this causes a reduction in food intake, whereas injection of antibodies to block insulin and leptin causes an increase in food intake. Importantly, recent studies have demonstrated that insulin and leptin have additive effects when administered simultaneously 10.
What are the implications of this information for those who want to lose weight? I think there are two major take home points here:
Controlling insulin by avoiding high blood sugar is important for regulating hunger.
Slow and steady wins the race in terms of weight loss and leptin sensitivity.
I will be continuing to discuss many different hormones and the roles they play in health and weight loss over the next few months. Leptin and insulin will feature prominently in these posts.
---
1. Click here for more information on insulin and its role in metabolism.
The Ultimate Support for Your AIP Journey!
Get personalized guidance and support from Dr. Sarah in this 6-week interactive online course!
Thank you for your warmth, your AIP mastery, and your dedication to answering each and every one of our questions with such kindness and attention to detail. Thank you for teaching the science behind the principles. The amount of energy you put into creating this course and responding to us in real-time is felt and APPRECIATED!!
-Nicole Wood
The next session of The AIP Lecture Series begins January 10th, 2022.
Use code AIPLS10 to save 10% thru December 15th.
2. Begg DP and Woods SC. "The central insulin system and energy balance." Handb Exp Pharmacol. 2012;(209):111-29.
3. Woods SC et al "Signals that regulate food intake and energy homeostasis". Science. 1998 May 29;280(5368):1378-83.
4. Polonsky K S et al "Twenty-four-hour profiles and pulsatile patterns of insulin secretion in normal and obese subjects." J Clin Invest. 1988 February; 81(2): 442–448.
5. Polonsky KS et al "Quantitative study of insulin secretion and clearance in normal and obese subjects." J Clin Invest. 1988 Feb;81(2):435-41.
6. Ahima RS et al. "Leptin regulation of neuroendocrine systems." Front Neuroendocrinol. 2000 Jul;21(3):263-307.
7. Enriori PJ et al "Leptin Resistance and Obesity" Obesity (2006) 14, 254S–258S; doi: 10.1038/oby.2006.319
The Gut Health Guidebook!
Diet and lifestyle to nurture your gut microbiome and heal leaky gut!
The depth of information, practical tips, and the accessible way Dr. Sarah shows me how to apply complex science to improve my health is truly remarkable. -Wendy
8. Ahima RS. "Revisiting leptin's role in obesity and weight loss." J Clin Invest. 2008 Jul;118(7):2380-3.
9. Benoit, SC. "Insulin and Leptin as Adiposity Signals" Recent Progress in Hormone Research 59:267-285 (2004)
10. Air EL et al "Insulin and leptin combine additively to reduce food intake and body weight in rats." Endocrinology. 2002 Jun;143(6):2449-52. (link to the paper here)