When Alaena Haber and I decided that we'd like to collaborate on a project, the question we asked is "what resource does the autoimmune community need, but doesn't yet exist?". The answer was an AIP cookbook that is all about accessibility and making the autoimmune protocol as easy, affordable and approachable as possible.
We made some rules for ourselves: 98% of the recipes had to use ingredients you could find at almost any grocery store; the recipes had to avoid expensive and specialty ingredients; the recipes had to be simple and quick to make yet taste delicious; the recipes couldn't use specialty kitchen equipment; we needed to up the ante with some amazing meal plans; the introductory information had to present the concepts behind the autoimmune protocol in a very common-sense approachable way; and there needed to be tons of visual guides and resources to make following this more restrictive therapeutic version of the Paleo diet as easy as possible. It took a lot of innovation and ingenuity, but I believe we succeeded in creating an amazing resource within the guidelines we created for ourselves.
In a way, The Healing Kitchen is designed to remove the intimidation factor from the autoimmune protocol. I'd already written the reference book explaining all the whys (in scientific detail) with The Paleo Approach. And, I'd already written the very nutrient-focused companion cookbook, The Paleo Approach Cookbook. If you already own my two other books, The Healing Kitchen will provide you with over 175 new tasty recipes to add to your repertoire and some great new infographics to reference. If you're new to the AIP, The Healing Kitchen will ease you into it in the most painless and delicious way possible.
Now, that the book has been out in the world for a whopping 9 days, we're starting to see how it's being received by the autoimmune community. It's exceptionally gratifying to read the overwhelmingly positive (and a few constructively critical) reviews. Big thanks to everyone who took the time to review The Healing Kitchen on Amazon!

Reviews on Amazon.com
Here are quotes from a few of my favorite reviews of The Healing Kitchen; and surprise, they are not all 5-star reviews (well, all but one of them are… so far 93% of the reviews are 5-star, so, I'm actually probably over-representing more critical reviews here!). Here is why I picked them to share with you:
"While there are now a lot of cookbooks featuring recipes for the Autoimmune Protocol (an elimination diet for those of us with autoimmune disease that removes grains, legumes, eggs, dairy, nuts, seeds, and nightshade vegetables and focuses on adding in nutrient-dense, healing food), not many of are as practical and easy to use as this one.

If you are looking for a practical resource for starting the Autoimmune Protocol or just eat healthier, this is the one for you!" –Mickey Trescott Read her full amazon review here.
That was the goal: practical and easy to use! Woot! I love that we were successful in achieving this! You'll recognize Mickey's name from www.autoimmune-paleo.com and it's very meaningful to have such high praise from someone who also specializes in creating spectacular resources for the autoimmune community!
"My 7yr old sat down with this book and flagged 48 recipes that WE need to make! 48! As a family who has multiple autoimmune diseases and manage our symptoms using food The Healing Kitchen is a phenomenal resource to have on hand. This is a book that I am gifting to family, as I know these recipes are not too complex and will enable them to feel confident in feeding our family, and that they will enjoy cooking them, not to mention the education that is also offered which will reinforce to others why this way of living/eating makes total sense to those with inflammation, chronic disease and/or Autoimmune Disease!" – Emma King
Yes, The Healing Kitchen is a cookbook, but the nearly 100 pages of resources that come before the recipes make it a great guidebook too! So happy to see this mentioned, in addition to the word "phenomenal"! Love that you are so excited about so many recipes!!!! Thank you!
"While I'm a big fan of the blogs both of these ladies put together this book hits the ball out of the park. The recipes are simple and the basics of the Autoimmune Paleo Protocol are easy understood and explained in this book. I have been off the AIP diet since I had my first baby and I didn't do reintroduction the way I should have but the meal plan and recipes in this book are so simple I can actually see my husband (not a cook) pulling them off without trouble. I was extra excited about the simplicity of this book. There are meal plans for people with kids to please; people who don't like dishes; and people who don't like the spend time in the kitchen. This book is now my #1 recommendation to anyone looking to following the AIP Diet for healing, wellness, and nutrient density". – Nathan
Really? #1 recommendation? Above and beyond The Paleo Approach? Did I just create competition for my own book? Hrm, maybe I should have thought this through more… just kidding! We did create The Healing Kitchen to be the perfect intro to the autoimmune protocol for people who aren't into the detailed science in The Paleo Approach!
Save 70% Off the AIP Lecture Series!
Learn everything you need to know about the Autoimmune Protocol to regain your health!
I am loving this AIP course and all the information I am receiving. The amount of work you have put into this is amazing and greatly, GREATLY, appreciated. Thank you so much. Taking this course gives me the knowledge I need to understand why my body is doing what it is doing and reinforces my determination to continue along this dietary path to heal it. Invaluable!

Carmen Maier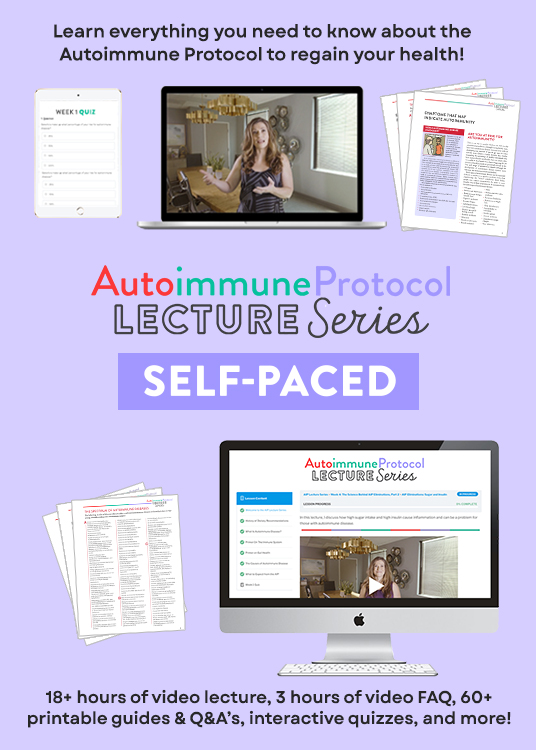 "Trying to go AIP is somewhat overwhelming until you realize there are really TONS of things you can still eat. I have quite a few AIP cookbooks but I still fall off the wagon every now and then. So, when I get a new book that is inspirational, it always help keep me on track. This book is one of those! I haven't made it to the actual recipes yet, but the photos are yummy-looking! I have Sarah's Paleo Approach and Paleo Approach Cookbook and I really like that she goes into the science of why she's saying what she's saying. I was not familiar with Alaena, so I enjoyed reading her bio pages and getting to know her a bit. I've just finished Chapter 1, but so far, I really like it! Just flipping through it, the recipes appear to be fairly easy and I like that they've used little icons at the top of each to show you if they are 5 ingredients or less, 20 minutes or less, No cook, One pot and/or Leftovers reinvented! Can't wait to jump into the recipes section and start making some of these!" – Gina
We put so much thought and effort into the visual layout of the book. We wanted it to be super easy to navigate and super easy to see all of the relevant information quickly when you're searching for the perfect recipe. I look forward to hearing how Gina enjoys the flavors once she gets cooking!
" I was eagerly awaiting this book to add to my auto-immune cooking resources. It is filled with lovely photos and many delicious looking recipes. … Auto-immune cooking is as much about the 'eat this' as it is the 'avoid that'. So my disappointment and relatively low rating is for the lack of key 'eat this' recipes. There is only one organ meat recipe. … Nothing 'exotic' here, which may have been part of their goal: make auto-immune cooking more accessible. But the omission of the key 'eat these nutrient dense foods' make this a secondary rather than a key auto-immune cook book. It is a useful resource for adding some interesting dishes to my repertoire, but for someone just starting with auto-immune cooking, I'd recommend Dr. Ballantyne's other cookbook (The Paleo Approach Cookbook) over this one every time." – Laura
Yes, it was intentional to limit recipes using organ meat and other ingredients that can be hard to find in regular grocery stores. We really wanted to keep the recipes as "main stream" as possible (remembering the people who found The Paleo Approach Cookbook to be too exotic or the recipes too time-consuming or intimidating). In many ways, The Healing Kitchen is designed as a stepping stone to the uber nutrient-focused recipes in The Paleo Approach Cookbook, as well as providing seasoned AIP veterans with some new takes on old favorites. I'm sorry to hear that Laura is disappointed, but hopefully she'll still enjoy the 175+ delicious new AIP recipes (even if they don't contain kidney, fish heads or pork fries).
What Paleo & Autoimmune bloggers are saying
It's also always amazing to see the reaction of my blogger and author peers. In many ways, these professionals are an even tougher audience to please since they are experts in their own rights! Many of these reviews include recipe sneak peeks from The Healing Kitchen too, so I definitely recommend clicking on the links to read the full reviews and try out some of our recipes!
The Healing Kitchen Review and Preview: Crispy Salmon Hash by Don't Eat the Spatula
"For those who are brand new to the Autoimmune Protocol the first part of the book provides everything to help you get started. They break down the food groups and key nutrients to keep you balanced through the healing kitchen. There is a section how how to navigate the grocery store and even how to stock your own healing kitchen. Each section is color coded so you can easily navigate between them. Even better, in the back resource section they have grouped the recipes together in the way we all want to know. Such as recipes with 5 ingredients or less, recipes that take 20 minutes or less to make, recipes that require no cooking, and much more."
The Healing Kitchen Review by Freethought Farm
"The Healing Kitchen includes more than 175 whole food recipes. The recipes are simple, easy to follow and use ingredients that are commonly found at most grocery stores. If you're into meal planning, this book has got you covered! You'll find 12 one-week meal plans with shopping lists AND companion cooking videos, as well. Preceding all that content, you'll find a wealth of information about AIP."
The Healing Kitchen by Flabstofitness
AIP TACO BOWL Recipe + Real Life Meal Planning: What We Ate Wednesday December 16 by Paleo Parents
"To celebrate the debut of Sarah and Alaena's debut of their book, we declared last week "The Healing Kitchen Week" and cooked almost exclusively out of The Healing Kitchen! It was an awesome week of meals (evidence below!) and a great tool for those who want to focus on healing without compromising taste – the recipes were simple, easy, flavorful, and fun. And we're happy to share THREE of the book's recipes for you to have your own taco night: Hawaiian Pulled Pork, Toasted Lime Cilantro Cauli-Rice, and Easy Guacamole as well."
Book Review: The Healing Kitchen and a Recipe!
by Real Food Forager
"The Healing Kitchenn meticulously discusses the optimal diet, the highest quality foods, which foods to avoid if you have an autoimmune condition and which foods are required for healing in a new and very organized way."
The Healing Kitchen Review
by Paleo Cajun Lady
"With The Healing Kitchen, you get so much more than just another cookbook. As you know after reading The Paleo Approach, Sarah likes to delve into the science behind autoimmunity and inflammation. So, in The Healing Kitchen, you not only get delicious recipes, you get a useful reference for healing your autoimmune disease."
Check out the LIVE stream Q&A from The Healing Kitchen Launch Party!
We know that a new book always inspires lots of questions. So, we've done three live online events using YouTube Live Streaming so far to answer those questions, including streaming the Q&A session from The Healing Kitchen Book Release Party in Atlanta on December 19, 2015!!!!

We're also doing one more live Q&A on Sunday, January 3rd at 2pm ET. You can watch it live by going here and you can ask your questions by enabling the "live chat" feature! "See" you there! You can also read about our upcoming book tour and about how to get a signed bookplate for your copy of The Healing Kitchen.