Basil is nearing the end of its season (although you can get fresh basil year round in most grocery stores), and I've been looking for creative ways to enjoy it while I'm able to get amazing fresh organic basil at my local Farmer's Market. I used to love basil with tomatoes, mozzarella and balsamic vinegar, but dairy showed up on food intolerance testing for me (not a surprise since every time I eat even high-quality dairy, I get a pretty instant migraine) and through following the autoimmune protocol, I discovered just how badly my body reacts to tomatoes and other nightshades. I've also always enjoyed fruit with peppery greens like arugula. So, I decided to try strawberries and basil together (another one of those, "hrm, what do I have in the fridge?" moments) and holy moly, I'm in love! Move over tomatoes, because there's a new star companion for fresh basil! This is a great recipe to pull out that super fancy well-aged thick and syrupy balsamic vinegar and a very high quality olive oil. The deeper flavors these give the dressing pairs well with the other flavors.
Prep Time: 10 minutes (plus 5-10 minutes for pecans to cool)
Cook Time: 6 minutes
Serves: 3-4 as a side dish
*NEW* The Gut Health Cookbook!
The Gut Health Cookbook is fantastic! Thank you for researching and creating The Gut Health Cookbook! Such wonderful recipes! I'm so excited to try them all! -Sue
The Gut Health Cookbook puts the 20 Keys to Gut Health into practice with:
180+ recipes featuring 61 gut health superfoods

Gut health food lists

Why's behind each gut health superfood
Get instant digital access for $27.99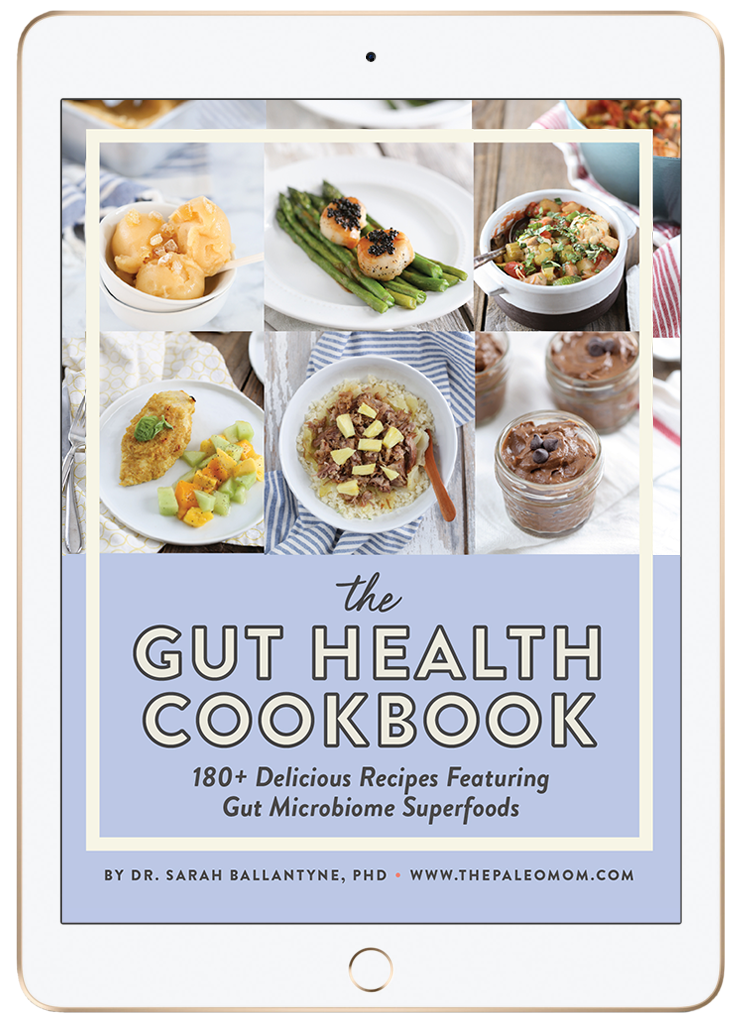 Ingredients:
Directions:
Preheat oven to 375F (you can work on other preparation while you're waiting). Place pecans on a rimmed baking sheet or in an oven-safe skillet. Toast in the oven for 6-7 minutes, until fragrant. Remove from oven and let cool to room temperature before assembling salad (you can speed this up by removing them from the hot baking sheet and placing in a serving bowl or plate).
Whisk or blend balsamic vinegar, olive oil and mustard together.
Toss basil leaves, toasted pecans, and sliced strawberries. Drizzle dressing over the top. Serve!
Note: Assemble salad just before serving. You can make the dressing, slice strawberries, and toast pecans ahead, however, don't combine everything until you're about to serve. This salad is best enjoyed right when you make it and doesn't do great as leftovers.
The Ultimate Support for Your AIP Journey!
Dr. Sarah Ballantyne has delivered an exceptional course and I highly recommend this to anyone looking to improve their health. There is something for everyone. It was extremely helpful and worth the investment. -Marie Schlichtig
The AIP Lecture Series is the ultimate Autoimmune Protocol educational experience! Learn directly from Dr. Sarah!
6-week online course
42 on-demand video lectures
dozens of printable guides
self-discovery exercises and action steps
online forum and guided discussions
support and guidance from Dr. Sarah Ballantyne!
The next session begins January 18th, 2021.
Register now to get bonus instant access to the Gut Health Fundamentals online course!