If you are following a Paleo diet and still having digestive issues, low stomach acid may be to blame.
*NEW* The Gut Health Cookbook!
The Gut Health Cookbook is fantastic! Thank you for researching and creating The Gut Health Cookbook! Such wonderful recipes! I'm so excited to try them all! -Sue
The Gut Health Cookbook puts the 20 Keys to Gut Health into practice with:
180+ recipes featuring 61 gut health superfoods

Gut health food lists

Why's behind each gut health superfood
Get instant digital access for $27.99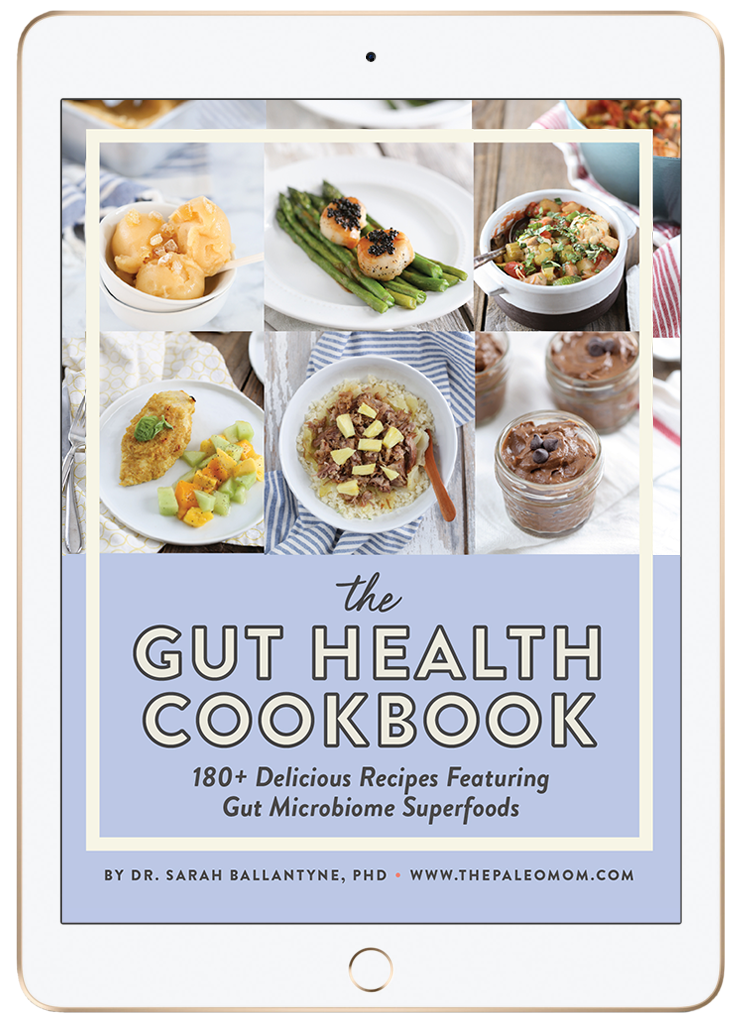 When you eat, the cells that line your stomach produce gastric acid and some digestive enzymes. The acid and enzymes start breaking down your food into the individual constituents that will cross the intestines into the blood stream or lymphatic system later. Stomach acid is especially critical for breaking down proteins into the individual amino acids that our bodies need for just about everything. When stomach acid is produced, signals are sent to your pancreas to release digestive enzymes into your small intestine (also neutralizes the stomach acid for the next phase of digestion in your small intestine). Stomach acid also protects the stomach from bacterial and fungal overgrowth (bacteria and fungus cannot thrive in an acidic environment) and is critical for absorption of many vitamins and minerals.
Inadequate stomach acid and digestive enzymes results in "big" pieces of food in your small intestine, which cannot be properly digested. One effect is malabsorption of nutrients (both macronutrients and micronutrients). But perhaps more worrisome is that this undigested food provides an excellent food source for harmful bacteria, yeast and fungi in your small intestine and colon. Peristalsis slows, increasing transit time. The bad bacteria, yeast and fungi reproduce and Small Intestinal Bacterial Overgrowth (SIBO) results, causing irritation to the gut lining, inflammation, and production of toxins that must be filtered by the liver.
As strange as it sounds, the symptoms of low stomach acid are virtually the same as the symptoms of an overproduction of stomach acid. Increased levels of bacteria in your small intestine cause increased gas production. Coupled with a slower digestion, the increased volume in your small intestine puts pressure on your stomach and on the lower esophageal sphincter (whose job it is to let food down into your stomach but keep the stomach acid from going up). Stomach acid and other stomach contents creep up your esophagus causing heartburn, indigestion, and acid reflux. Other symptoms of too little stomach acid include: diarrhea, constipation, bloating, belching, gas, bad breath, nausea, vomiting, rectal itching and hemorrhoids. Not to mention the host of illnesses related to the gut irritation and inflammation caused by SIBO.
How do you get low stomach acid? Aging is one of the primary causes of low stomach acid. However, adrenal fatigue, alcohol consumption, bacterial infection, chronic stress and certain medications are also common causes. You may want to read my post on How Mood and Gut Health Are Linked to read more of the direct effect of stress, anxiety and depression on digestion.
The Ultimate Support for Your AIP Journey!
Dr. Sarah Ballantyne has delivered an exceptional course and I highly recommend this to anyone looking to improve their health. There is something for everyone. It was extremely helpful and worth the investment. -Marie Schlichtig
The AIP Lecture Series is the ultimate Autoimmune Protocol educational experience! Learn directly from Dr. Sarah!
6-week online course
42 on-demand video lectures
dozens of printable guides
self-discovery exercises and action steps
online forum and guided discussions
support and guidance from Dr. Sarah Ballantyne!
The next session begins January 18th, 2021.
(Use code AIPLS85 to save $85 and get bonus access to the Gut Health Fundamentals online course!)
What can you do about it? Unfortunately, once low stomach acid gets this bad, it isn't as simple as being more careful to thoroughly chew your food and taking a supplement to increase your stomach acid production (although that helps!). See my post on Repairing the Gut for a comprehensive approach to gut health.