I generally find that most people back away slowly when I start talking about this great new way of eating I've found. My husband acts like I've joined a cult or something. I like to think that I am too critical of a thinker for that and that, although he is one of my heroes, I would not follow Robb Wolf to an alien spaceship in the sky. But I digress.
*NEW* The Gut Health Cookbook!
The Gut Health Cookbook is fantastic! Thank you for researching and creating The Gut Health Cookbook! Such wonderful recipes! I'm so excited to try them all! -Sue
The Gut Health Cookbook puts the 20 Keys to Gut Health into practice with:
180+ recipes featuring 61 gut health superfoods

Gut health food lists

Why's behind each gut health superfood
Get instant digital access for $27.99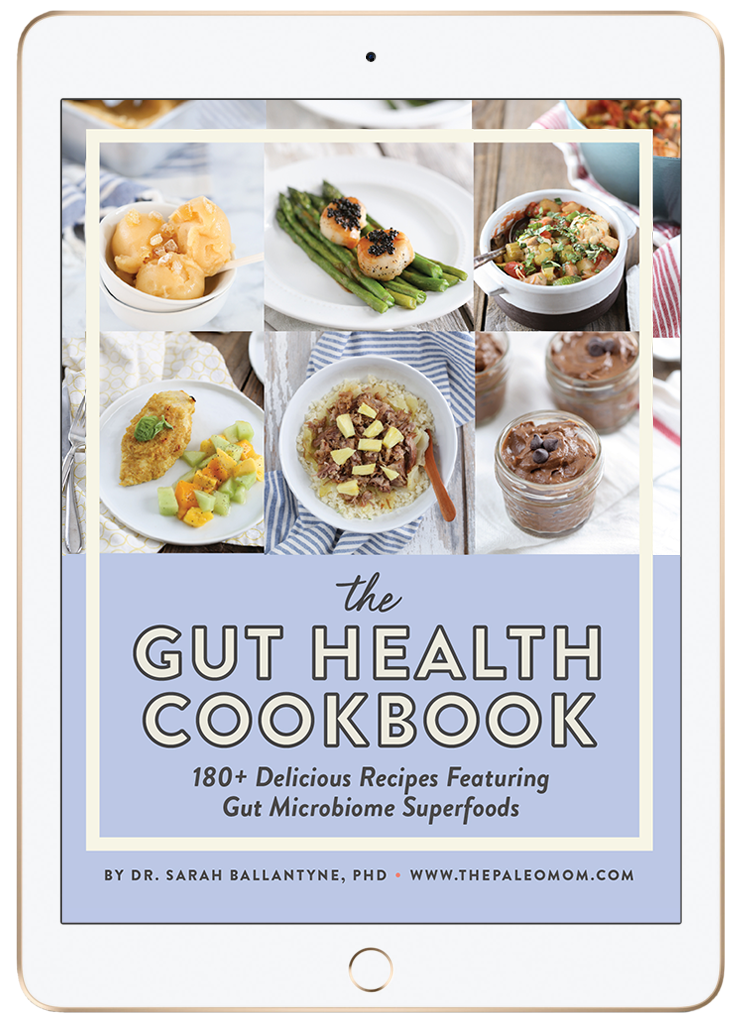 As I mentioned before, it wasn't just weight loss that led me to Paleolithic nutrition. I suffered health issues, from IBS to migraines to asthma to psoriasis to anxiety, not to mention a worthless immune system (which is very inconvenient when living in the petri dish like environment that life with two young kids emulates). Paleolithic nutrition can completely resolve these conditions (which it has for me already) as well as many others. It also dramatically reduces your risk factors for cardiovascular disease, diabetes, Alzheimer's and cancer.
How does a diet address so many different health issues? These diseases have root causes in common; including gut irritation, high baseline inflammation and insulin sensitivity problems.
So what do you get to eat? The short answer is fresh, whole foods, including meat, poultry, fish, eggs, vegetables of all kinds, fruits, nuts and seeds. There are ALOT of wonderful meals you can make using these foods.
What foods do you avoid? Don't be afraid. This sounds worse than it is. A Paleolithic diet avoids all grains, legumes (including soy and peanuts), dairy (except butter, ghee and heavy cream), modern vegetable oils (like safflower and canola), and processed foods.
The Ultimate Support for Your AIP Journey!
Dr. Sarah Ballantyne has delivered an exceptional course and I highly recommend this to anyone looking to improve their health. There is something for everyone. It was extremely helpful and worth the investment. -Marie Schlichtig
The AIP Lecture Series is the ultimate Autoimmune Protocol educational experience! Learn directly from Dr. Sarah!
6-week online course
42 on-demand video lectures
dozens of printable guides
self-discovery exercises and action steps
online forum and guided discussions
support and guidance from Dr. Sarah Ballantyne!
The next session begins January 18th, 2021.
(Use code AIPLS85 to save $85 and get bonus access to the Gut Health Fundamentals online course!)
A few other important factors are avoiding excessive salt, refined sugars, too many carbohydrates (but this doesn't need to be a low carb diet!) and also trying to balance omega-3 vs. omega-6 fatty acid intake. I'll cover each of these in detail in future posts.
Why these foods? A Paleolithic diet is one where you eat modern foods similar to what humans ate over the 2.5 million of years of evolution from apes. The hypothesis is that these are the foods that our bodies evolved to use for optimum health. As such, a Paleolithic diet avoids eating foods that only became part of the human diet after the agricultural revolution 10000 years ago, which coincides with the advent of the "diseases of civilization " (such as cancer, diabetes and cardiovascular disease). The rationale is that the diet and lifestyle of hunter-gatherers is responsible for their apparent health (although they did still lead dangerous, brutal lives). While we can't truly test the hypothesis that these foods are what kept cavemen so healthy, there is a wealth of scientific research to support that the foods excluded in the Paleo diet are, at best, nutritionally poor and, at worst, harmful to the lining of the gut, disruptive of normal hormone levels, and proinflammatory. This way of eating protects the digestive system from harmful proteins that cause inflammation (like gluten), protects the kidneys, liver and pancreas from getting overworked and restores balance to your body.
There are many ways to implement Paleolithic nutrition, so you can really make this work for your specific needs. As I tweak my own implementation, I am enjoying learning about the detailed biochemistry and physiology of why certain foods are good and others are bad. If you are also a nutrition nerd, there are some great websites out there to peruse. I suggest starting with www.thePaleodiet.com, www.robbwolf.com, and www.Paleodietlifestyle.com.