There is something about cooler, shorter days and leaves starting to change colors that makes me want to cook and eat pumpkin. On my Facebook Page last week, I shared this primal urge to experiment with pumpkin recipes with the status update
"What is it about fall that makes me want to experiment with pumpkin recipes?".
*NEW* The Gut Health Cookbook!
The Gut Health Cookbook is fantastic! Thank you for researching and creating The Gut Health Cookbook! Such wonderful recipes! I'm so excited to try them all! -Sue
The Gut Health Cookbook puts the 20 Keys to Gut Health into practice with:
180+ recipes featuring 61 gut health superfoods

Gut health food lists

Why's behind each gut health superfood
Get instant digital access for $27.99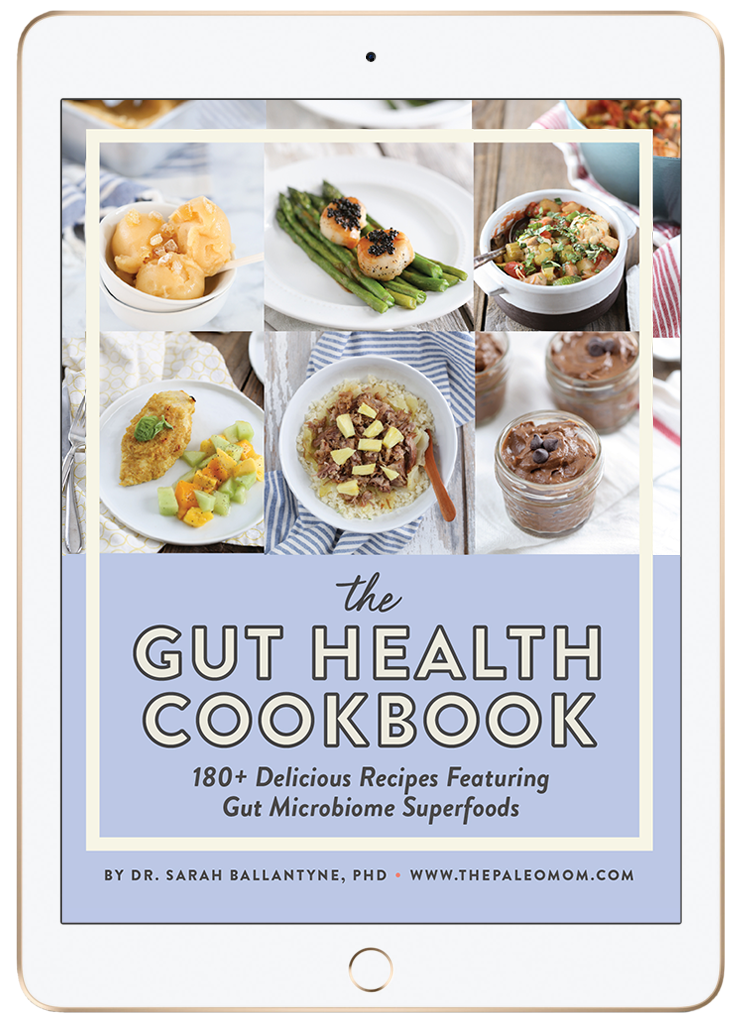 One of my followers commented
"Um..because pumpkin is the most awesome food on the planet? After bacon, of course.".
Very astute! I immediately googled bacon+pumpkin+recipe and came up with surprisingly little (I did find some awesome bacon-wrapped jack-o-lanterns and a fantastic-looking recipe for crispy bacon-wrapped pumpkin (I think this recipe actually uses butternut squash) which I pinned on Pinterest). But, I started to think more about how awesome the combination of pumpkin and bacon would be. Thus, the inspiration for this recipe was born. Melissa, this one is for you!
I chose to keep some texture in this soup rather than pureeing it to a smooth paste. If you prefer really smooth soups, by all means, give it the immersion blender treatment. You can also do most of the steps in advance if that's easier for you, and then the soup only takes about 15 minutes to prepare. I also used fresh pie pumpkins, but you could use a good quality canned pumpkin if you wanted to make this super easy. 4 small cans would be the equivalent of 2 pie pumpkins (it's about 5-6 cups mashed). If pie pumpkins aren't available, I think this recipe would work really well with just about any winter squash.
I'm also addicted to US Wellness Meats sugar-free pastured pork bacon. It's worth every penny. One of the things about this bacon that works especially well with this soup is that it isn't very salty compared to "conventional" bacon. If you're going to be using regular bacon, look for a reduced sodium one, otherwise your soup risks being too salty (you could also balance out with under-seasoned homemade bone broth, i.e., don't add salt when you're making your bone broth). I liked serving this soup with crispy bacon bits sprinkled on the top. An alternative would be to stir the bacon bits into the soup (they would be softer that way).
The Ultimate Support for Your AIP Journey!
Dr. Sarah Ballantyne has delivered an exceptional course and I highly recommend this to anyone looking to improve their health. There is something for everyone. It was extremely helpful and worth the investment. -Marie Schlichtig
The AIP Lecture Series is the ultimate Autoimmune Protocol educational experience! Learn directly from Dr. Sarah!
6-week online course
42 on-demand video lectures
dozens of printable guides
self-discovery exercises and action steps
online forum and guided discussions
support and guidance from Dr. Sarah Ballantyne!
The next session begins January 18th, 2021.
(Use code AIPLS85 to save $85 and get bonus access to the Gut Health Fundamentals online course!)
To make this recipe AIP-friendly, you could substitute mace for the nutmeg or leave it out completely.
Prep Time: 15 minutes
Cook Time: 1 hour (including roasting pumpkins)
Serves: 4
Ingredients:
2 medium pie pumpkins
1 lb bacon (you could up to 1½ pounds but save some of the bacon fat for another purpose)
2 cups chicken bone broth
2 medium yellow onions, diced
2-3 cloves garlic
¼ tsp nutmeg (omit or substitute with mace for AIP)
Cook bacon until crispy. My preferred method is to lay out the bacon strips on a rimmed cookie sheet (I used 2 cookie sheets for this recipe). Place in a cold oven and turn the oven on the 400F. Around the time the oven is done preheating, the bacon is ready. Remove the bacon from the cookie sheet(s) and reserve the bacon grease. Once bacon has cooled, cut or crumble into large bacon bits.
Preheat oven to 375F (if you do this step immediately after cooking the bacon, it's fine if your oven starts a little hot).
Cut your pumpkins in half (careful!). Scoop out the seeds. Place your pumpkin halves on a cookie sheet (I did it cut side up, but it doesn't really matter). Bake for 35-45 minutes, until soft. Remove from oven and let cool.
Spoon pumpkin meat out of the peel. Mash with a fork or potato masher (this give a more uneven texture which is part of the rustic nature of this soup; you could also use a potato ricer or immersion blender for a finer-textured soup).
Heat 2-3 Tbsp of bacon grease in a medium stock pot over medium-high heat. Add diced onions and garlic and sautee until onions are fully cooked and caramelized.
Add broth to deglaze the pot. Add mashed pumpkin, nutmeg and 2-3 additional Tbsp of bacon grease (you want 4-5 Tbsp total; it's a good idea to add a little less and then taste your soup and decide if you want it to be more bacony).
Turn the heat down to medium-low and bring to a simmer.
Serve the soup by ladling into a bowl and generously topping with bacon bits. Enjoy!