Whether you've recently recovered from an infection requiring antibiotics, are healing after treatment for a parasite, or are battling against anxiety and depression, repairing your gut and supporting healthy gut microflora is not only important, it's essential. And depending on your health, your diet, and your life circumstances, you might be fighting an uphill battle. Here are eight key points for optimizing gut health:
Follow a Strict Paleo Diet. If you are trying to encourage diverse, healthy gut microflora, avoiding all foods that potentially irritate the gut is critical. For at least a while, do not allow yourself cheats. Initially, you may also want to avoid nightshades, nuts, egg whites, and alcohol (these are the same foods that are restricted on the AIP- Auto Immune Protocol). It's also very helpful to keep your carbohydrate content on the moderate side since too many sugars can cause inflammation and encourages growth of bad yeast and bacteria (but too few can cause increased cortisol, hinder thyroid function, and if you're eating too little fiber, you may not be able to support growth of probiotic bacteria). Eating plenty of vegetables (starchy vegetables in moderation) and some fruit can have a very beneficial corrective influence on gut bacteria.
Keep Your Omega-3 Intake High. Aim for a 1:1 ratio of omega-3 to omega-6 fatty acid intake in your diet. This helps reduce overall inflammation and heal the gut and is one of the most important . There are several ways of doing this: you can make sure that all of the meat in your diet is exclusively from grass-fed animals (beef, bison or lamb); you can eat plenty of wild-caught seafood; and/or you can supplement with a good quality fish oil (eating fresh seafood is far superior than fish oil due to the fragility of polyunsaturated fats once isolated).
Nutrivore Weekly Serving Matrix
An easy-to-use and flexible weekly checklist
to help you maximize nutrient-density.
The Weekly Serving Matrix is very helpful! I've been eating along these lines but this really helps me know where to focus vs. which foods serve a more secondary role. It's super helpful and has taken a lot of worry out of my meal planning. Thanks!

Jan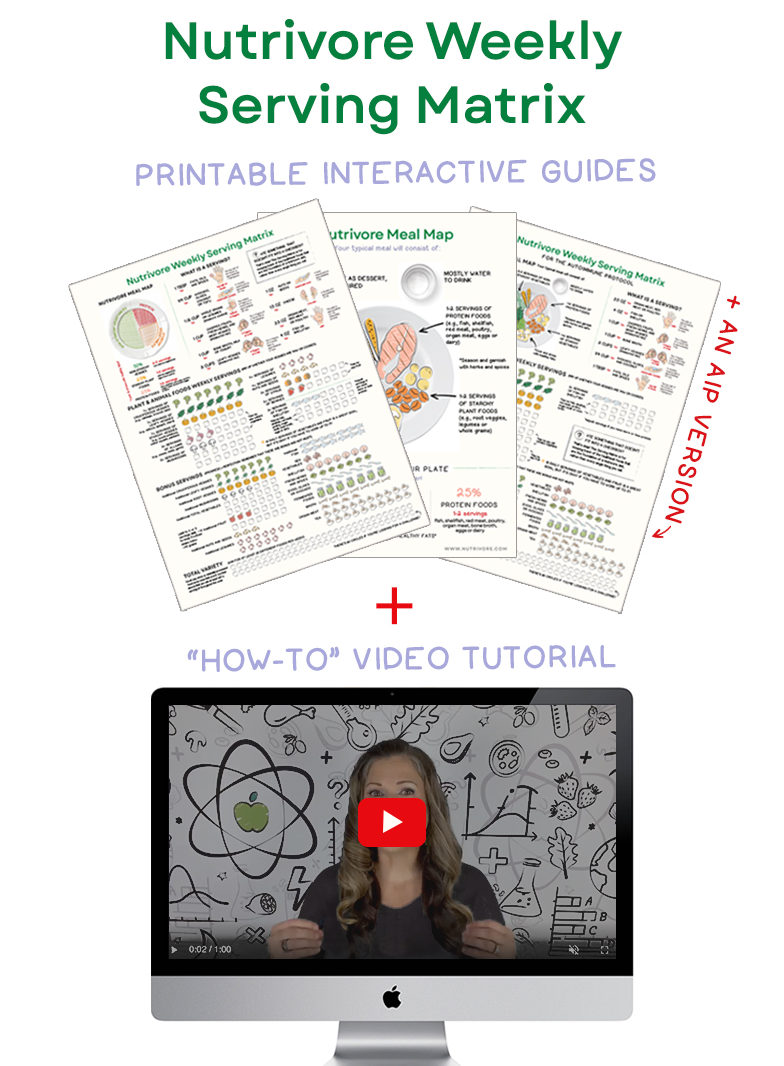 Eat Coconut Fat and Grass-Fed Butter: Antimicrobial short- and medium-chain saturated fats help to reduce overgrowth of bad yeast, fungus and bacteria in the small intestine. They can also help tighten the junctions between the cells that line the small intestine (reducing leaky gut). The best sources of these special saturated fats are coconut oil, palm oil and butter from grass-fed dairy cattle. Coconut oil is anti-viral, and contains lauric, capric and caprylic acids–recommended to combat yeast. Grass-fed butter also contains anti-microbial fatty acids including butyric acid, which has strong anti-fungal effects. Coconut oil and grass-fed butter are not only anti-microbial, but they also help heal the lining of the gut.
Work on Stomach Acid: Low stomach acid is a common side effect of stress and can create a host of digestive problems, including Small Intestinal Bacterial Overgrowth which puts pressure on the upper digestive tract, causing acid reflux, indigestion, gas and bloating. Yes, too little stomach acid ends up feeling like too much. A great, easy way to help is to drink lemon juice or raw apple cider vinegar 10-20 minutes before a meal (about 1-2Tbsp, which you can dilute in or chase with an ounce or two of water to make more palatable). It's also very helpful to take time to chew your food thoroughly (I have to constantly remind myself to do this because my default is to wolf everything down). Eating plenty of ginger (as tea for or as part of your meals) can be very helpful here too for increasing stomach acid production and gut motility. Eating homemade sauerkraut has also been shown to help regulate stomach acid production.
Eat Fermented Foods: This is your greatest source of probiotics for replenishing your gut microflora. Kombucha is a fermented tea rich in probiotics and good yeast, which also helps increase stomach acid levels. It is relatively easy to find at alternative grocery stores (like Whole Foods), but is also fairly straight forward to make at home (you need to buy a Kombucha Starter/Scoby
). Homemade, unpasteurized sauerkraut is delicious and quite easy to make (this is my favorite how-to sauerkraut website, but also check out Balanced Bites' recipe). You can similarly ferment a variety of other vegetables, including cucumbers, beets, and kale. Kefir is similar to yogurt, but you don't need to use cow's milk. Goat milk kefir is fairly easy to find in alternative grocery stores. You can also purchase Kefir Grains
to make your own coconut milk kefir at home (see Mark's Daily Apple for great directions). I do all of the above. My kitchen counter is covered in glass bottles of various fermented mixtures (imagine a wicked cackle). See my review of the book Fermented by Jill Ciciarelli, a great resource for fermenting foods at home. If none of these foods appeal to you, you can also supplement with probiotics.
Eat Bone Broth: Stock and soups made from the bones of chicken, turkey, duck, beef, lamb and fish are anti-microbial, anti-inflammatory, and contain nutrients which help build the integrity of the digestive tract. Most importantly, they are rich in proline and glycine which help regulate digestion, reduce inflammation, and heal the body (see The Health Benefits of Bone Broth and my recipe for bone broth for more information).
Get Lots of Sleep: Getting 8-9 hours of quality sleep every night gives your body time to heal and also is essential for regulating many hormones, including the stress hormone cortisol. Make sure that sleep is high up on your priority list.
Manage Stress: If you read my blog post about the Gut-Brain Connection, then you realize just how important this is. This is also the most individual of all of these recommendations. Whatever you need to do to manage stress, do it. Maybe it's going for a walk, going to a yoga class, or taking a few moments to consciously relax, breathe deeply or meditate. Maybe it's making sure you have time for something fun. Maybe it's asking for help so you can take a few things off your plate. Maybe it's finding a way to divest yourself emotionally/mentally from the things that usually cause you stress. There are two herbal products that I find very helpful for days when I just can't seem to relax: Bach's Rescue Remedy
and Hyland's Calms Forte
. These are aids to your other efforts though, and not sufficient to manage stress on their own. I also find chamomile tea to be a great relaxant.