Tourtière is a French Canadian meat pie that my mom used to make when I was a girl. It is traditionally made with ground pork, but over the years I've experimented with different combinations of meat. I really like to use half poultry (chicken or turkey) and half red meat (for the one in the photo, I used a combination of pork and grass-fed bison, but this would be a great place to break out the grass-fed beef!). The idea for turning what is supposed to be the meat pie filling into the base of a Shepherd's Pie was borne out of my avoidance of nuts (and most Paleo pie crusts are almond flour based). It creates a truly delicious and comforting dish, perfect for a dreary winter day!
*NEW* The Gut Health Cookbook!
The Gut Health Cookbook is fantastic! Thank you for researching and creating The Gut Health Cookbook! Such wonderful recipes! I'm so excited to try them all! -Sue
The Gut Health Cookbook puts the 20 Keys to Gut Health into practice with:
180+ recipes featuring 61 gut health superfoods

Gut health food lists

Why's behind each gut health superfood
Get instant digital access for $27.99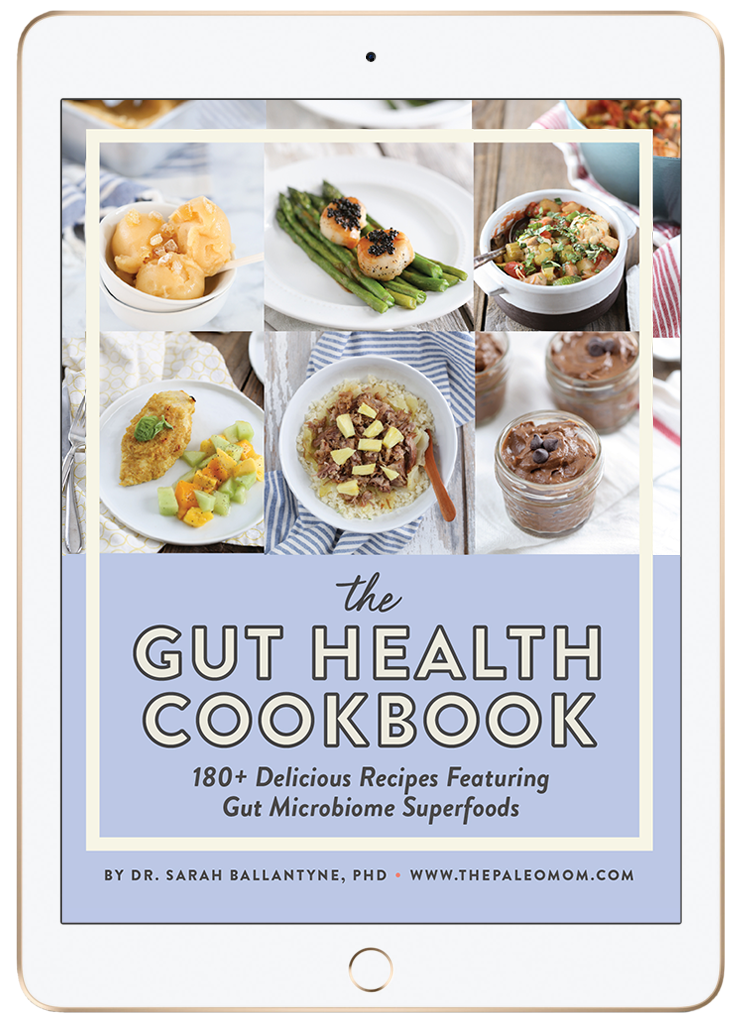 Prep Time: 15 minutes
Cook Time: 1 hour to 1 hour 10 minutes
Yield: 8 servings
Prep Time: 15 minutes
The Ultimate Support for Your AIP Journey!
Dr. Sarah Ballantyne has delivered an exceptional course and I highly recommend this to anyone looking to improve their health. There is something for everyone. It was extremely helpful and worth the investment. -Marie Schlichtig
The AIP Lecture Series is the ultimate Autoimmune Protocol educational experience! Learn directly from Dr. Sarah!
6-week online course
42 on-demand video lectures
dozens of printable guides
self-discovery exercises and action steps
online forum and guided discussions
support and guidance from Dr. Sarah Ballantyne!
The next session begins January 18th, 2021.
(Use code AIPLS85 to save $85 and get bonus access to the Gut Health Fundamentals online course!)
Cook Time: 1 hour to 1 hour 10 minutes
Yield: 8 servings
Ingredients (base):
4 lbs ground meat (try half poultry and half red meat)
2 medium yellow onions, finely chopped
5-6 stalks of celery, finely chopped
1 generous sprig of fresh rosemary (think 2-3 Tbsp)
4 bay leaves
8 oz mushrooms, finely chopped
1/3 cup arrowroot powder
1 tsp salt, to taste
1. Brown the meat with onions, celery, rosemary and bay leaves in a large pot over medium-high heat. Don't drain the fat off the meat (But, if using a combination of conventional and grass-fed meat, you could brown the conventional meat first, drain the fat, then add the grass-fed meat).
2. Add the mushrooms and continue to cook until mushrooms and celery are nice and soft, stirring occasionally, probably an extra 10-15 minutes after the meat is fully cooked.
3. Add the salt to taste. Add the arrowroot powder, stir in well, cook for 3-4 minutes then remove from heat.
4. Remove the bay leaves and stem from the rosemary, Pour all of the meat mixture into a 9"x13" deep casserole dish or lasagna pan. Pat down well with the back of a spoon or metal spatula.
Ingredients (top):
1½ heads of cauliflower
2 Tbsp of grass-fed butter or tallow (you could use coconut oil too)
1 tsp garlic powder
½ tsp salt, to taste
1. Steam cauliflower in a large pot with about an inch of salted water in the bottom. Cook until very soft, about 20 minutes.
2. Drain cauliflower completely. Return to pot and blend with an immersion blender or mash very well with a potato masher.
3. Add cooking fat, garlic powder and salt and stir to combine.
To Assemble:
1. Preheat oven to 375F.
2. Spread cauliflower mix evenly over the meat layer in the casserole dish.
3. Bake for 35-40 minutes, until cauliflower is starting to brown and bubble around the sides.
4. Let rest for 10 minutes before eating.
The Gut Health Guidebook!
The depth of information, practical tips, and the accessible way Dr. Sarah shows me how to apply complex science to improve my health is truly remarkable. -Wendy
The Gut Health Guidebook is the culmination of 6 years of research. This unprecedented deep dive into the gut microbiome delivers:
A new diet for gut health, built from the ground up

Essential gut microbiome superfoods

20 Keys to gut health
Get instant digital access for $27.99